At St. Olav's Hospital in Trondheim, Norway, natural light streams through floor to ceiling windows in the lobby; patients are given private rooms with close access to nurse stations; special attention is given to artwork and color schemes; and a path in the lush garden gives patients in wheelchairs the chance to practice on varied terrain.
Welcome to one of Norway's proudest laboratories of inclusive design—a place designed, from the very beginning, not just to accommodate but to welcome and encourage the broadest spectrum of people and abilities. The focus is on color, materials, and a connection to nature, air quality, and light. "It looks like a nice urban environment," said Onny Eikhaug, Program Leader at the Norway Design Council. "It doesn't look like a hospital, it doesn't smell like a hospital."
Also known as universal design, inclusive design—the term Eikhaug prefers—began as an unknown concept to many citizens in Norway but has come to reflect a paradigm shift, she said. "We don't believe in one size fits all. It's about being inclusive, acknowledging that we are different-able bodies and that across a lifetime we change."
As a result of the observation-based research and patient input that went into building St. Olav's, the hospital is better able to provide what patients consider their basic priorities: privacy, comfort, and security. "Guidelines are not enough, you need clear intentions. You have to know what's the point of this," said Ragnhild Aslaksen, chief architect of the hospital, in a video tour of the hospital.
The hospital has become an example of the Norwegian government's ambitious plan to embrace universal design by 2025. The project, launched in 2005, is a long-term action plan with both a top-down and bottom-up approach. In 2008, Norway passed the Anti-Discrimination and Accessibility Act, which focused largely on the built environment and transportation and introduced inaccessibility as grounds for discrimination across all sectors of society.
On a practical level, Norway's 2025 deadline doesn't mean that all non-inclusively designed buildings should be torn down and rebuilt, but it does require that all upgrades or renovations be universally designed. Additionally, all new buildings, both public and private, must incorporate inclusive design. "It might be a utopia—because ninety percent of our buildings are built and done," said Eikhaug. "To change the whole set up of public transportation and trains takes time. It's more a vision than a target to be universally designed by 2025, but it's setting a direction and it's also committing everyone from top government to local municipalities."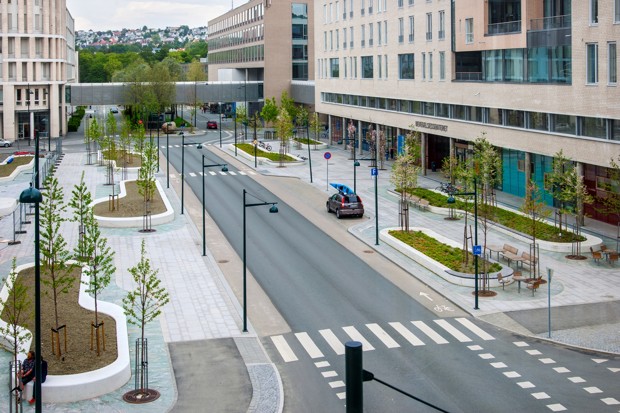 The reach of inclusive design is not limited to buildings, but also includes public transportation, boats, public housing, and websites. And while in Norway the government has embraced the concept as a path to a more inclusive society, what was launched for the public sector has now garnered interest among the private sector, as well, said Eikhaug, citing a couple of examples whose success initially took people by surprise. One was a public passenger boat that was designed to accommodate legislation, but the boat owner soon came to realize that it was also good for overall business: with greater comfort came greater numbers of passengers; cleaning was easier; and fuel costs were reduced thanks to more efficient passenger boarding and unloading.
Another example is the Scandic Gardermoen Airport Hotel, which was built from the beginning to incorporate inclusive design—from the front door to the sheets, the reception desk to the bathrooms. "This has informed the whole set up, from the website and the food to the entrance and allergy-friendly rooms. There are reception desks at different heights, better lighting and navigation, it's easier for everyone," said Eikhaug. "I'm really into the business perspective because it's driving innovation. It's like a well-kept secret, actually, how insights into people's lives can be translated into new concepts and innovative solutions that will fit everyone."
Knut Hovland, the architect behind the hotel—which won the Innovation Award for Universal Design in 2011—and a jury member on award committee when St. Olav's Hospital won in 2014, says that inclusive design is a sign of a larger aspiration in Norway, not just about design but about society.
"Regulations are now there and there are rules for how one can and must make buildings accessible; it is now a normal part of designing the built environment," he said. "The acceptance of difference, or being different, has become much more a general sort of attitude among people. Maybe this has been part of doing that."
Hovland's current project, rebuilding the government headquarters that were destroyed in the 2011 bomb attack in Oslo, is more than just symbolic, even with the strict security requirements the building demands. "Our goal is to make an open and democratic space in the middle of all these requirements," he said. "There's a general attitude of inclusiveness in all aspects of public life now."
According to Hovland, building—or rebuilding, when it comes to the already built environment—a democratic society is inextricably connected to the philosophy behind inclusive design. "In the buildings there was a lot of resistance to this way of thinking, but as soon as you come to terms and understand the logic of it you can use it as an advantage, an added value," he said. As for the cost: most experts agree that inclusive design is an investment rather than a burden. As Hovland describes, it is much easier to design a building smartly—and inclusively—from the beginning rather than to later go back and fix things.
Inclusive design is about mainstream solutions—not looking at any particular group, but just looking at the diversity of humankind, different life stages, who we are at different stages, and different abilities. "It's not about special needs—we are all only temporarily able-bodied," Eikhaug said, citing childhood, infancy, aging, mobility challenges, broken limbs, colorblindness, and dyslexia. Like Hovland, Eikhaug describes inclusive design not just as a set of guidelines but as a philosophical approach to living. "Empathy is at the core of this approach. You have to have empathy with the user but the user can also be a professional—we are all different user groups and we all have to work together," she said. "Innovation potential is so powerful. You get unforeseen bonuses and unforeseen side effects that you couldn't have predicted."