The small city of St. Gabriel, Louisiana hugs a narrow bend in the Mississippi River between Baton Rouge and New Orleans. Dominated by the agriculture and petrochemical industries, St. Gabriel sits 23 feet above sea level and has always been been prone to flooding—although historically, not much action has been taken to address it.
But in the two years since St. Gabriel experienced the 1,000-year rain event that caused catastrophic floods in southern Louisiana, Mayor Lionel Johnson has been hearing from his constituents about adaptation and resilience.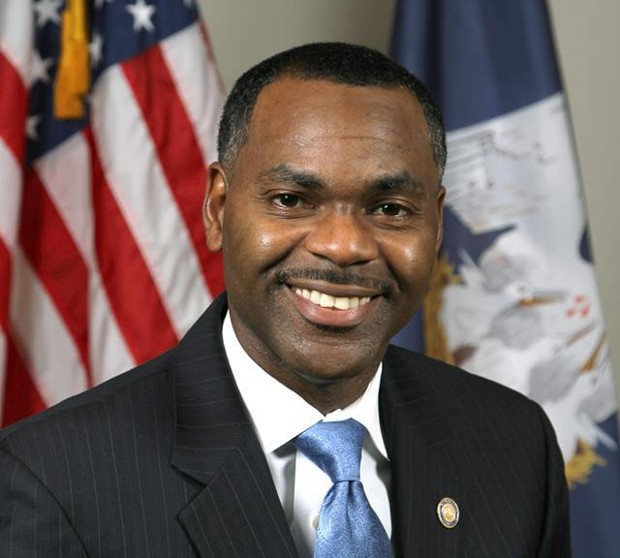 Now, when developers come in to build homes, residents meet them with resistance, worried about covering the ground with more concrete. They're urging the city to build natural infrastructure like wetlands and are vocal in their opposition to dredging in bayous. Some even urge Johnson to take frequent water and soil samples and test for contamination from floodwaters.
"From my perspective, many have become more environmentally aware in their conversations, their research, their requests from the mayor and city council and overall concerns," he said.
The Mississippi flows about 2,300 miles from Minnesota to the Gulf of Mexico. It has a 31-state watershed and provides drinking water to millions of people. Johnson's focus on resilience to extreme weather is part of an effort among mayors from towns all the way up and down the river through the Mississippi River Cities and Town Initiative (MRCTI), which he co-chairs. The initiative, launched in 2012, promotes healthy ecology and sustainable development to help local economies of all sizes in places of all political leanings along the river's meandering course.
There are now 85 mayors involved. They collaborate on issues including water quality—specifically, phosphate and nitrogen pollution from agricultural operations in the Midwest that contribute to hypoxia, or lack of oxygen that causes fish die-offs in the Gulf of Mexico—as well as flood-resilient infrastructure, habitat restoration, creating green jobs, and preserving the river's history and culture. Since MRCTI began, it's been granted $1 billion in federal funding, although the group hasn't seen it all come in yet.
"We 80[-plus] mayors working as one get more accomplished than one," said Mayor Jay Hollowell of Helena–West Helena, Arkansas, who is on the group's executive committee. "In our conversations at annual conferences and phone conferences, mayors on the Upper Mississippi truly understand the impact of things that happen up there, and how it affects us down here."
There's not much polarization among the mayors despite differences in ideologies, said Colin Wellenkamp, MRCTI's executive director. For almost all the towns and cities involved, the river is a huge driver of recreation and tourism and a source of drinking water. "The common ground around contentious issues like climate change is about making the economic case for restoring ecology of rivers or making water clean," Wellenkamp said. "If we can make those efforts relevant on Wall Street and Main Street, we can have productive conversations."
By focusing on clean water and the economy, MRCTI can bridge political and geographical gaps. But strategies differ from state to state or region to region. For instance, in the Upper Midwest, it's often about promoting sustainable farming practices that prevent nutrient runoff and save farmers money. In the Lower Mississippi region, it may be working on infrastructure projects with the river's many ports—which see 500 million tons of shipped goods per year—or supporting well-paying coastal restoration jobs.
One of the biggest projects that many cities are working on is restoring or creating wetlands, which serve as a natural buffer from flooding and restore water quality. The city of Davenport, Iowa has been a leader in wetlands restoration, including with the construction of the 305-acre Nahant Marsh, which it cleaned up from being a gun-club site that was contaminated with lead. In St. Gabriel, Johnson is trying to procure land from landowners along the river to build wetlands that would prevent backwater flooding.
"There's a lot more interest in [wetlands restoration] as a necessary part of the toolbox for towns and communities than 10 or 15 years earlier," said Jeanne Christie, senior policy advisor for the Association of State Wetland Managers. But it's a slow, difficult process that relies mostly on federal funding, Christie added.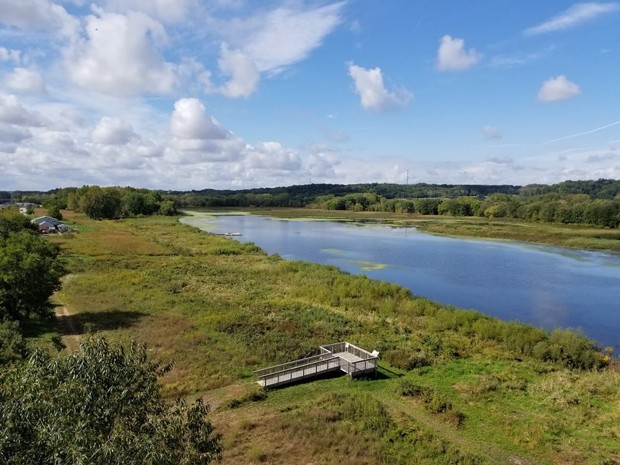 Another popular strategy is levee trails to increase tourism. In Helena, Hollowell has been working with state agencies and private funders such as the Walton Family Foundation to build levee trails for biking and running that connect to other trail systems throughout Arkansas. Johnson is pushing for similar trails along the river section in Louisiana.
MRCTI has been lobbying for agriculture conservation programs to be included in the Farm Bill and for a Lower Mississippi River feasibility study and restoration program to be funded in the Water Resources Development Act. The federal government already funds the Upper Mississippi River Restoration Program, but there is no Southern equivalent.
The urgency for such a plan is growing. A study earlier this year showed that the risk of 100-year floods for the Mississippi River has increased by 20 percent over the past 500 years. Within that period, the past 150 years—an era when the river was heavily engineered by humans—stand out in terms of the volume and frequency of flooding.
There still isn't a comprehensive look at how climate change will impact the Mississippi River, which is "mind-boggling," said Samuel Muñoz, the study's lead author and a professor at the College of Engineering at Northeastern University.
"Usually, the concern is looking ahead in the future, with the lower Mississippi or Ohio Rivers, and we're probably okay for now," he said. "But that's a probability, not a certainty. But the federal agencies responsible for managing resources and keeping us safe aren't thinking about that." Muñoz and his colleagues are aiming to do a larger study on climate-change impacts on the Mississippi.
In the meantime, there are the 85 mayors—whether they talk directly about climate change or not.
"There are so many avenues to what we're doing, and everything we talk about impacts everybody," Johnson said. "I don't necessarily need everybody to believe, like I do, that climate change exists. I just want at some point in my conversations with people to acknowledge things are changing."
This story was made possible in part by the Upper Mississippi River Institute through the Institute for Journalism and Natural Resources.