A year after Colorado saw a record 1,175 suicides and an all-time high number of drug overdoses, according to the Colorado Health Institute, Denver voters decided to take matters into their own hands.
On Election Day, the city passed a .25 percent sales tax (or 25 cents on a $100 purchase) under the Caring 4 Denver initiative, raising a new stream of money to treat mental health and addiction. It's meant to take the response out of the hands of police and jails and focus on treatment centers and therapy.
The scale of the crisis persuaded voters on the need for the tax increase, said state Representative Leslie Herod, who helped organize the Caring 4 Denver campaign.  
"Mental health is extremely underfunded here in Denver, in Colorado and, frankly, nationwide," said Herod. "Everybody knows someone who is affected, and everyone says we have to do better. This is not about 'them' anymore. It's about us."
Colorado's suicide rate was the ninth-highest in the nation last year, and suicide was the leading cause of death for people ages 10 to 24. And even as an addiction crisis stretched on, the state's largest substance-abuse treatment center, the Denver-based Arapahoe House, shuttered in January because of budget troubles.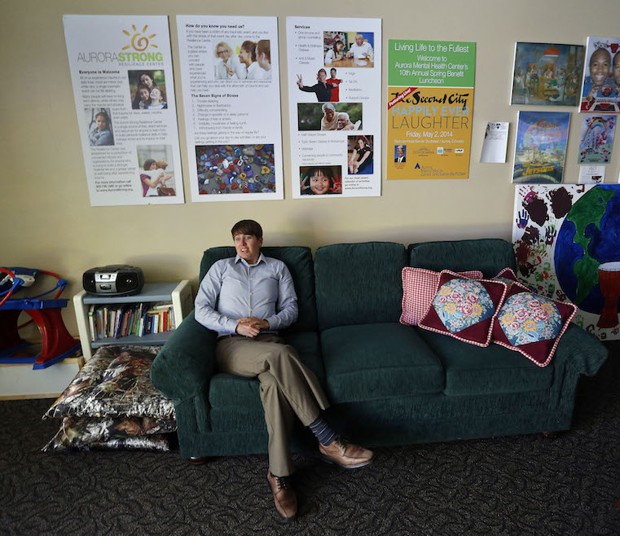 Instead of a hodgepodge drawn from different city budgets, the new tax will net an estimated $45 million a year dedicated solely to mental health and addiction. The city will focus on early interventions to help residents get treatment before problems escalate, which can lead to costly jail or hospital stays. A fifth of the new money will be earmarked over the first two years to build a new mental-health center in Denver, with the rest of it spread among schools, addiction treatments, and first responders.
The measure passed easily, with nearly 68 percent of the vote. It means Denver has joined the growing fold of U.S. cities taking mental-health funding into their own hands.
It usually falls to states to fund robust mental-health programs. States can get federal dollars through the Mental Health Block Grants program and other streams like Medicaid. But a 2017 report from the think tank Mental Illness Policy Org found state funding so variable that the top spending states spend eight times as much as the lowest.
"To say the system is broken doesn't even begin to tell the story. In many places, there isn't even a system," said Debbie Plotnick, vice president for mental health and systems advocacy for Mental Health America.
It was only 10 years ago that the Mental Health Parity and Addiction Equity Act, a provision tucked into the 2008 bank bailout, required health insurers to offer the same level of benefits for mental health treatment as they did for medical care. That made it easier for patients to get care, Plotnick said, but didn't guarantee that specialized care would actually be available.
"For years there had been such discrimination; it was treated as a safety crisis, not a health problem," she said. "Can you think of any other medical emergency where they send the police? So localities had to take charge and develop services where there hadn't been any before."
Now local governments are making their own way. King County, Washington, for example, applied a .1 percent sales tax to behavioral health programs starting in 2008 through the Mental Illness and Drug Dependence program; after three years, the county's psychiatric hospital admissions had dropped 29 percent and jail bookings were down 35 percent. In 2015, New York City set aside $850 million for ThriveNYC, a program to increase access to care. Next month, Baton Rouge voters will vote on a property tax hike for mental health services, after a similar proposal failed in 2016.
Colorado ranks 25th in the nation on state mental-health spending, according to Mental Illness Policy Org. It has a network of 12 crisis centers and supporting staff, established after the 2012 mass shooting in Aurora. (The Colorado Sun reports that that network is facing an overhaul, raising concerns that the clinics could end up fragmented.)
For Caring 4 Denver, the local touch was part of the appeal. Besides local healthcare providers and hospitals, the campaign was supported by the Colorado chapters of national healthcare groups like the American Academy of Pediatrics and NARAL, as well as social justice groups and unions.
The city revenue will go to a 501(c)3 nonprofit with a board including representatives from law enforcement, hospitals, city agencies, and residents in recovery for addiction or mental health. They will direct how the money is spent, dividing it among four buckets: mental illness, addiction, criminal justice, and social factors like housing and unemployment.
That walls off the money from being spent elsewhere, but also means it is controlled by people who know how best to spend the money, said Carl Clark, president and CEO of the Mental Health Center of Denver.
"In a smaller sandbox, there's a lot of things we understand about the needs and the priorities," Clark said. "We know the neighborhoods where there are higher suicide rates, where there are higher rates of depression. We know the areas where access to care may not be so good. So we can focus our attention on specific areas where we can do the most."
For example, Clark said the East Colfax neighborhood, a historically underinvested area, has seen worse health rates than surrounding neighborhoods, making it an ideal place to target money. That sort of detail could get lost in a state-level program.
At that level, California has been a national leader since the 2004 passage of Proposition 63, a 1-percent income tax on millionaires to fund mental health. A report from the Rand Corporation found the revenue had expanded care access for 130,000 young people in Los Angeles County, many of them from poor or minority communities.
But the wide scope has created some problems. A Kaiser Health News report found that a lack of standards across counties meant that some residents had trouble finding government services to help them. And a state audit this summer found that some counties weren't spending as much as they could because of confusion about how much revenue they should save. Auditor Elaine Howle wrote that "poor oversight" from the state was "troubling" given the needs, and the state has promised to write better regulations.
Herod, the state representative, said the smaller scale of Caring 4 Denver will help ensure that all new money is spent wisely. "We can put a therapist in every school and know that they're being effective. We don't know what that would look like on the state level," she said. "Locals know the local community best."