The low-slung apartment buildings that line the streets of Houston, Fort Worth, and other Lone Star cities are some of the cheapest affordable housing projects to build anywhere. Two-story jobbers in Texas cost a whole lot less to build with housing tax credits than affordable mid-rises in California or New England. Where land prices are higher, it's more expensive to build affordable housing.
These are a few of the not-exactly-earth-shattering conclusions of a long-awaited report on the Low Income Housing Tax Credit program, the country's main engine for generating new affordable housing. Released this week by the Government Accountability Office, the report finds that these housing tax credits, or LIHTCs, have financed some 50,000 affordable units every year since 2010. On average, affordable rental units built with tax credits in Texas cost two-and-a-half times less ($126,000) than the average in California ($326,000).
The GAO report, the third in a series on housing tax credits, reveals the ratio that affordable housing developers pay toward hard costs versus soft costs and price differentials from sea to shining sea. But it's missing some key data about bedrock costs for affordable housing. And what the federal government can't yet say about housing credits is revealing.
For example, the GAO report declines to say whether housing built with low-income housing credits (financed with tax credits) costs more to build than market-rate housing. Surely that's something that Senator Chuck Grassley hoped to learn when he dialed up this investigation. Another recent report on housing credits—by the National Council of State Housing Agencies—managed to conclude that the costs run about the same. But the GAO maintains that they couldn't obtain the necessary data.
Federal bean-counters will be the first to admit: What they don't know about housing credits hampers the government's ability to evaluate how well the programs work or identify areas for improvement. There isn't any single agency responsible for administering the LIHTC program, and in the past, GAO has recommended the Departments of Treasury and Housing and Urban Development. (The latest report punts on this question; maybe HUD and Treasury don't want the job.) This is all to say that the GAO wants better data, and more of it, before drawing any broader conclusions about housing tax credits.
That shouldn't stop the federal government from noting what might be a huge cost-driver for affordable housing: local government.
Local regulations—including those that result from homeowner and neighborhood efforts to slow or stop development—may be a critical cost for low-income housing developers. As the GAO report shows (and just as you might expect), affordable housing is costliest to build in places where it's expensive to build housing, period. Projects in urban areas cost more to build, although high costs can be mitigated in part by building up and out. The government has numbers for these costs, but not necessarily every explanation for what drives them.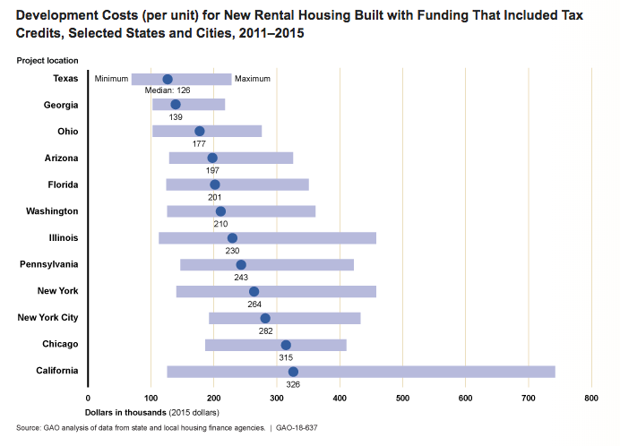 The study covers new affordable rental housing built between 2011 and 2015, a period corresponding with both the economic recovery and a national affordable housing crunch. Affordable units built with housing tax credits are mostly concentrated in metro areas. Broadly, these are places where building has not kept pace with demand and where residents express hostility to increasing density. This confluence of trends raises a question about housing tax credits: How do you measure the toll of anti-growth sentiment on an affordable housing incentive program? Is NIMBYism a drag on affordable housing?
One study hints at an answer. Back in June, the National Association of Home Builders and National Multifamily Housing Council released a report that estimates that regulation represents up to 32 percent of multifamily development costs. That includes regulation from all levels of government; local regulations account for many of these costs, including zoning approvals and lengthy delays.
For example, virtually all of the multifamily developers (98 percent) surveyed by these organizations had incurred costs in applying for zoning approval. The same share saw costs associated with changes to building codes within the last 10 years (98 percent). With just 40 respondents, this pro-business survey does not meet a statistically robust standard for measuring multifamily development. The NAHB and NMHC claim that the respondents cover a broad range of portfolios and regions. In any case, most of these costs—zoning approvals, building code adjustments, exceptional delays—are anecdotally common.
Although it's limited, the survey shows that these costs do add up. Inclusionary zoning requirements (local mandates that a share of units be set aside for affordable housing) increase costs for a multifamily project by an average of 5.7 percent, per the survey. More common, and higher still, are "development requirements that go beyond the ordinary," a catch-all category of miscellaneous regulations—think environmental lawsuits over projects—that can add another 6.3 percent to multifamily costs on average.
A report on development costs specific to projects built using Low Income Housing Tax Credits—the one prepared by Abt Associates for the National Council of State Housing Agencies—found that the data weren't sufficient to evaluate the effect of local regulation on per-unit costs. Long development timelines for gaining approval, for example, or requirements for things like steel-frame construction are factors that certainly cost something. But the report, alas, could not say how much.
Neither could the feds. "The short answer is no—we didn't attempt to gauge the costs of local gov't regulations or NIMBYism," says Daniel Garcia-Diaz, director for financial markets and community investment at GAO, by email. "We are not aware of a recent and comprehensive measure of regulatory burden/intensity at the local level that would allow us to control."
He adds, "It is worth noting that some of the regulatory cost issues may get caught indirectly through our geography indicators. But it would not be a perfect proxy."
The GAO has hard numbers down for many costs. For example, the average per-unit cost for low-income developments with more than 100 units was $85,000 less than those with fewer than 37 units—an argument for density. And costs by geography, too: Average per-unit costs for urban developments were $13,000 higher than for units in suburban or rural locations.
"We appreciate the GAO taking a look at many of the drives that go into multifamily development costs," says Emily Cadik, executive director of the Affordable Housing Tax Credit Coalition, a trade organization representing for-profit and nonprofit developers and others who support housing credits. "We certainly know as practitioners in the field that there are other cost drivers not as fully analyzed in the report, such as the impact of local zoning and when developers encounter NIMBYism."
She adds, "These are some examples of things we know drive up costs. It would be helpful to have data on those going forward as we think about how to make the housing credit a more effective program."
There are some hints of the toll of excessive local regulation sprinkled throughout the GAO assessment. One common example: parking requirements. "Urban projects were more likely to include parking structures," the report states, "which we found were associated with a per-unit costs increase of about $56,000 in California and Arizona (or about 27 percent of the median per-unit cost), where parking structure data were available."
That's a lot! Of the affordable projects with parking structures tallied by the report, 98 percent are located in urban areas—places where mandatory parking minimums require that dense developments come with parking structures. This is a good proxy for a cost on affordable housing (and housing credits) more or less directly imposed by local regulation. Cities are only just beginning to ditch minimum parking requirements. (The latest: Cincinnati, whose city council voted on Thursday to eliminate downtown parking requirements in an effort to boost development in the city's core neighborhoods.)
Zoning regulations that require multifamily developers to build parking structures are themselves an expression of long-ensconced, indirect NIMBY political action. Parking minimums are not the only example of organized NIMBYism, though, and not the only obstacle faced by low-income housing developers.
Case in point: Plans to renovate an historic building site in northeast Washington, D.C., are now on hold indefinitely after the developer and a neighborhood group could not come to terms. The developer, Foulger-Pratt, aimed to turn the former National Capital Press building into a mixed-use site with 356 rental units, a hotel, and retail—including 20,000 square feet of low-income housing, half of that reserved for very low income families. Washington Business Journal reports that a group called Union Market Neighbors appealed the zoning board's approval, citing "displacement, environmental issues and general neighborhood changes."
Pending further negotiations or a court decision, the $200 million project may still resolve in the developer's favor. Time is money, though. (Foulger-Pratt did not return an email asking for an estimate of what this delay might mean in terms of project costs.)
What does it cost when neighbors object to building low-income housing, period? This striking quote from a community member speaking out against a proposed housing project in Cupertino, California, one of several pricey Silicon Valley cities struggling with runaway housing prices, may offer some perspective.
Holy shit https://t.co/6yxToVvPTh pic.twitter.com/IAFSUGvT9T

— Nick Dimichino (@ndimichino) September 20, 2018
When homeowners fight affordable housing tooth and nail, it makes low-income developments harder and more expensive to build. That's a real cost—and maybe a very high one.