The largest immigration raid in U.S. history happened in Postville, Iowa. Over a couple of days in May 2008, teams of Immigration and Customs Enforcement (ICE) agents flooded the tiny meatpacking town, arresting over 389 people as helicopters swirled overhead. A decade later, memories of the incident remain fresh; some residents who were children during the raid are still in therapy, one local advocate told the Des Moines Register.
Community arrests like this, in which undocumented people are rounded up in workplaces and homes, can tear the fabric of an entire town: Homes are left empty, jobs undone, families uprooted, and neighbors divided. "Large-scale raids are experienced locally as disasters, even by those not directly affected," Elizabeth Oglesby, a professor of Latin American Studies and Geography at the University of Arizona, wrote in June.
While both Democratic and Republican administrations have used ICE raids to enforce immigration laws, the current one has expressed a particular enthusiasm for this traumatizing technique: Community arrests have risen in the first two years of the Trump administration compared to the last years of the Obama administration. But while the news of raids may have a widespread chilling effect on immigrant communities, the majority of ICE's arrests via this method are concentrated in a few places, according to a new report by Transactional Records Access Clearinghouse (TRAC), a data gathering and research organization at Syracuse University. Between October 2017 and May 2018, community arrests happened in a total of 574 of 3,200 counties. But just 10 saw around 28 percent of ICE community arrests. And half of all the raids were conducted in just 24 counties.
Below are the ten counties with the highest number of community arrests: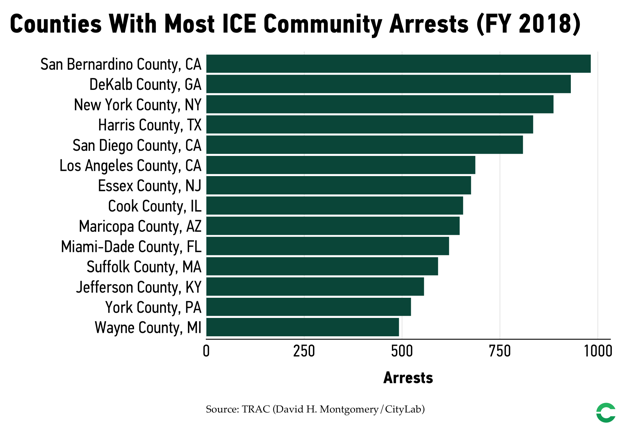 The report presents snapshot of where this one part of ICE's enforcement strategy is being heavily deployed. It's no surprise, because these are immigrant-rich counties with long-established communities of undocumented residents.
After the Trump administration broadened the criteria for who can be deported, ICE agents have targeted "low-hanging fruit"—people without criminal records who are being arrested at routine immigration check-ins or after testifying against a crime in court. The TRAC report shows that ICE heavily relies on local police to do this. Of the 1,528 counties where ICE made arrests, only 38 percent were community arrests. The rest were made when local law enforcement transferred a suspected undocumented person to ICE's custody. In other words, the most significant "deportation force" in the U.S. is local police. That's why efforts by cities and counties to limit police involvement in immigration enforcement—loosely, and misleadingly, called "sanctuary" policies—have been so effective in reducing the impact of the crackdown.
Indeed, a recent analysis by the Migration Policy Institute (MPI) found that "the engine that fueled ICE's peak effectiveness—the intersection of federal immigration enforcement with state and local criminal justice systems—is being throttled by state and local policies that limit cooperation with ICE."
Not all so-called sanctuary cities, of course, have completely severed ties with ICE. Many share data or tip the agency off about undocumented immigrants charged with crimes despite having such laws in place. Plus, community arrests by ICE continue to happen in places with protective policies—sometimes, as a direct reaction to new sanctuary laws. That could partly explain why New York County and Cook County are major sites for community arrests, per the TRAC report. In the New York City area, the aggressiveness of ICE's enforcement strategy has been well-documented, with immigrants being arrested at their workplaces, in their homes, and at courthouses. On the other hand, in Maricopa County, Arizona, and DeKalb County, Georgia, community arrests may be occurring with the blessing and support of local governments.
The effect of these raids, experts say, is widespread fear and a withdrawal of entire immigrant communities from civic life. But the trauma they inflict can also mobilize faith leaders and advocates to speak out against anti-immigrant rhetoric and policies. The grassroots immigrants' rights organization Puente, for example, was born of the terror inflicted by former Maricopa County Sheriff Joe Arpaio on the immigrant community in the area. Recently, the organization has also been organizing for progressive candidates at the local and state levels.  
"The raids can be galvanizing," Oglesby writes, "as when humanitarian responses turn into new political alliances that reshape the meaning of community and create ways to stand up for immigrant rights."