More than half of New Yorkers view Amazon's plan to open a headquarters in Long Island City, Queens, in 2019 as a blessing, not a curse. That's according to a new poll from Quinnipiac University, which surveyed more than 1,000 New Yorkers from all five boroughs between November 27 and December 4. Perhaps more surprising to the many vocal opponents of the Amazon selection process: Only 26 percent of those surveyed disapprove of the project.
People were more evenly split on the question of whether Amazon should be receiving the tax incentives—nearly $3 billion of them—that the city and state offered to lure the company, with 46 percent in favor and 44 percent opposed. It's not clear whether that level of support is enough to push forth the brewing movement to shrink the tax breaks or halt them entirely. "While New Yorkers give the thumbs up to Amazon moving one of its new headquarters to Long Island City, they are divided over the sizeable carrot offered," said Mary Snow, polling analyst for the Quinnipiac University Poll, in a statement.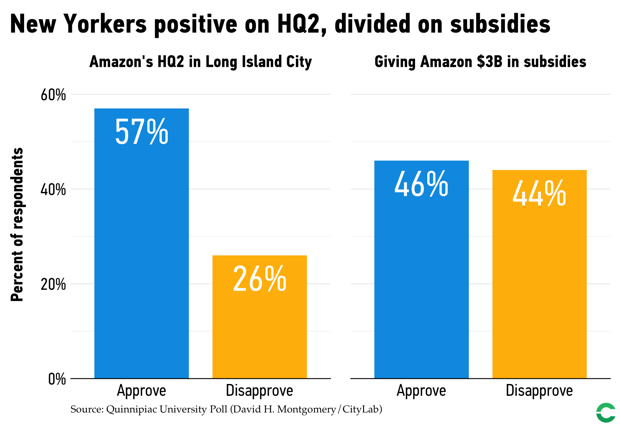 By borough, residents of the Bronx—a predominately Hispanic area—were most excited about the move, with 64 percent approval and 21 percent disapproval, for a net approval of +43 percent. It's nearly as popular in Staten Island. Queens, whose population is almost half foreign-born, and which will actually absorb the physical Amazon office space, was also enthusiastic—even about the subsidies. Manhattan residents were most skeptical, with only 54 percent supporting the move and a net disapproval of the subsidies of minus 15 percent. The chart below shows approval minus disapproval for the project and its subsidies in each borough: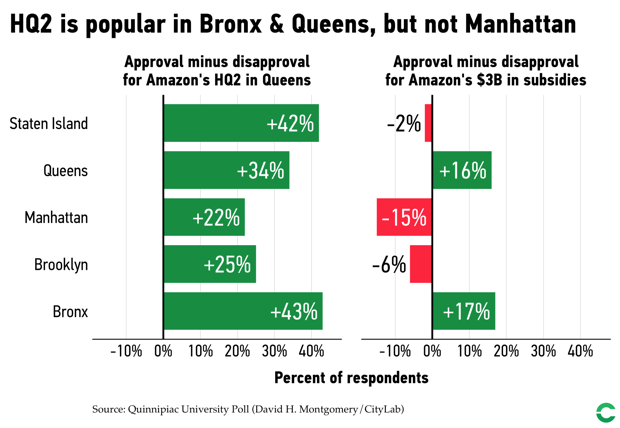 That geographic breakdown may mirror where the benefits of Amazon jobs and economic bump could be most powerful—at least if Amazon finds ways to hire the local residents who need the jobs most. Manhattan's unemployment rate was a low 3.5 percent in October, its Wall Street-driven economy is flush, and its residents make a median income of $75,000, meaning residents there, arguably, have the least to gain. Queens' unemployment rate is lower even than Manhattan's, at 3.4 percent, but the median income there is about $60,000. And the Bronx, which enthusiastically supports the deal, has the highest unemployment rate of the five boroughs at 5.4 percent.
When analyzing overall responses by race, too, the tension is clear. Across all of New York City, it's white New Yorkers who support the project least, while 63 percent of black and 65 percent of Hispanic New Yorkers surveyed say they approve. And it's black and Hispanic residents who experience poverty at greater rates across New York City. Below, a comparison of black, Hispanic, and white residents' relative approval of the project (there were only three races listed in the survey results):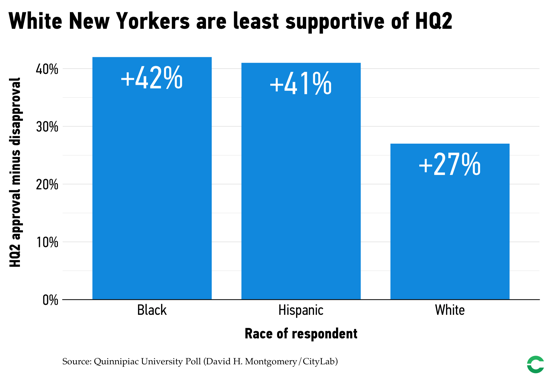 Many who have criticized Amazon's impending move to Queens point out its potential for increasing inequality in the region. The Amazon headquarters' planned location adjacent to Long Island City's Queensbridge Houses, the largest public housing development in the country, has been described as extraordinary "synergy" by Mayor Bill de Blasio and extraordinarily troubling by others.
But not only do New Yorkers approve of the deal; when asked if they had any concerns over Amazon's entrance, 54 percent of respondents said no. For the 41 percent percent who did report concerns, the anxiety centers on housing and transportation, in a city with median home sales costs nearing $700,000 and rents of $2,900 according to Zillow, and a subway system besieged with delays. Young people are especially concerned about housing prices, for the obvious reasons; and older people are more concerned with changing quality of life.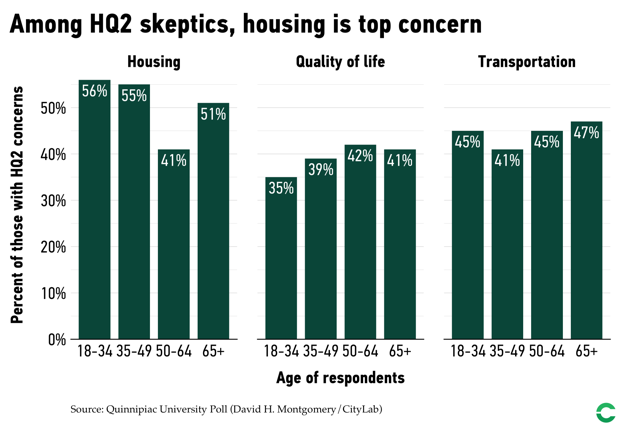 Perhaps to mitigate these city-level pressures, New Yorkers want more local control of the deal as it moves forward. The brunt of the private dealmaking was led by Governor Andrew Cuomo at the state level, and the bulk of the incentives will be offered by the state, too. The city council never voted on the project, and didn't see the proposal before it was signed. Seventy-nine percent of people agree: New York City should be more involved in the process.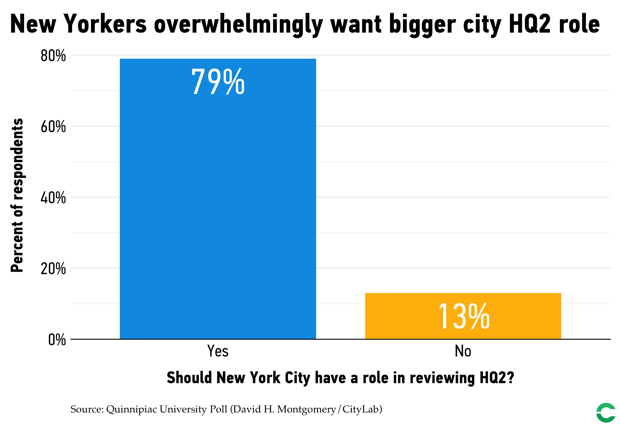 All this positivity exists in spite of, not because of, trust in policymakers: Just 43 percent of respondents approve of Mayor Bill de Blasio, versus 40 percent who disapprove. Even 33 percent of Democrats disapprove of the way he handled the Amazon deal (versus 36 percent approving.)
"While New York Gov. Andrew Cuomo and New York City Mayor Bill de Blasio are often at odds, they do share something in common. Both receive low grades for their handling of the Amazon deal," Snow said. "One asterisk: Roughly 30 percent of respondents say they don't know the details enough to give them a grade."
The study's margin of error was +/- 3.8 percentage points, though as with all polls, the margin of error gets larger when comparing answers by subgroups such as race or borough. And interpreting the poll's results may differ depending on where you stand on the issue. Amazon opponents Jimmy Van Bramer, a New York City councilmember, and Michael Gianaris, a New York State senator, say that the half who don't approve of incentives should serve as confirmation that the tech giant isn't worth subsidizing. "New Yorkers are making clear they agree that too much inequality exists in our communities and giving billions of taxpayer dollars to trillion dollar corporations makes things worse, not better," they said in a statement. "It is also clear that the more people learn about the deal, the less they like it."
But the quiz also nudged New Yorkers into some healthy self-reflection with a question on their own spending habits. Yes, the state wrote a hefty check to Amazon in exchange for their business, but how often do New Yorkers themselves shop on the site? The answers are hardly surprising: Numbers differ by socioeconomic level and racial identity, but overall, 35 percent of New Yorkers are pressing that Buy button one or more times a week.