PONTEVEDRA—Once a city with narrow streets invaded by traffic and city squares more like parking lots, the roads of Pontevedra, Spain, are now often filled with baby strollers and children playing. Kids carry their toys in small backpacks and spread them on the pavement to share with other kids. Playgrounds with swing sets and slides are deliberately unencumbered by fences. "We want children to play all over our city, and to play whatever game comes to mind," said Cesar Mosquera, the Urban Councilor of Pontevedra.
By restricting traffic and eliminating physical barriers, the city council has redesigned Pontevedra from the sight line of a child. Doing so, Mosquera believes, helps the city address everybody's needs, especially the disadvantaged. "Where there are children, there are healthy adults," Mosquera said. The policy, which has been expanding for almost two decades now, has had many impacts on the community. One of the most tangible: The once-languishing historic city center has become a friendlier space for kids and their caretakers.
This trend is reflected in the demographics of Pontevedra. The city has attracted young families from throughout Spain's northwest region to settle in the city, even as Spain overall grapples with low birth rates. In the last decade, Pontevedra has experienced the most growth compared to other major cities in the region of Galicia. The newly revitalized, now pedestrian-focused town grew from 73,871 neighbors in 1998 to 82,671 in 2017, according to the Statistics Institute of Galicia.
Since pedestrianization started in 2000, the population of kids age 0 to 14 also increased by 8 percent in Pontevedra, compared to 3.2 percent in Galicia's capital Santiago de Compostela and 2.4 percent in Vigo, the region's economic hub.

"Here you don't have to hold your child's hand all the time. In any other city that would only happen inside a mall," said Willy García, father of three-year-old Mauro, standing at the pedestrian "Children's Fountain" square, once an intersection with 25,000 cars passing daily.
Rather than go for suburban life in the big metropolitan areas, the García family opted for a mid-sized town. It's a common refrain among those who relocated to the area. Marolia Otero, mother of Gabriel and Lola, ages five and three, said she moved to Pontevedra because in places like Vigo, the region's economic hub, the costs of housing were much greater. In larger cities, those costs would mean living in the far-out suburbs, with longer commutes that leave parents less time with their kids. In Pontevedra, many services are within walking distance.
Carlos Ferrás, an expert in demography and a lecturer of Human Geography at Santiago de Compostela University (USC), says the urban planning-centered approach has been more effective at fostering a parent-friendly environment than other policies some governments have adopted to try to directly increase birth rates.
"Birth-incentive policies—like one-off compensations per newborn—have proved to be unsuccessful. If we want to end Spain's aging drama, we must look for parenting policies, measures that help parents raise their kids, starting with urban planning," said Ferrás.
"The city council has run a very successful strategy, promoting attractive and affordable residential developments in the urban area rather than in the suburbs, and an urban model that is sustainable, greener, convenient, and designed to support citizens throughout their parenting process."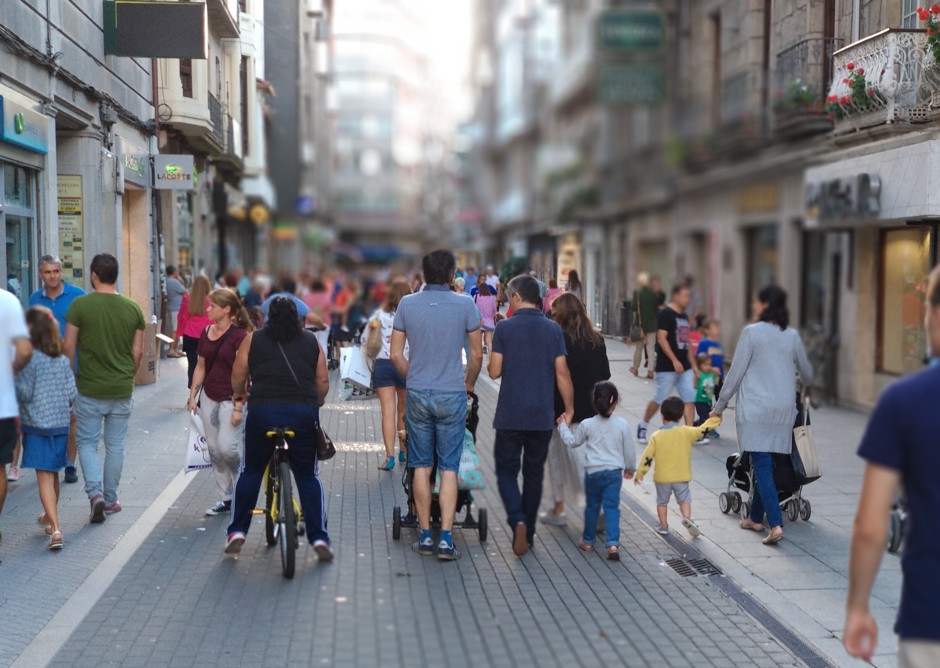 Pontevedra has continued to expand the pedestrian area from the center to the outskirts, liberating a total 669,000 square meters previously dominated by cars, and the transformation is still ongoing. Car use in the inner city has dropped by 77 percent, and CO2 emissions have dropped by 66 percent, according to the city council. The crime rate has gone down, too, adding to the feeling that the city is safe for unattended kids. In 2010, Pontevedra reached its lowest crime rate in a decade with 34 offenses per 1,000 citizens, and last year it reached a new low of 27.
Surprisingly, cars are not strictly banned inside the city. Residents with a private garage can bring their cars in, and traffic is open to delivery services, emergencies, and even to private drivers who need to stop by the center for a pick-up or drop-off.
One of the most impactful policies on human behavior has actually been removing most of the street parking space inside the pedestrian-priority area. "We found that almost 60 percent of vehicles circulating inside town were actually going around in circles trying to find a parking spot. Now, since they know they won't be able to park, they have stopped bringing their cars in and they use the outer parking areas," Mosquera explained.
"It is a very safe environment. With no cars, you don't have to worry about them being run over," Otero said. "And since there are a lot of parents with kids, and we all end up knowing each other. Sometimes you can even ask a friend to look after your kids while you quickly run errands."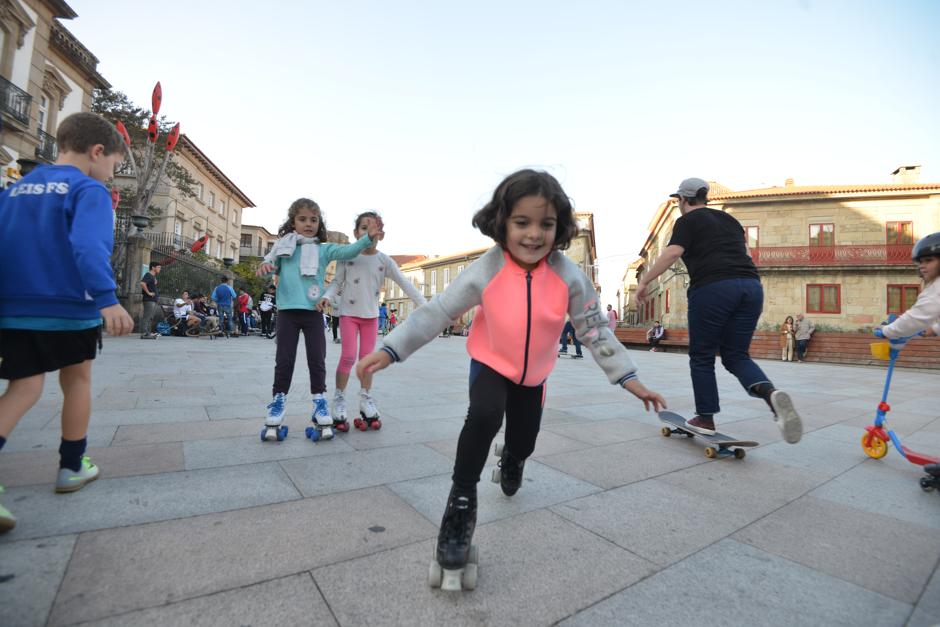 For Ferrás, the demographer, this might be Pontevedra's key to success: a social and urban environment that makes parents feel supported by the community. In Pontevedra, 80 percent of kids from 6 to 12 walk alone to school every morning, and in case they need help, they can report to volunteering local businesses where they will be looked after.
"Cities must be designed so citizens can afford being a parent—an urban model that favors work-family reconciliation. They need to feel accompanied through the process and [that they are in] an ecosystem that values childhood and teenhood."
It has happened that these policies ended up paying off at the ballot box, too. In a town that votes conservative in the general elections, Mosquera's leftist-nationalist political coalition, BNG, has been ruling ever since the pedestrianization program began in 1999. Its urban model has been awarded a number of prizes, including the UN-Habitat Dubai International prize in 2014 and the 2015 Center for Active Design award, among others.
The early resistance of neighbors and local businessmen who feared the absence of cars would mean an absence of customers are well over. Even for the opposition parties challenging BNG's twenty-year dominance, reversing pedestrianization is now likely out of the question. Still, some of those living outside the flourishing pedestrian area are the ones who have the most criticism of the policy, saying they've been excluded from Pontevedra's urban improvements, and that the lack of a working public transit network has forced them to either take their car and deal with the limited parking space available or simply stay away from town.
As part of the city's strategy for work-family balance, schools are kept in the city center and the maternity and pediatric services have been moved from the big hospital complex outside town to a smaller facility right in the pedestrian area. Families with children in Pontevedra also benefit from a wide range of cultural activities tailored for kids. The local theater offers a play every Sunday for children under 12, the central food market hosts workshops for kids on Saturday afternoons, and the city libraries have a year-round activity program for them. During the summer, public urban boot camps take care of the kids while their parents work.
"It is like building a nest," said Carmen Fouces, Pontevedra's culture councilor. "If you put some fluff and straws on a branch, a bird will soon make it its home."