When Candace Miranda, 34, takes the bus—which is every day—it's often late. With her son and daughter, she leaves her job at a local community college in the evening, and hops on the Bx21 bus, which starts in the South Bronx, and then heads north. But, as many bus riders in New York City can attest, it's not that simple.
"Usually what happens is that I'll wait for five or ten minutes, and then I'll start walking. Normally what happens is that about halfway through, a bus will be coming, so I'll either be able to catch it, or it'll go past me," she told me. "The route along Third Avenue is also not well-lit. They can't see me. It's a bit frustrating."
If that happens, Miranda resorts to hailing a taxi. But she can't afford to do that too often. "And I have these two," she said, referring to her children, who stood next to her.
As CityLab reported in May, New York City's bus system, the largest in the U.S., is also the slowest. And it has been losing riders at a rapid clip. Amongst other factors, buses are falling prey to a Catch-22 of congestion: fewer bus riders, more cars; more cars, slower buses; slower buses, fewer riders. Transit advocates here have long been calling for a wholesale redesign of New York's bus routes, which they haven't undergone in decades. In recent years, a trifecta of public pressure, poor performance, and the data to prove it has pushed the issue to the forefront.
Now, the Metropolitan Transportation Authority (MTA) and city's Department of Transportation (DOT) are committed to a 28-point plan to fix the buses in New York, starting, most notably, with a full-scale overhaul of all 322 bus routes citywide by 2021. The respective agencies started with Staten Island, where a new express network was rolled out earlier this year.
Next up: the Bronx.
Miranda's is a tale often told in this borough. In 2017, an average of 483,663 people—or nearly a third of the overall population—rode the bus there each weekday, according to MTA data. That is a 7.5 percent decrease (or some 39,000 people) from the year before; the highest drop of any borough. In sum, the Bronx is ground zero for what ails the network.
It's also a place where bus service matters—a lot. The South Bronx is the poorest Congressional district in the country, where many residents have no access to private cars and can't afford taxis or ride-hailing services. It's home to at least a dozen bus routes, connecting transit riders that the hub-spoke subway system (whose lines go vertically, not horizontally) largely leaves out. "Bronx residents deserve first-rate transit and right now they simply aren't getting it," said Andy Byford, the president of New York City Transit, in a statement.
To help shape the borough's bus makeover, MTA and DOT are convening a series of public workshops devoted to the future of the network. "Just as we did in Staten Island and just as we will do in the city's other boroughs, customers are being provided with a blank slate and we are eager to hear what they bring to the table," Byford said. "After all, the people who live in these communities are the ones who know them best."
On a recent weeknight, nearly 100 bus riders, Miranda included, gathered at the Metropolitan College of New York to voice their ideas. Upon arrival, participants were assigned to different tables, where MTA and DOT planners guided them through several community visioning exercises. First, a map of the Bronx was laid out across the table, and participants were asked to place three dots: green for the origin of their trips, blue for a transfer point, and red for their ultimate destination. At one of the tables I sat in on, Fredrick Wells, 42, placed his red dot off the map, in Queens.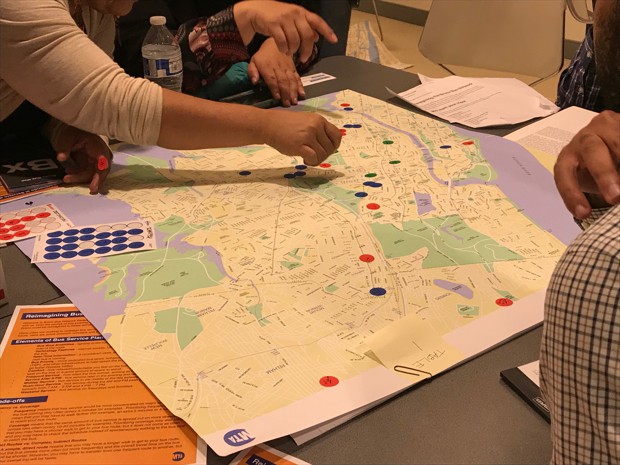 He works at JFK International Airport, and his commute can take up to an hour and a half. The cross-borough trip between Queens and the Bronx is limited to two bus routes: the Q50, and the Q44, which is an express Select Bus Service (SBS) route. "I have one co-worker who works in Wakefield," he told me after the workshop, referring to a neighborhood at the northern edge of the Bronx. "I know it'd take her an hour and 20 minutes on the Q44, and then she has to take the AirTrain from the end. She drives because of that."
Like many attendees, Wells takes bus advocacy very seriously: He also handed me a copy of a self-authored report he brought along with him, outlining his recommendations for the MTA and DOT to undertake. (One suggestion: extending a Bronx local route to western Queens.)
The next exercise asked participants to rank priorities such as comfort, real-time information, and station amenities, to name a few. ("These are luxury for us," Wells told the table, to nods of agreement.) Another commuter, Maura, said that both safety and service had to be stressed. "Sometimes the bus route is either hard to find, or goes through unsafe areas," she told me afterwards. "I have to take an Uber, because the bus doesn't come, and I don't want to be there at night." When I asked her if the subway was an option, she looked at me, and laughed. "Have you taken it at night?"
Next question: Do the routes just need more buses, or do the routes themselves need to cover more people, and places? On this issue of frequency versus coverage, participants were effectively split—and for good reason. One older Spanish-speaking woman said that on her line, bunching was a major problem. "The buses don't come on time, so when they do come, they're so crowded. It's crazy." Another rider, who was a student at the school where the workshop took place, pleaded: "Please don't get rid of the local bus route." Other participants said they'd rather walk for 20 minutes than wait for a bus for 20 minutes.
Miranda recognized that the preference to the question was a matter of capability. "For us, it's frequency. But at our table, more people said coverage, because they're older, or have disabilities," she said. "We walk if we have to. But not everyone can do that."
The last two discussions revolved around related tradeoffs: simple, direct routes versus complex, indirect routes? Fewer stops, or more stops? At a different table, Amanda Septimo, who previously ran for an assembly seat in the district, said that the Bx12 SBS route—which has all-door boarding, a straightforward route, and fewer stops—runs smoothly along Fordham Road. SBS, she said, "is like the watered-down version of Bus Rapid Transit."
The problem is the priority of the bus lanes themselves. Take the Bx6 SBS on 161st Street, she said, as an example. Without physical barriers or better enforcement—both of which were mentioned in the 28-point plan—drivers often drive or double-park in its designated bus-only lane, she argued. But as an occasional driver herself, Septimo said the rules can be confusing as to who can access what, and when. "I hope the agencies are thinking about using barriers in a smart way, that also allows for temporary access at night," she said.
As the crowd filtered out around 8 p.m., Septimo surveyed the room and noted that no current elected official had stopped by to check in. "Bus service isn't sexy," she said. "It's not the subways, which get the headlines. I also think that elected officials believe that this grassroots level isn't the right entry point for them, and that their chance to voice their opinions comes later in the process. But when you start at that grassroots level, you can really hear what your constituents are saying throughout the entire process."
And what were those constituents saying, exactly? One overall message came through in voices of Bronx commuters: They just wanted to feel better connected to their own city, and better served by their city government. Improving the bus service might not solve that broader problem, but it's definitely a good place to start.