The following is adapted from Most of 14th Street Is Gone: The Washington, DC Riots of 1968, by J. Samuel Walker (Oxford University Press, $24.95).
At 7:05 p.m., Eastern Standard Time, on Thursday, April 4, 1968, Martin Luther King Jr. was shot in the neck as he stood on the balcony of the Lorraine Motel in Memphis, Tennessee. United Press International sent out the first public report at 7:12 p.m., and President Johnson learned the news by reading it on a ticker tape in his office that provided up-to- the-minute information. At 7:25 p.m., he received official word but few details from Attorney General Ramsey Clark. King died at 8:05 p.m.

One hour later, Johnson appeared on national television and gave a three-minute address in which he mourned the death "of this outstanding leader" and appealed for calm. "I ask every citizen to reject the blind violence that has struck Dr. King, who lived by non-violence," he said. But violent protests soon broke out in cities across the country.
A crowd began to gather at the corner of 14th and U Streets in Northwest Washington when the news that King had been shot became public. The areas around the east-west corridor of U Street and the north-south corridor of 14th Street had deteriorated since the 1920s and 1930s, but this was still the premier commercial center of black Washington. For about 20 blocks north of U Street, the 14th Street corridor and its offshoots hosted some 300 businesses, plus bars, theaters, and nightclubs.
The 14th and U neighborhood was also the center of black activism in the city; the local offices of black leadership groups were clustered there. In addition to the local SNCC headquarters, the Washington offices of the Southern Christian Leadership Conference (SCLC) and the National Association for the Advancement of Colored People (NAACP) were located in the immediate area. People gravitated toward the intersection when they learned that King had been shot. At the same time, police and civil defense intelligence units moved in to observe the scene. They found that, at first, the "mood of the group was … one of shock and dismay rather than of anger."
The mood of the crowd became increasingly bitter after the announcement that King had died. Some individuals gathered around a transistor radio to listen to President Johnson's speech. His appeal for calm was not greeted favorably; one person shouted that King's death would "mean one thousand Detroits."
By that time, Stokely Carmichael had joined the crowd, and he quickly assumed leadership. A graduate of Howard University, he happened to be in Washington during a series of speaking engagements around the country. He was no longer the SNCC national chairman, but when he heard about King's shooting, he went to the group's local office to consult with his colleagues. After talking with his SNCC associates, he decided that local businesses should close as a way of honoring King. He announced, "We're going to close them down now," and headed for the streets.
Carmichael was not alone in deciding that stores in the 14th Street and U Street corridors should shut down. A group of about 25 to 30 people fell in behind Carmichael and marched to a Peoples Drug Store at 14th and U Streets. Carmichael politely asked the manager of the store to close, and he immediately complied with the request. The group, mostly young men, soon grew to about a hundred as it moved on to other businesses. The owners, doubtless in part because they felt intimidated, promptly agreed with demands to shutter their stores.
From the second floor of the SCLC offices, Walter Fauntroy watched the growing turmoil on the streets below. In addition to his duties as pastor of the New Bethel Baptist Church at 9th and S Streets and as vice-chairman of the District of Columbia city council, he headed the local chapter of the SCLC. King's death was a staggering blow to the 35-year-old Fauntroy; the two men had been close friends since they had met as divinity students. Fauntroy was at his church when he learned of King's death; he had rushed to SCLC headquarters as soon as he heard that a crowd was assembling at the 14th and U intersection. Fauntroy feared that Carmichael, who had a well-earned reputation for making provocative statements, would further inflame a gathering that was already tense. He went out on the street and elbowed his way through the crowd to confront Carmichael.
"This is not the way to do it, Stokely," Fauntroy cried above the noise of the crowd. "Let's not get anyone hurt. Let's cool it."
Carmichael responded: "We're tired of them killing black people. We want them to close out of respect for Dr. King. … All we're asking them to do is close the stores."
This explanation satisfied Fauntroy, who agreed that calling for stores to close was "a useful channeling of the frustration." He then dashed, with a police escort, to several local television and radio stations, where he appealed to city residents for "restraint, calm and nonviolence."
But the calls for calm and reason soon proved to be futile. At 9:25 p.m., the first acts of vandalism and looting occurred. A window at the Peoples Drug Store that had closed at Carmichael's request was smashed. At about the same time, a 15-year-old boy broke the glass of the front door of the Republic Theatre just down the street. A window of a Safeway market at 14th and Chapin Streets, five blocks north of U, was shattered and people immediately entered and began looting. One block south of the Safeway, a woman used her body to pummel the window of a television and appliance store until it broke. Carmichael and other SNCC workers tried to stop would-be looters, but their efforts could save the store's inventory for only a limited time.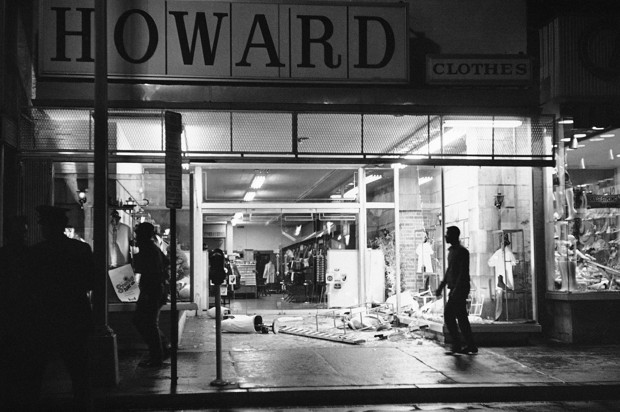 The rioting began in earnest a short time later. At 10:18, Assistant Chief of Police Jerry V. Wilson drove an unmarked car toward 14th Street in a drizzle and expressed hope that "it would rain like hell." But law enforcement officials were not that lucky. The police, with only a regular complement of men at hand, were badly outnumbered by the still-growing crowd, and they were soon ordered to withdraw from the 14th and U intersection. Police cars that were visible were pelted with stones, bricks, and bottles, and patrolmen had little guidance on how to respond.
By about 11:00 p.m., enough police officers had arrived to combat the riot aggressively. The midnight to 8:00 a.m. shift was ordered to report an hour early, and the combined force began to make arrests. The police did not fire their guns against rioters, but they formed a human wedge on 14th Street to limit access and discourage criminal activity. Most effectively, they began the extensive use of tear gas.
The problems caused by theft and damage to property were compounded by potentially even more devastating and dangerous effects of arson. The fire department responded to its first call in the riot area at 10:50 p.m., after a car on the sales lot of a Chevrolet dealer at 14th and Belmont Streets, four blocks north of U, was torched. This was the first in a series of 18 fires that blazed overnight. Seven of them occurred in the immediate vicinity of the riot on 14th Street.
At about 11:30 p.m., D.C. Mayor Walter Washington decided that he wanted to personally observe what was happening in the riot zones. Accompanied by Paul Delaney, a reporter for the Evening Star, and two advisers, Washington drove on 14th Street, witnessing a man heaving a bottle at a car, a convenience and hardware store being looted, and a liquor store stripped bare. One person shouted obscenities at them. The mayor, Delaney reported, sat in "stunned silence, shaking his head."
Meanwhile, a fire was set at the Empire Super Market at 14th Street and Clifton. After looters cleaned out its inventory, a group of youths tried to burn it down. They eventually succeeded in their self-appointed mission, and the fire they set "lit up [the] area like daylight," the Washington Afro-American reported. By the time the blaze was extinguished, the inside of the store was completely burned out. It was the most destructive fire of the night.
Firefighters, like the police, received a rude welcome from people on the streets, who directed a barrage of verbal abuse at them. Finally, by 4:22 a.m. on April 5, the fire department reached a "period of relative calm" in which no new fires were reported.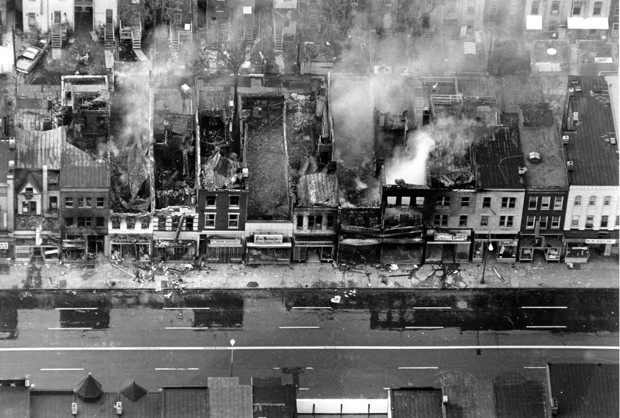 As the attacks on the police and firefighters, most of whom were white, indicated, the participants in the riot demonstrated ample measures of racial hostility. The disorders on 14th Street were not a race riot in the sense that they produced a series of direct, violent confrontations between blacks and whites. This had occurred at other times in Washington, most notably in a fierce clash between races in 1919 that resulted in thirty deaths and countless injuries. But if the outburst on the night of King's death was not a race riot, it clearly brought to the surface black resentment toward white society. "This is it, baby. The shit is going to hit the fan now," yelled one rioter shortly after the breaking of store windows and looting began. At this juncture, Stokely Carmichael tried once again to cool passion, but the turmoil quickly gained momentum.
Bonnie Perry, who was 13 at the time of the riot and an attentive witness to what went on, later told an interviewer that some residents participated "because they just wanted to loot." She suggested, however, that those people were exceptions. "Most people did it because they were angry and were frustrated with the country. Frustrated and angry that Martin Luther King had been assassinated and frustrated that there was nothing," she recalled. "It was like there was no hope for the future."
***
On Friday morning, District and federal government officials were cautiously hopeful that the worst was over. President Johnson held a hastily organized meeting with civil rights leaders, including Mayor Washington, at the White House at 11:00 a.m. He warned that it would be "a catastrophe for the country" if Americans concluded that violence was the only way to address racial problems. The black leaders at the conference agreed to speak out against violence, but SCLC chair Fauntroy and several others also emphasized that their efforts must be supported with practical measures to improve conditions in low-income urban areas. Johnson agreed that sharply increased spending to combat urban woes might be necessary to reduce the likelihood of riots, at least in the long run. With congressional leaders sitting in the room, he also urged prompt passage of the fair-housing legislation he had long advocated. When the meeting ended, most of those who attended rode in a 12-car motorcade to the National Cathedral for a memorial service for King.
At 12:05 p.m., Patrick Murphy met with Undersecretary of the Army David E. McGiffert and Deputy Attorney General Warren M. Christopher at the White House. Murphy, McGiffert, and Christopher quickly agreed that the District of Columbia National Guard should be called up. Its troops would assemble at the DC Armory on East Capitol Street in time to be ready for deployment by dark. The army had already placed units of active forces on alert.
But by the time the meeting ended, their plans were obsolete. Serious rioting resumed on 14th Street at about noon, and it quickly surged out of control. By noon, crowds of mostly young people had gathered along the 14th Street corridor for twenty blocks north of U Street. Few police officers were in the area.
Suddenly, the mood turned ugly. At 12:13 p.m., a Safeway grocery store just below 14th and U was set on fire. Simultaneously, groups of 300 or more people began to break windows and loot stores that had escaped damage the previous evening. At 14th and Harvard Streets, nine blocks north of U, police radio calls for assistance were described as "frantic." One officer appealed for "gas masks, gas, and more troops" because, he said, "We are getting bricks here."
By 1:40 p.m., the Military District of Washington's Intelligence Journal, which compiled information on what was happening on the streets from various sources, reported, "All of U St out of control because of rioting."
The human costs of the arsonists' handiwork included the midday deaths of two teenagers in a blaze in a G. C. Murphy variety store. Their bodies were found in the rubble the next day.
Shortly after 14th Street erupted, a surge of destructive activity began a few blocks east on 7th Street NW. The 7th Street corridor had been hit with window-breaking and some looting on Thursday evening, but, as on 14th Street, the riots that broke out on Friday were more devastating by orders of magnitude. The first fire alarm on 7th Street sounded at about 1:00 p.m.; within forty minutes, several stores were burning, and, ominously, the Military District of Washington reported that at one of them, "Firemen are helpless."
A revealing example of the emerging calamity was the fate of several stores and residences on the west side of 7th Street north of Mount Vernon Square between R and S Streets. There were 16 stores on the block, and some had suffered minor damage the previous evening. But the store owners and apartment dwellers were not prepared for the violence that struck them on Friday afternoon.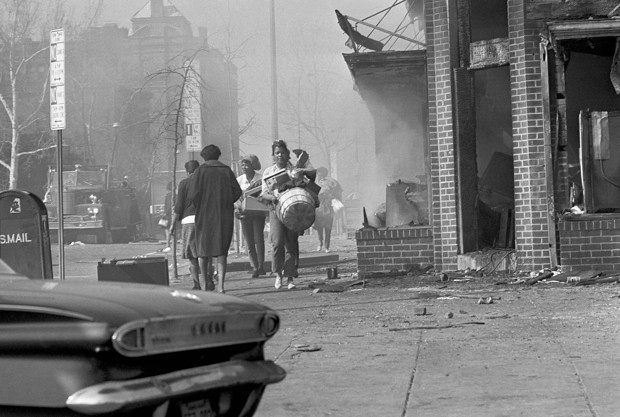 At first, the main problem was the tear gas that wafted up from the street after the police arrived. But as Claudia Howard was fixing dinner for her two granddaughters in her apartment above a dairy store next to Log Cabin Liquors, she heard an explosion. She and her granddaughters immediately ran out to the street, where they watched the building burn down with all their possessions in it. By that time, other buildings on the block were also ablaze. When the burning ended, ten stores—six with white owners and four with black owners—were completely destroyed. Six other stores, all owned by blacks, were undamaged. The 13 people who lived in apartments above the gutted stores lost their homes, and in most cases, all their belongings.
One other business that was burned to the ground was Manhattan Auto, which occupied four properties—a three-year-old showroom, a service department, a used-car lot, and an accessories store—at the R Street end of the block. The company had been founded at that location in 1914 as a gas station in a former feed store. It had grown into the largest dealer of foreign cars in the Washington area. But none of the buildings survived the riots of April 5.
When Joe Herson, the president of Manhattan Auto, and his brother-in-law, Bernie Mills, who was the general manager, went to inspect the damage to their properties, they discovered that "it looked like we had been bombed out in an air raid." Mills started to walk across the street to look at the used-car lot, but Herson cautioned him against doing it.
"These people are our neighbors," Mills protested. "The business has been here for 50 years."
Herson responded, "Things are different now. Things are very different."
Although Mills later remarked that it was "very traumatic to pull up roots," Manhattan Auto left 7th Street permanently and moved to the suburbs.