Before he was known as Donald Trump's lawyer or "America's Mayor," Rudy Giuliani was one of New York City's most divisive figures. In his tenure as mayor from 1994 to 2001, he framed his work as a mission to "clean up" New York, perhaps most controversially by waging a campaign against the city's sky-high crime rates, which peaked in the 1970s and remained steady through the early '90s.
At the center of this effort was the "broken windows" theory of criminology, which posits that visible signs of societal decay—graffiti, public lewdness, and broken windows on abandoned buildings—create an atmosphere that encourages crime. Stricter policing of these smaller offenses, according to the theory, would discourage people from committing more serious felonies.
That thinking, first formally introduced by social scientists James Q. Wilson and George L. Kelling, has long been controversial and contradicted by much available evidence. Advocates claimed New York City's turnaround was proof that the policy worked and needed to continue. Opponents argued that crime rates were already falling due to an economic uptick in the city, and that the aggressive policing of petty crimes essentially ushered in the criminalization of poverty, a rise in police shootings of civilians, and mass incarceration of nonviolent and first-time offenders—paving the way for the harrowing "stop and frisk" era that followed.
While the political and academic debates continue to rage, a new pop-up art installation focuses in on the stories of the individual people who bore the brunt of its worst impacts. The Museum of Broken Windows, which opened Friday in Greenwich Village and runs through Sunday, features performances, installations, and other works by artists and activists like Dread Scott, Sam Durant, Molly Crabapple, and Keith Haring. Curated and funded by the New York Civil Liberties Union, the aim is to highlight the "ineffectiveness of broken windows policing, which criminalizes our most vulnerable communities." It also draws attention to the fact that many broken windows tactics are still in use today, from intrusive community surveillance to overzealous policing of minor offenses.
"Through art, we feel like we can bring real urgency among people who maybe aren't directly impacted by broken windows, but need to be aware of what their neighbors are going through," says NYCLU advocacy director Johanna Miller, a co-creator of the show.
In addition to original art, the museum is filled with heartbreaking mementos, press clippings, and photos from the height of broken windows. It has the haunted time-capsule feeling of the 9/11 Memorial Museum and the physical look of an activist meet-up space. Splashed on the walls is beat-esque poetry graffiti. Statistics illuminate police brutality rates and highlight racial inequality in the criminal justice system. This stands shoulder-to-shoulder with large-scale installations that speak directly to broken windows as well as the period in 2011, when stop and frisk was at its height.
One of the most striking pieces in the show is Jordan J. Weber's installation of a destroyed cop car. The cruiser's windows are broken, and ferns, peace lilies, and other plants grow through the doors and windshield. The plants were chosen specifically for their ability to purify air, as an homage to NASA's Clean Air Study and a direct reference to Eric Garner's last words—"I can't breathe"—as he was asphyxiated by Staten Island police in 2014.
Many in attendance at Friday's opening were the relatives, friends, and colleagues of people who were incarcerated or killed by police during the height of broken windows. When they saw each other at the exhibit, they hugged like long-lost friends.
The work in the museum aims to present the tragedy of the current era of broken windows. The physical space is a U shape that begins with Weber's police car and ends with a series of watercolor paintings by Baltimore artist Tracy Hetzel of mothers who have lost children to police shootings. The museum's run will conclude with a poem by Cleo Wade and Deray Mckesson on the subject of hope, with the message that "hope is not magic, hope is work."
"We really do want people to leave not just seeing this magnificent art exhibit, but to take action and urge the mayor, and the city council, to end broken windows policing—because we believe we can end it," Miller says.
In addition to Hetzel's work, there are 20-foot-long pieces by Hank Willis Thomas entitled Writing on the Walls, which include letters and poems written by people who have been incarcerated. An installation by Ann Lewis constructs a swaying mobile of toe tags that represent people who were killed by police in 2016.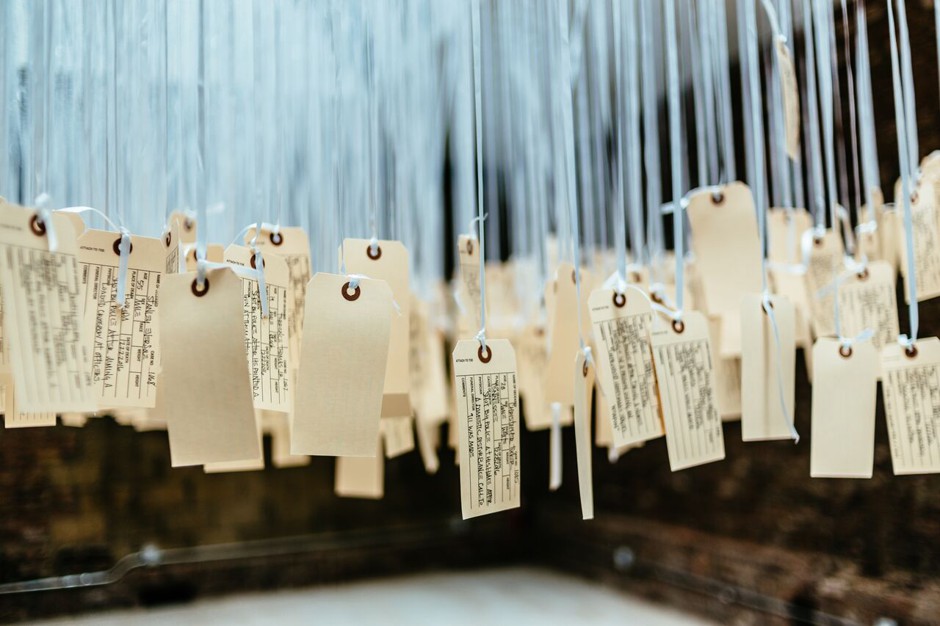 The concept for the museum began with a project called "The Listening Room," a traveling pop-up that visited over 30 neighborhoods and parks in New York City. Thousands of residents were invited to share their experiences of how the police impact them personally. Later, they were given the opportunity to send postcards to the mayor with their own ideas for policy solutions.
"People in all neighborhoods and all walks of life are looking for the same reform," Miller says. "People who have never been stopped and frisked and people who get stopped and frisked once a week, both indicate to us that they feel the NYPD needs to be more accountable and better on disciplining officers."
Most, if not all of the artists on display have been working for decades at the intersection of art and activism. That includes Dread Scott, who has three pieces in the show. One, Sign of the Times, presents a yellow caution sign of a stick figure of a cop shooting a figure with its hands up. "I made that in initial response to the police shooting of Amadou Diallo, who was killed in his own doorway in a hail of 41 bullets," Scott says.
Another project, A Man Was Lynched By Police Yesterday is presented in sharp contrast to the NAACP's iconic sign "A Man Was Lynched Yesterday." Scott said he wanted to make a connection between the legacy of lynching in America and the current terror against black communities and the policing of similar communities now.
"People feel very much that lynching is a horror from the past, but at the same time, in black and Latino communities, when our children get a little older, we have the same conversations with them about how to survive an encounter with the police," Scott says.
Some may see broken windows as a legacy of the past, but it's still a significant part of the urban experience today—and not just in New York. Architects of broken windows went on to consult for city governments of Los Angeles and Boston, both of which have struggled with desegregation and have received nationwide attention for police profiling and brutality. "No doubt NYC policies like broken windows set the standard all over the country and its legacy lives on everywhere," says Carl Snodgrass, a lawyer and Debtors' Prisons Legal Fellow at the ACLU.
By offering a 50-year retrospective, the Museum of Broken Windows hopes to show just how deeply this one idea affected the city and countless lives within it. "We believe this did not start with Giuliani and did not end with Giuliani," says Daveen Trentman, co-founder of the Soze Agency and executive producer of museum. "We wanted to work with artists who were directly impacted, artists who were formerly incarcerated, and had profound experiences of being impacted by these policing practices."