The Detroit People Mover is an automated mini-train that circles downtown Detroit. With 2.9 miles of uni-directional elevated track and a top speed of 56 miles per hour, it connects to no other lines. This is not effective public transit. Instead, it's a pleasant distraction, an amusement ride through the city. It would be great if that were enough—transit should more bring joy to travelers, especially these days (and especially Detroit). Sadly, it's not.
The sensual pleasures of the People Mover—enthusiastically documented by visitors and Detroiters alike—are many. Where else can you ride aloft through a historic downtown, gawking at iconic towers, 45 feet above street level? OK, not nowhere—Miami and Jacksonville, Florida, have their little horizontal elevators, too, and are considered peer systems to Detroit's. (Most other "people movers" proper reside in airports, though Seattle's downtown monorail is sometimes put in the same category, as is Vancouver's elevated rail system.) But Miami's system actually provides some meaningful connections, and has been instrumental in helping attract investment back to the downtown area. Even Jacksonville has a more-useful two-way track (which may be destined to become a guideway for autonomous buses).
The People Mover, on the other hand, is almost aggressively useless— "a rich folks' roller coaster," one resident told Time magazine when it opened in 1987. A photo of the empty People Mover sailing over the wide, largely traffic-free streets below is the sort of thing anti-transit advocates use to illustrate the folly of expensive fixed-rail transportation projects. But, for tourists and business travelers like me, it's a delightful and affordable diversion; penny for penny, at $.75 a ride, it was the best investment I made as a visitor earlier this week.
By far the best $.75 I spent in three days in Detroit was to ride the marvelous People Mover. Ok, it is not especially effective transit. But the views of this strapping downtown are unparalleled. #CityLabDetroit pic.twitter.com/Fb29SigL3G

— Laura Bliss (@mslaurabliss) October 31, 2018
Exhibit A: There's no need to pay attention to your stop! Chances are, within such a diminutive radius and zero transfers to catch, getting off a late won't screw up your plans too badly. Hop off at the next stop and walk back to the one you missed, which will take all of 10 minutes. Or if it's cold outside, you can just wait 14 minutes to circulate again, which is how long the entire loop takes. Lucky you: You get to zone out twice before the People Mover's unparalleled views of downtown Detroit. Behold the exquisite Guardian and Book buildings, views of Haussman-esque Woodward Avenue and Washington Boulevard, the knot of highway at a stadium's edge, and 15 public artworks that adorn each station. You get a nice stretch of melancholic riverfront, too. It's an urban admiration tour that trumps any ferry ride I've been on. The automated service is fast, frequent, and reliable—after all, it's only going one way.
However, the People Mover is a diversion in two senses—besides being fun, it distracts from a problem. Are we talking about getting workers to jobs, or students to school, or anyone who has to get anywhere in a timely manner? Definitely not. The People Mover's reach is too limited to make real connections, and few commuters have time to spare gazing at architecture on their way to business-district obligations. No wonder some Detroiters aren't, um, moved by it.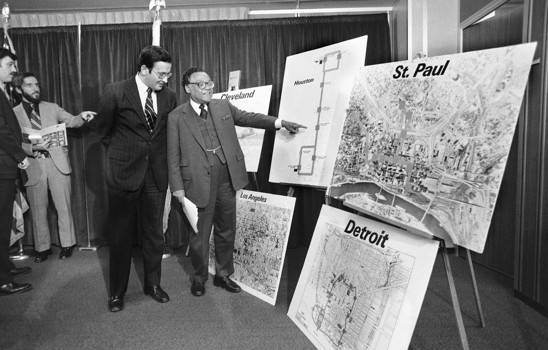 Original plans for the People Mover—which emerged from a flurry of brief federal enthusiasm for futuristic forms of urban transit in the 1970s—had envisioned its extension far beyond the downtown core, but politics, money, and demographics never seemed to align. By the time the system actually opened in 1987, following cost increases and construction delays, Detroit's population was in freefall and the downtown it orbited had hollowed out. For a lot of locals, the novelty wore thin pretty fast. Annual ridership has hovered around the two million mark for the last decade, a fraction of what planners projected. In 2016, the People Mover's cost-per-trip was a fat $7.47 to the Detroit Department of Transportation; the $18 million in annual operating costs is split between city, state, and federal governments. (By comparison: the much-more heavily used Miami's Metromover cost the county transit agency $2.56 per trip in 2010.)
Today, as Detroit's population begins to stabilize, some younger downtown dwellers do use it for their daily commutes, as a Detroit Free Press explainer found last year. But the DPM still mostly seems to serve tourists and convention-goers. Saturday and Saturday ridership apparently outweighs weekday use.  
Novelty transit doesn't cut it in New York City, and it definitely doesn't cut it in Detroit, where current bus service is threadbare. For all the pomp and outward signs of an economic resurgence downtown, some 40 percent of the city's population lives in poverty, and most live beyond the downtown core. "Despite its auto-centric reputation, Detroit is eighth nationally in its percentage of carless households," wrote Henry Grabar in a Slate article declaring the bus network "America's worst transit system." To make a full recovery, experts say, the city will have to invest in mobility options (among other services) that directly serve the people who live there.
The idea of expanding the People Mover is still resuscitated on occasion. But that seems as unlikely as ever, especially with the opening of another expensive novelty transit project: the 3.3-mile Qline streetcar down Woodward Avenue that opened last year. The brainchild of Quicken Loans founder Dan Gilbert, the streetcar's practical purpose would probably have been more effectively accomplished with a very nice bus (not unlike the People Mover). But at least the elevated tram doesn't get stuck in traffic.
Decades from now, perhaps joy-riders like myself will be equally wowed by the Qline's views. But so far, its ridership performance has underwhelmed. A bus rapid transit network connecting communities across the greater Detroit region has been proposed, and even supported by Governor Rick Snyder, but voters shot down the idea in 2016. Despite the need, support for effective transit in the Motor City hasn't been there. And it seems the mixed record of these trendy projects hasn't helped muster it yet.
The People Mover, an artifact of a vanished era of downtown transit optimism, may be short on utility, but at least it does its job in style. And that's the thing: loop around downtown's regal towers as many times as you like, and you might never notice how, in the neighborhoods beyond the circuit, transportation for many locals remains of reach.