Anyone who has spent time in Pittsburgh has likely come across at least a few of the buildings designed by architect Tasso Katselas, but you'd be forgiven for not recognizing his name.
Katselas, now 91, transferred ownership of his firm in 2005 (now called TKA Architects, Inc.) but remains a consultant at the practice and a trenchant observer of the built environment. His body of work remains a forgotten yet ubiquitous aspect of Pittsburgh's landscape.
The architect built work across nine states and five countries but the overwhelming sum of his work and most of his greatest buildings are in Western Pennsylvania. If Katselas's designs employ a vernacular reflective of the area, it would be a strain to describe him as any sort of regionalist—he was simply an architect of universal ambitions who happened to build mainly in one place.
He is perhaps best known in the region for a variety of lower-income housing he constructed in the 1960s and a number of large civic and cultural projects he designed in the 1990s. In the process, he incurred the frequent ire of other local architects who groused about Katselas's substantial connections to local political figures. Gerard Damiani, architect and Associate Professor at Carnegie Mellon's College of Architecture observed that his local success "created a lot of tension in the community with other architects, whom I think were jealous of what he was doing. I don't think other architectural practices in the region at the time could have stepped up to the work he was doing. They didn't have the ability to do that."
In 1962 Ada Louise Huxtable showcased Katselas in the "New Talent USA" issue of Art in America along with Gunnar Birkerts and Craig Ellwood. One of Katselas's own residences was featured as an Architectural Record "House of the Year" in 1964, alongside works by I.M. Pei and Richard Meier. His Rovida House attained the same honor in 1974. His East Hills Park Apartments were among the publication's "Apartments of the Year" in 1970 as were his Allegheny Commons East Apartments in 1974. A 1975 issue of Campus Architecture features the Community College of Allegheny County complex he designed alongside campuses by Paul Rudolph and Harry Weese. His design for St. Vincent's Monastery deserves a place in any accounting of the best modern American religious architecture. Even his low-income housing work displays consistent experimentation within often limited budgets.
Despite his accomplishments, some of his best public housing has been demolished, his Science Center at St. Vincent's College has been altered beyond recognition, and the airport he designed for his home city will soon be changed considerably. Many of his other great works stand in good condition, yet still await the respect they deserve. None of his buildings are in any form landmarked, let alone on any sort of historic register.
***
Katselas, born in 1927 to Greek immigrant parents, grew up in East Pittsburgh, a borough 11 miles away from its namesake. Architectural education at the Carnegie Institute of Technology (now known as Carnegie Mellon) led to teaching at Kansas State College and an early meeting with Frank Lloyd Wright who took to the young Katselas and recommended him to Liliane Kaufmann for the design of a chapel on her Fallingwater property. She died soon after, leaving the project unrealized. In 1955, he launched his own practice in Pittsburgh, a unique moment somewhat later in Pittsburgh's multiple spates of urban renewal.
According to Rami el Samahy, co-author of the forthcoming Imagining the Modern: Postwar Urbanism and Architecture in Pittsburgh, the city's urban renewal efforts were unusual due to how much more driven they were by business than government—and Katselasu built several early projects related to these efforts. Compared to Boston's flurry of self-reinvention in the '60s under Mayor John Collins, says el Samahy, "You don't have the same sort of large scale government efforts, you don't have a [new] government center or city hall." Redevelopment in the East Liberty and Allegheny neighborhoods was "driven to a very large extent by the business community and the merchants there."
Unfortunately, both were heavily inclined towards suburban and demolition-heavy solutions to these business districts, which involved strangulation by ring road and belts of parking (which Katselas opposed). The faults of other planners became identified with his own. "Tasso is associated with urban renewal. In part, that was the early work he could get," says el Samahy. "The shorthand of his work has a negative association."
Katselas's work was defined by his unapologetic modernism. Damiani explains, "He built mainly in two forms: precast concrete with brick, or a masonry precast system with concrete or other elements making up the rest." These methods lead to clear spatial systems comparable to Rudolph. "He had a language he was using, he was very expertly working with."
A number of Katselas's characteristically Brutalist buildings in concrete are excellent and his frequent pairings of brick with concrete are somewhat rarer hybrids in the modern repertoire. Mildred Schmertz, former editor of Architectural Record compared his earlier work to the "Corbusier of the Maisons Jaoul" for this reason. It's a comparison with which Katselas takes some issue but there's no question his body of work sits in the intriguing company of modernists with frequent recourse to brick such as James Stirling, Louis Kahn, Ulrich Franzen, Alison and Peter Smithson, and Alvar Aalto (his favorite architect). Katselas's reliable exterior articulation of stairways and escalators and frequent recourse to ramps bears some resemblance to Rudolph's efforts and Davis Brody's Riverbend Houses in Harlem are unquestionably similar to Katselas' work as well.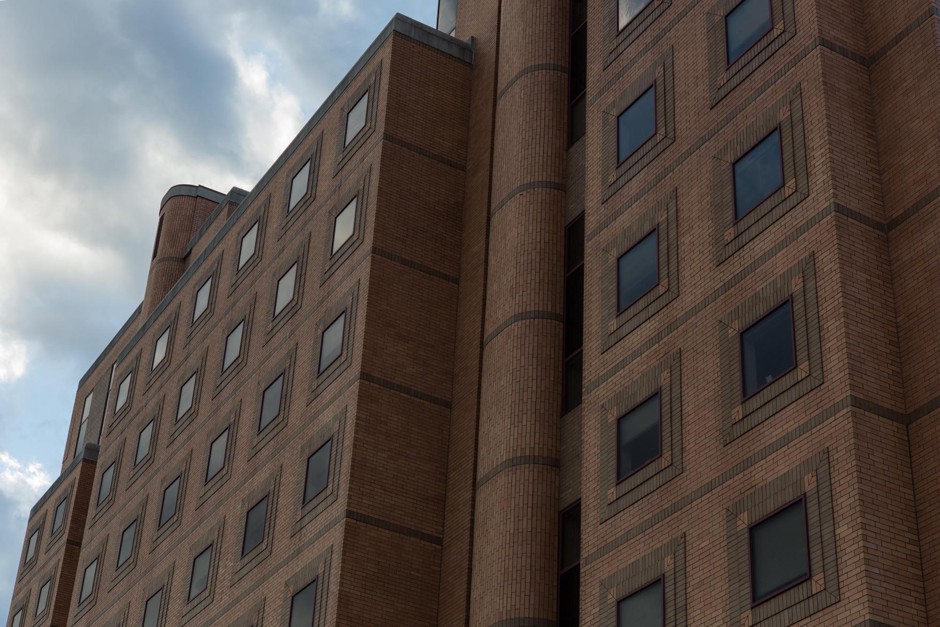 Katselas built many distinctive masonry-supported buildings with thick transverse walls that often project out at the base or flare at the top; some of these are low-income housing, others upper-income. The latter often involved higher budgets but almost all feature experimentation. His designs often involved staggering the size and height of the building and altering fenestration and facade elements in countless ways between thick brick ribs.
In conversation at his late 1970s brick and concrete Shadyside home, Katselas praised the utility and artful potential of both of those substances and contrasted them with more evanescent peers. "I think wood's a nice material but it's not meant to be used the way it's being used. You can't build 5-story buildings out of wood—it's immoral. There will be shrinkage. It won't last." Throughout his career he has stressed both the economy and viability of these materials along with their expressive potential. "Concrete is an honest expression, brick is an honest expression. You can't bullshit with brick and you can't bullshit with concrete," says the architect. "If you're going to use it, express it and you won't lose it."
***
His work in East Liberty, now entirely demolished, consisted of several exercises with brick as both a load-bearing and decorative material. He commented: "The high rises were a technical experiment: the highest masonry-bearing buildings in the world." Says el Samay, "The work he did in East Liberty is really quite smart, particularly in brick—it really is quite brilliant in how to efficiently arrange a system that incorporated different sized apartments." But his work in East Liberty was associated with the neighborhood's decline. One tower spanning Penn Avenue was demolished first. The smaller structures he did for the same area are now all now as well. "I loved those," Katselas said, "and there's not a trace of them left."
One walkable segment of the generally car-centric Allegheny Center is his Allegheny Commons East, whose narrow plan curves around a central pedestrian spine street, modeled, he said, on an Italian village. This, as with a number of his undertakings, was not simple given prevailing monotonous building standards: "I violated every HUD rule that exists and I had to go to Washington to convince them to let me put space between buildings that you could touch with both hands."
While many of Katselas's apartment projects were done for the National Development Corporation, one constant of his practice was an inability to refuse much work. He garnered a number of high-profile and high-budget commissions but could not rely solely on them. Every day, in his accounting, brought something new. Recalls the architect, "I had done the remodeling for the existing airport before the airport job. I had done interior jobs that lead to my being contacted for more advanced work. Housing all came from word of mouth. I didn't go out and say I could do houses. I did a lot of housing, the apartments came one after another. I never traced who called when or how. You have to realize that if the phone doesn't ring I don't get work."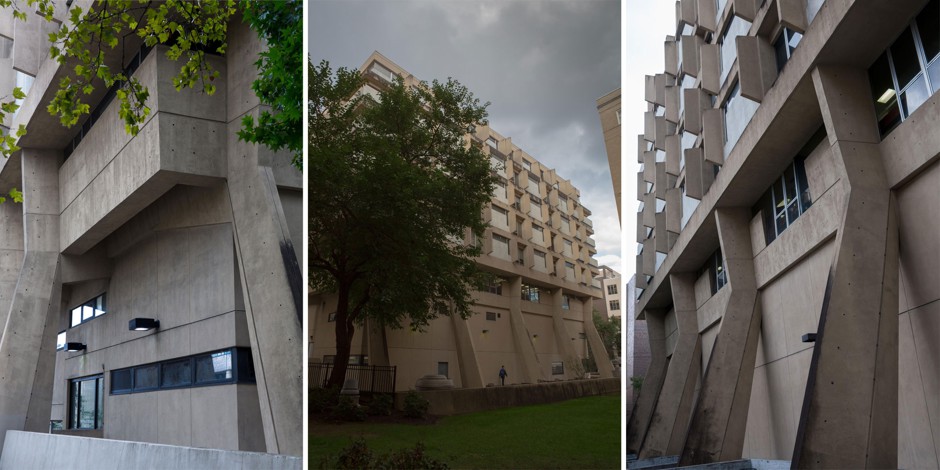 Minimum standards were no ceiling for Katselas. While some clients offered him larger budgets and greater discretion many offered the more restrictive covenant of straightened means and specific demands. The challenge remained to render these still meritorious. The task of elevating such projects, Katselas spoke in a speech to the 1965 National Brick and Tile Conference, is a prime requirement of his craft: "For no increase in cost, an architect must be prepared to lift the developers sights so that he, too, wants what has been drawn…" Katselas achieved this feat repeatedly, especially in a number of distinguished projects in the 1960s and 1970s.
His Neville House apartments in Oakland are superb, with a stout foundation of concrete arches enabling a facade freed from supporting itself and instead alternating a light assortment of brick and windows. His Kentucky Negley building in Shadyside advertises its skeleton by extending the concrete floor slabs that constitute each floor to provide exterior balconies and roof overhangs: it dramatizes its internal structure while also rendering it useful.
Katselas also built a wide variety of academic buildings. Near the Neville House, his design for the American Institutes for Research in the Behavioral Sciences (now the University of Pittsburgh's Information Sciences Building) achieved a similar feat of a structure supported by arched supports (an open lower floor was later filled in) and while structurally composed entirely of concrete segments all of this save for its evident floor slabs.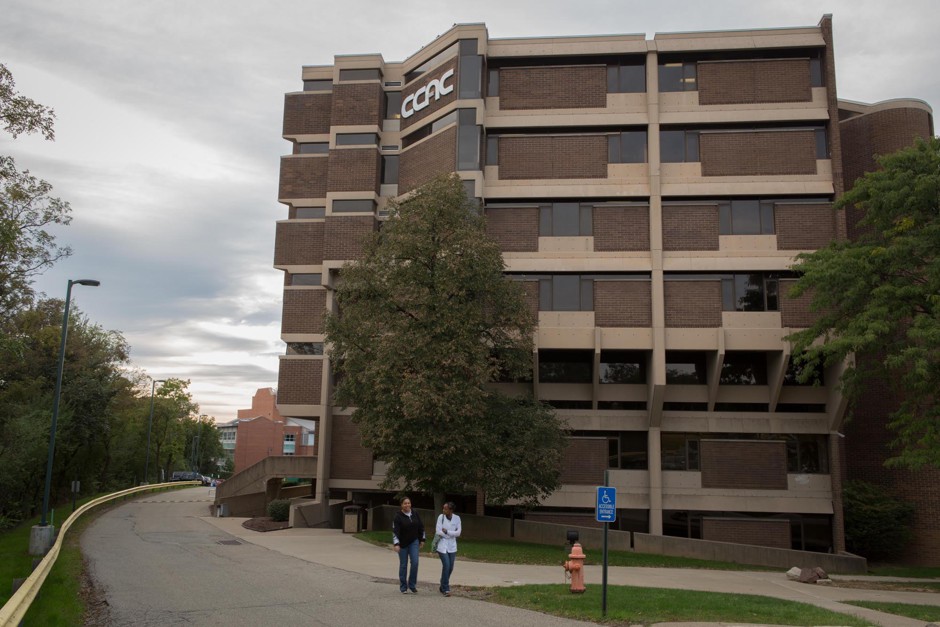 His principal structure for the Community College of Allegheny County on the city's North Side incorporates classrooms, a library, and a humanities department angled along a hill. "A library for me has always been a place where you get away from the main activity the main buzz and find a refuge." His design was guided by the creation of "little pockets" where one can escape from the social world into study. A series of exterior decorative curls alongside each window of the building's classrooms, he notes, created purposeful ornament—"a rhythm on one side and a rhythm on the other side"—while reducing outside distractions in the classrooms.
Katselas's St. Vincent's College Science Center, about 40 miles west of Pittsburgh, has been defaced beyond recognition since it was first built, but the monastery he designed for the campus remains. An argus-eyed case of precast concrete cells supported by masonry both expressly articulates its contents—with each cell plainly evident and chapels cantilevered off each end—and harmonizes their contents into a skillful whole. Each of the window pods is oriented sideways, designed to maximize the view while seemingly acknowledging that the monks' main concerns are not engagement with this world. He notes the irony of "a Greek atheist designing a Catholic monastery," and says the project was his "most unique challenge," and one that few modernists have executed beyond Corbusier with his La Tourette convent in Lyon. "It's unique. You're designing a space where men spend their whole life in one room essentially," says the architect. I examined their way of life; I spent a lot of time there."
Many of Katselas' finest works are individual homes, designed frequently for prominent clients and giving Katselas chance to work with fewer limits. His second home he designed for himself, in Fox Chapel, Pittsburgh's most affluent suburb, is likely the his best (and currently for sale). His home would stand out in this neo-traditional suburb, were it not nestled far from the road atop a hill. In it, brick piers support concrete this concrete beam slab and brick again supports the three vaults at the top of the home, vaults which cover three different rooms at the front of the home but loosen their grip above a two-story atrium at the house's rear. "Everyone in the architectural community thinks it's modeled after Maisons Jaoul," says Katselas, "That's the biggest pile of bullshit there ever was, it has no resemblance to the dynamic of my house!" Gerard Damiani who uses the house in a design studio, compares it to another Corbusier home, the Villa Sarabhai in Ahmedabad. "This is an architect building a house for himself wanting to set an expectation of what his practice would be. It's a tour de force for himself he would then use as an advertisement of how his practice would evolve," adds Damiani.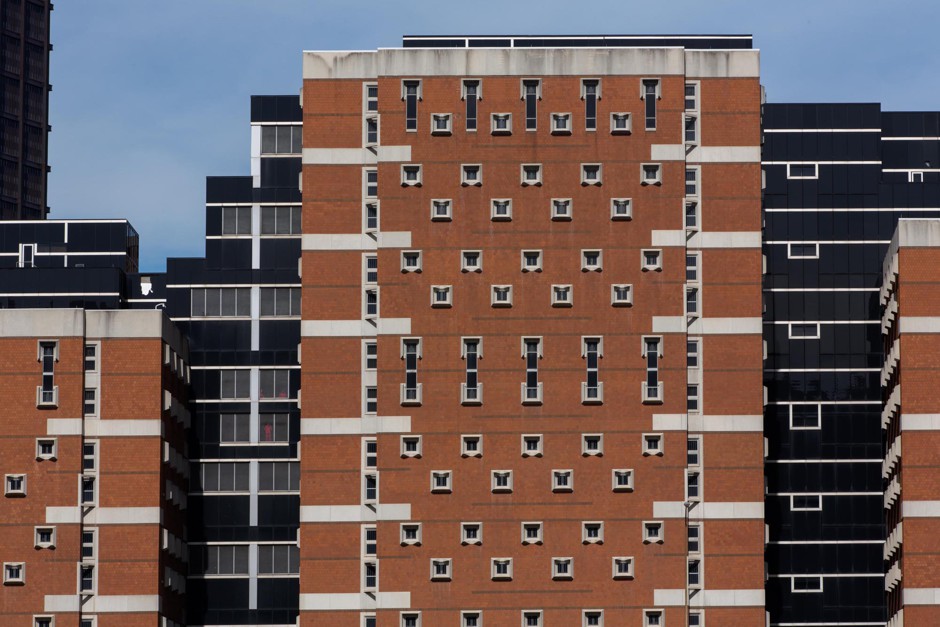 Katselas built several significant commissions in the early 1990s, including the Carnegie Science Center, the Allegheny County Jail, and the Pittsburgh International Airport, some of the largest regional public works of that era.
The Science Center and the jail have both been viewed as good but less daring than Katselas's earlier works. The airport has also been a hit, receiving accolades still since opening 26 years ago and currently ranked among the top 10 domestic airports according to USA Today, Conde Nast Traveller, and Travel and Leisure. Upon its opening, the facility was praised extensively for its circulatory innovations.
Its design, as with much of this later period, still features plenty of concrete, but it is less stylistically important. Some have labeled this a Postmodern phase but he rejects the characterization. "Did I expand my palate? Of course." Steel and glass play a much more prominent role but Katselas trademarks are easily spotted, including concrete cantilevers and space-defining vaults in both the airside and landside terminal. "I didn't have glass like that when I was starting off!" he adds.
***
The airport, designed largely for hub uses during the heyday of US Airways, experienced a dramatic decline in service in the mid 2000s as that airline downgraded its hub status and radically reduced flights to the airport. Katselas subsequently bemoaned the intrusion of commercial space into circulation patterns, garish repaintings, and drab replacement carpeting. "The result is a descent into mediocrity," he observed. A refurbishment plan was approved earlier this year, which will involve the demolition of one of his terminals and alteration of the other. Katselas declared himself "sick" at the decision. "The airport is now being destroyed by people with no imagination." He says that he had prepared plans to modify the airport along with his original design, which have been ignored. "No one called or would listen to our suggestions. They think that I'm too old or that I've died… You'd think if the architect had designed the goddam thing you'd at least ought to ask him a question."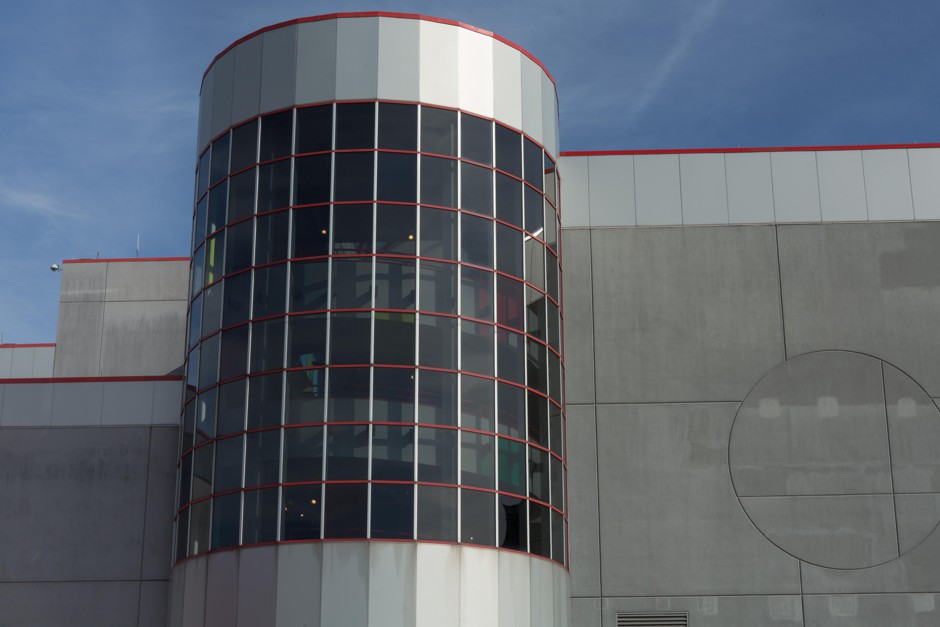 There may at last be some long overdue appreciation of Katselas. El Samahy featured his work in the 2015 Carnegie Museum of Art Exhibit which he and his co-authors are expanding into their Pittsburgh volume. Damiani noted that the current of local hostility seemed to have faded. He praises Katselas for, across a vast range of commissions, never losing sight of the mission of architecture to uplift. "You go to a Tasso building and you feel what architecture should be about."
When asked whether he would work on another project, Katselas says it's unlikely. "[But] if I find a situation where I feel I can design well again I'll do it." Asked what he thinks his legacy will be, he responds briefly. "If I want to be remembered about anything it's that I was a human being and that I took time to write about human beings and build for human beings and that's enough."