New York City is covered in advertising, but nothing appeals so directly to the carnal desires of its denizens more than the tantalizing imagery adorning the exteriors of its corner markets and bodegas.
Within these magnificent collages, immediate satisfaction is promised through a cacophony of deli meats, sodas, cigarettes, and toiletries. It's a ubiquitous art form in New York that embodies the id of the five boroughs: big, bold, loud, and infused with all kinds of innuendo.
From a graphic design perspective, it's absolute madness and a beautiful maelstrom of copyright infringement. On a single store you'll find pristine stock images of Marlboros crammed alongside stacks of pancakes, cans of cat food resting precariously underneath hordes of detergent and condiments, and a gargantuan pixelated roast beef sandwich hovering over Manhattan's skyline. In this world, a warped Pringles can is as tall as the Empire State Building, and the city appears as a bountiful heaven full of junk food and beer.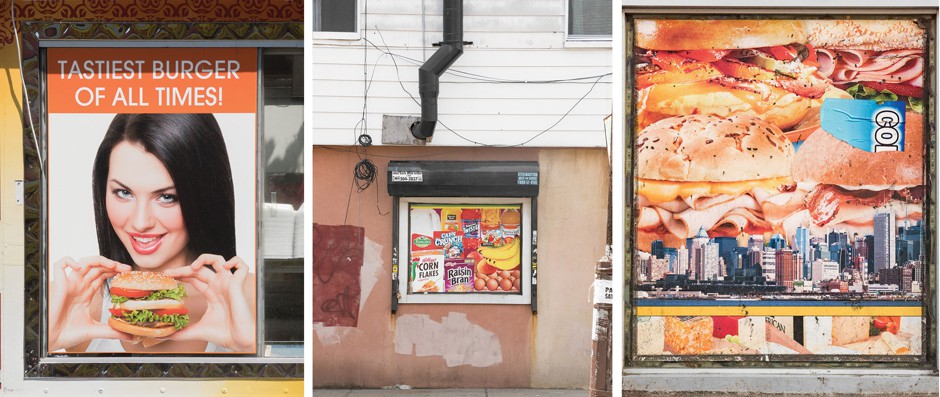 The beckoning of this straightforward deli signage feels refreshing in the face of sly and intrusive trends in mainstream advertising. In order to get a better sense of how these curbside canvases come to be, CityLab talked turkey with some of the artisans behind them.
Where do the photos for the signs come from? Do you have a database of food pictures?
Johnathan David Bautista (a.k.a. "JB"), Bee Signs Manufacturers Inc.: Most of the photos are downloaded from Bing and Google. Stock photos, too. The clients don't usually have the time to take professional photographs of their own products, but there are exceptions.
Mohammad (no last name given), Medina Sign: I buy from ShutterStock, but mostly non-copyrighted photos I find from Google images.
Miguel Ventura (a.k.a "Ventura"), Mr. Ventura Signs: I look for them on Google and I buy images on websites that provide photos. Then, I prepare them in Photoshop for the sign graphics.
Do you consider this an art form? Is there a particular project you're most proud of?
JB: Yes! Over the years, the window graphics for the bodegas have evolved, and now, most of them are beautifully decorated with these signs. There's a 16×6-foot one I designed a year or so ago for Ocean Hill Deli in Brooklyn. It's still displayed and I hope to see it up for a long time.
Mohammad: Yes, indeed. There are many that I'm proud of. One I did recently on 135th Ave and Lefferts Blvd (KeyFood) is getting a lot of attention.
Ventura: I believe that to make art, one has to like what they do. I feel proud of my work, my art, and the effort that I put into every sign I make. I give 100 percent so that the client feels that they have something original and exclusive.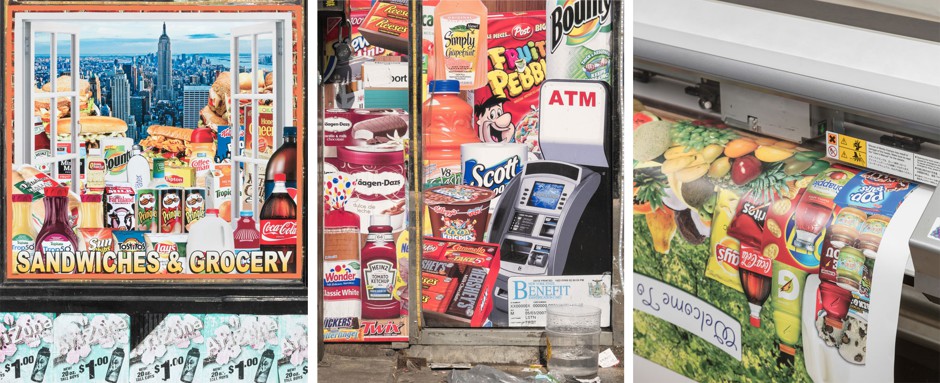 Have you ever made a piece like this for yourself? To hang in your own house?
JB: I have not. I would probably eat nonstop if I had something like this hanging in my home.
Mohammad: Yes. I actually do fine art (realism), so I have a few paintings around the house.
Ventura: I have several pieces that I've put on the walls of my house including one of New York's skyline and another of the Eiffel Tower.
It seems like the idea behind most signs is to cram as many products into them as possible—do you think it's important to show everything in the store?
JB: That's exactly the point! It's a race between the bodegas. It's not important to depict every product, but it is important to show variety. The customers will know they can walk in for every need.
Mohammad: It's what the customer wants, [so the Bodega owners]  feel they need to show all the items in the store. I personally dislike their choice and taste. Its looks, as you say, crammed. Showing everything defeats the purpose of marketing. I would prefer much fewer items to be displayed, like what McDonalds and Dunkin' Donuts do—their wall graphics are not congested. Usually it's just one picture and simple text.
Ventura: That depends on the client and their preferences. But people today buy products that are promoted. If it's not promoted, people won't know it's in the store, so you have to show what you're selling.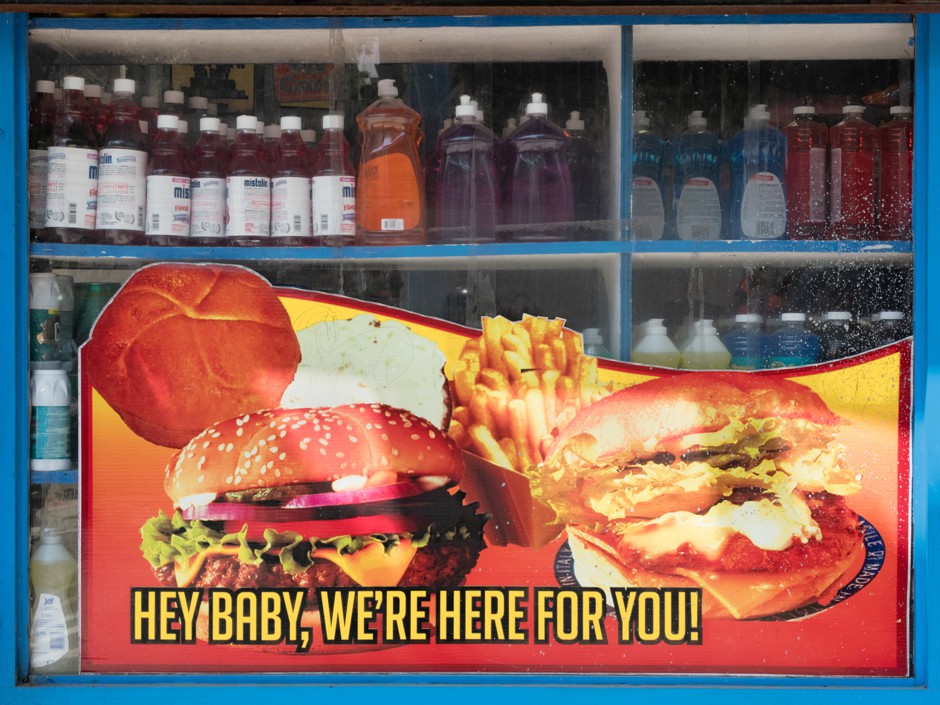 How have bodegas changed over the years? Was this kind of signage always a tradition?
JB: They've modernized. Bodega ads used to concentrate more on selling tobacco, beer, and lottery tickets. Nowadays, everyone's selling sandwiches, salads, and hot food. They have a more professional commercial display and people don't loiter in front of these places as much anymore.
Mohammad: They've evolved with time as all other businesses do. In the 80's and 90's they had traditional plexiglass with corrugated metal sheet awning. Now, it's changeable LEDs, simpler text, and even better infrastructure inside the store.
Ventura: The signs have changed quite a bit because there didn't used to be printers that could make these kinds of graphics. The world of printing has changed marketing and the way that bodega owners promote themselves.