Democrats retook the House of Representatives on the back of a suburban surge Tuesday, remaking a once rock-ribbed Republican bastion into a Democratic stronghold.
Though some districts remained undecided Wednesday afternoon, Democrats had picked up at least 28 seats in Congress, almost all of them predominantly suburban. These suburban districts, once closely divided, are now twice as likely to be represented by a Democrat as by a Republican.​​​​​​ Democrats even lost some seats in rural areas, but picked up at least 20 seats that CityLab's Congressional Density Index classifies as "sparse suburban" or "dense suburban." Add that to Democrat gains in almost all of the remaining Republican-held districts with major urban populations and you have a new, blue majority.
These shifts solidify a political density divide that is only increasing in America. If dense districts usually give us Democrats, and far-flung rural districts usually go to Republicans, it was the suburban places in between—less populous than left-leaning cities, but significantly denser than right-leaning rural areas—that determined control of the House of Representatives.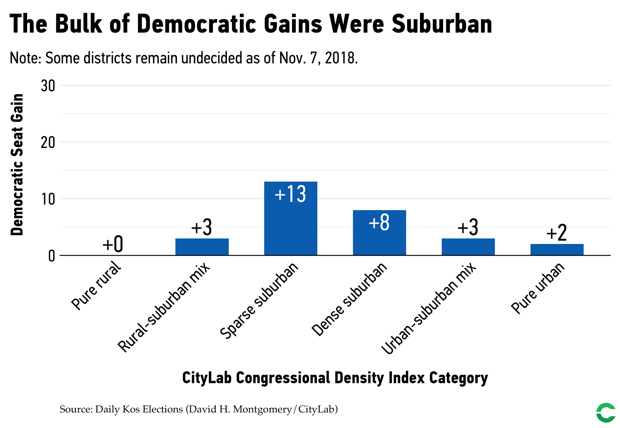 Another seven predominantly suburban districts remained undecided as of Wednesday afternoon.
CityLab's analysis has shown that America's electoral geography is more complex than a simple divide between "urban" and "rural" areas. There is a continuum of densities in the U.S., even within the category of "suburb."
Before Tuesday's election, Republicans controlled a majority of the "sparse suburban" districts, where voters tend to live in outer-ring, low-density suburbs. And they held on to one-third of the "dense suburban" districts, which are more tightly packed suburbs often located closer to big cities.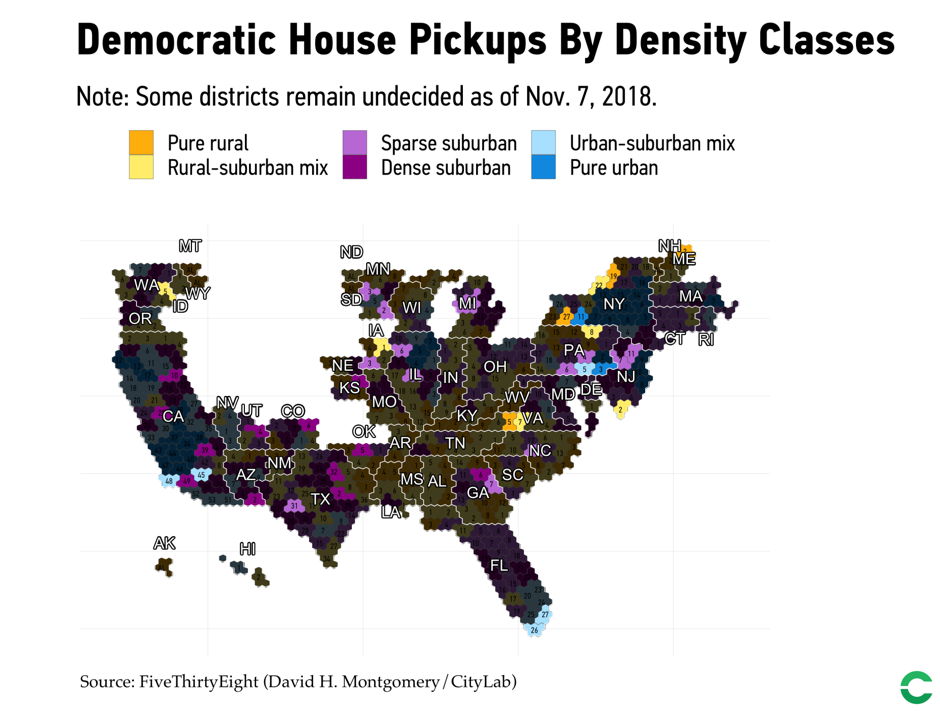 That's all gone now. Democrats control nearly 60 percent of the sparse suburban districts, and more than 80 percent of the dense suburban districts, up from about 67 percent.
This shift wasn't the same everywhere. The suburban swing was strongest in the Midwest, where Democrats picked up seven sparse suburban districts. They went from controlling just 20 percent of these Midwestern outer suburban seats to 55 percent. Democrats also made big gains in northeastern suburbs, where they picked up five sparse suburban districts, driven by gains in Pennsylvania (which replaced a gerrymandered district map with a court-drawn map for this election).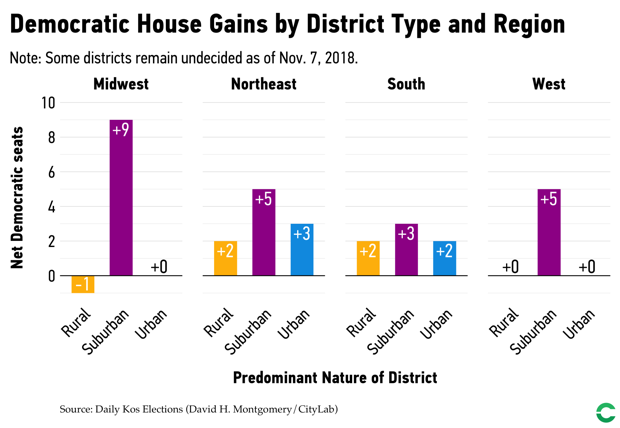 The suburbs aren't monolithically blue in the same way America's urban congressional districts are. Republicans will only represent two of 46 "urban-suburban mix" districts next year, after losing most of the few of each they had left on Tuesday. They also lost the only "pure urban" district they still held.
And the suburbs aren't quite as red as rural America, where Democrats represent 33 out of more than 180 pure rural and rural-suburban mix districts.
But the suburbs, at least for one election, are now comfortably Democratic territory.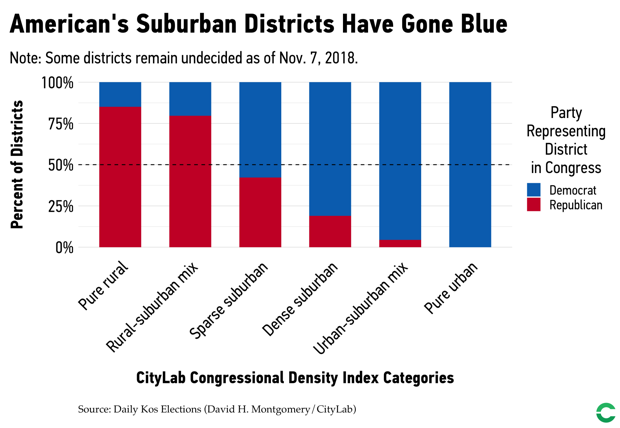 Right now nearly 120 million Americans live in predominantly suburban congressional districts. More than 80 million of them are represented by a Democrat. Future elections could reinforce the blue cast of the suburbs or challenge it, but for now, America's swing suburbs have swung to the left.