Sidewalk Toronto shared more details on Thursday about plans for the 12 acres of publicly owned land in downtown Toronto where a controversial neighborhood of the future is set to be built "from the internet up."
For better or worse, though, the model of urban development put forth by Sidewalk Toronto—a public-private entity formed between Sidewalk Labs (the city-building subsidiary of Alphabet, Google's parent company) and the government-appointed nonprofit development corporation Waterfront Toronto—may more in keeping with contemporary principles of good urban planning than it is visionary.
Released in advance of the company's fourth public roundtable in Toronto on December 8, the draft site plan is a piece of the larger "Master Innovation and Development Plan" that Sidewalk Labs and Waterfront Toronto have been working on for the past year; that plan will be released for public review sometime in 2019. This latest document is based in images that depict how buildings, streets, and environmental amenities could be situated at "Quayside," as the development is called. It also outlines a few key proposals in writing.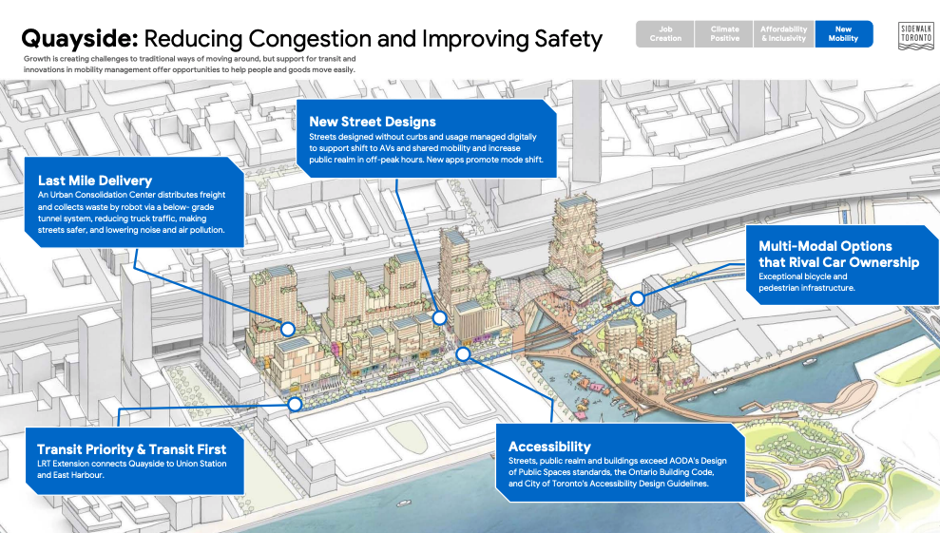 With regards to housing, Sidewalk Toronto envisions a mix of 50 percent retail and 40 percent below-market rate housing, which would include "a minimum of 20 percent affordable housing, making sure that this community reflects the full diversity of Toronto," the director of public realm, Jesse Shapins, wrote in a Medium post about the new release.
This would yield an estimated 2,500 units for an imagined 5,000 residents—a meaningful addition to Toronto's crunched housing stock, which one Toronto ward councillor applauded as an "important step." The mix of housing would also be more favorable to those in search of "missing middle" accommodations—i.e., space that's affordable for those in between the income brackets for luxury and subsidized housing—than typical. However, the total number of units is in fact not as much as zoning in the area would permit. "It will have ~19% less housing than zoning allows[,] thus 120 fewer affordable units than typical, but 500 more middle-income units," the urban researcher Yonah Freemark noted on Twitter.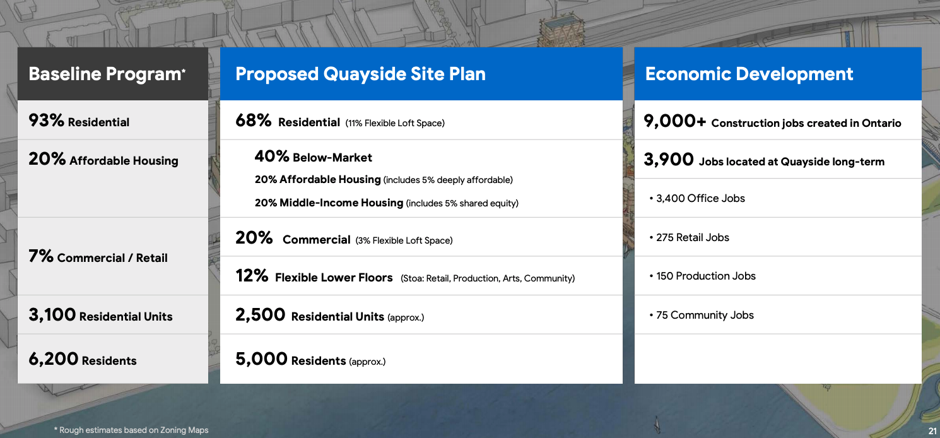 The plan envisions the neighborhood being built entirely of mass timber, a material that the company anticipates would cut the costs of construction by 15 percent. Although this form of construction is becoming more common around the world, the company claims that Quayside would represent the largest-scale use of mass timber yet. At least some buildings would be factory-constructed—another approach to reduced-cost building that has become a rallying point among affordable housing advocates around North America.
Sidewalk Toronto also proposes a novel-sounding if still vague approach to the use of building ground floors, or the "stoa" in the company's lingo. (That is "an ancient Greek word for a covered public walkway," according to a Sidewalk Toronto tweet from August.) These spaces would be designed to adapt to different uses by "businesses, entrepreneurs and community groups" through "innovations in physical space, financing, digital services, and management of program," according to the plan.
On the environmental front, the company envisions moving towards a "climate positive" footprint by reducing emissions in the neighborhood by 75 to 80 percent. This would be achieved through a combination of green building standards, solar power generation and geothermal heating, energy monitoring systems, and streamlined waste and water management. On Twitter, former Toronto mayor David Miller called these elements of the proposal "very positive" upon initial review.
Quayside's streets would be designed for walking, not vehicles, with "woonerf"-esque sidewalks that flow curb-free into bike-friendly streets and a connection to Toronto's light-rail system. Traffic data would be gathered along the streets to manage flows across modes of transportation and prepare the space for the future arrival of autonomous vehicles. The proposed transportation network would appear to align with the best practices of pedestrian-centric street design, with one unusual twist: a below-grade tunnel system to facilitate freight delivery and waste removal on the backs of robots.
Barring a few details, Quayside's pieces don't appear to break much new ground in urban design. But virtually all of them would be linked by a common thread that is more unusual: a digital infrastructure that collects data for the apparent purpose of streamlined urban life. This new site plan comes six weeks on the heels of an expanded proposal by Sidewalk Labs about the types of information it plans to gather and how would collect, store, and manage it. Most notably, the company has proposed that the data would be stored in a common "data trust" accessible to any user, and that it would not be proprietary to any one company—including Sidewalk Labs. The company has been criticized repeatedly for its lack of clarity about its data governance strategy and its business model (which has undergone significant change since 2016, a new report by The Information found.)
Some longtime critics of the Quayside have not been mollified by these recent rounds of detail. "My patience level for Sidewalk Labs dropping information about its plans like crisis communications weaponry is very very very short," tweeted Bianca Wylie, a civic technology reformer who has been a leading voice of opposition to the project in Toronto. Wylie has objected to the fact that the company is spearheading a public engagement process that would normally fall under the leadership of local government.
But some leaders in that government seem to be coming around. "I'm glad to see Sidewalk Labs has released its initial proposal for Quayside—this will help shape the ongoing conversation about the future of this important site on our waterfront," tweeted current Toronto mayor John Tory, who has previously expressed concern about the transparency of the project planning.
What sort of future will ultimately unfold in this waterfront district remains be seen. But at the most superficial level, at least, Sidewalk Toronto's vision of the future doesn't look that much different from the present.