Even for readers not familiar with the place, there's a lot about the current reinvention of Dundee, Scotland that will ring a bell. A port and former industrial center, Scotland's fourth city has been trying to revamp its downtown and attract new visitors with a well-tried tactic: redeveloping its neglected quayside as a "world-leading waterfront destination," one that will function as a meeting place for locals and a cultural shop window to outsiders.
Earlier this month, the jewel in this ongoing revamp of the quayside was unveiled: The V&A Dundee, a spectacular design museum just opened on the quayside that is an offshoot (albeit an independent one) of London's Victoria and Albert Museum. Containing the largest exhibition space in Scotland, the museum hopes to garner attention for a city that has for too long had a low profile, not just across the U.K. but even within Scotland itself. In other words, Dundee is trying to do more or less what the city of Bilbao did with its Guggenheim Museum.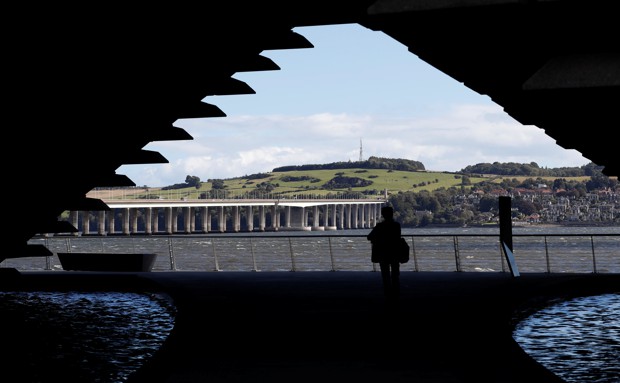 Simply getting the museum to Dundee in the first place (Edinburgh or Glasgow might have been more obvious choices) is already a huge coup, and it was more than a decade in the making. At the museum's opening, the current leader of the Dundee Council, 30-year-old John Alexander, noted that he was still in high school when the bid began in 2007. The aspiration for the V&A, as spelled out by the council itself, is to boost opportunities for employment in the city—specifically, for residents of Dundee's more deprived areas—while simultaneously providing a focal point for a newly bolstered sense of civic pride.
"Five to 10 years ago, people would not have that sense of pride that they have now when they say, 'I am from Dundee,'" Alexander told the crowd at the opening. "Now they are going, 'V&A Dundee? That's mine.'"
This is cheering, but it's not yet entirely clear to what extent Dundee's plan to replicate the Bilbao Effect will work. Certainly, the V&A Dundee itself is impressive—as well it should be, given that its initial predicted budget of £27 million ($35 million) rose first to £45 million ($59 million) and then to £80 million ($105 million), with the lion's share coming from public funds. Designed by Kengo Kuma, the building is an unquestionably evocative one that, depending on your viewpoint and the weather, might seem to resemble a cliff, the bones of some giant sea creature, or a ship. Plank-like oak panels lining the lobby's sloping interior walls continue the nautical suggestions, creating a space that's grand without being intimidating.
With windows looking straight onto water and the masts of Captain Scott's ship Discovery visible on the quay next door, the museum fits seamlessly within an already impressive setting. Its interior will host temporary exhibitions—the current one is on ocean liners—as well as a permanent display on Scottish design, whose star attraction is Charles Rennie Mackintosh's Oak Room, an interior designed as a tea room in 1907. It is only more valuable after the tragic damage done by fire to the same architect's Glasgow School of Art earlier this year.
But will it be enough to attract visitors to a long lifeless part of an underexposed city?
Certainly, the 148,000-person city is not the industrial powerhouse it once was. A century ago, it was known nationally for "jute, jam, and journalism," a reference to its role as a center for textile production, as the headquarters of a major (and still extant) media company, and as the place where marmalade is (apocryphally) said to have been invented. The city's industrial base was decimated in the 1980s and, just like the rest of the U.K., Dundee is now battling galloping inequality. With many manufacturing jobs gone, an estimated 28 percent of the city's children live in poverty. In the most deprived areas of the city, such as the housing projects of Whitfield, that child poverty level reaches over 96 percent.
Dundee has more than a few assets up its sleeve, however. As a center for biotech and the video-games industry—Grand Theft Auto and Lemmings were both developed there—Dundee has the second largest per-capita student population of any city in Europe. The city has a charismatic, sometimes grand downtown filled with many handsome neoclassical and other historic buildings constructed in warm yellow sandstone.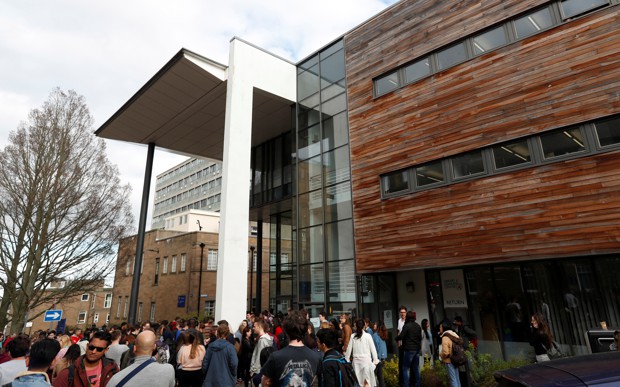 It's as you reach the water that things start to peter out. Like many cities, Dundee fell in love with roads in the postwar period and smashed a highway of sorts through its docks. When harbor work on these docks started to fade, the waterfront was left a forlorn, grimy place, busy with cars but otherwise bereft. The area has long needed a revamp.
The museum hopes to attract 500,000 people in its first year and 300,000 a year thereafter. Its opening week, which saw 30,000 visitors come through the doors, is extremely promising, but those numbers may still be tough to attain. One red flag already raised is that, although the museum has passed its critical appraisal with flying colors, the new buildings surrounding it on the waterfront have been damned as cheap eyesores that don't live up to their surroundings.
Dundee is somewhat tacked on the end of Scotland's Central Belt, the zone mainly lying between Glasgow and Edinburgh, where most of Scotland's population and wealth are concentrated. Trains there from Edinburgh take at least 65 minutes and at least 76 from Glasgow—laughably small distances in North America but not so in Europe. That could be a deterrent to some potential day-trippers.
International tourists might fill the gap, though, not least because Dundee is well located as a gateway to the stunning and popular Grampian Mountains to the north. Many people visiting Edinburgh and Glasgow (as well as the nearby university town of St. Andrews) could now be persuaded to extend their trip north to Dundee—indeed, it seems highly likely that some will do so. Still, Dundee's airport only hosts two flights a day, both to London.
Meanwhile, other voices in the city have questioned whether even a hugely successful museum and waterfront would give Dundee the kind of boost it needs. Some anti-austerity campaigners protested the V&A's opening, pointing out that while investment costs were high, the kind of jobs provided by a visitor influx would mainly be low-paid and insecure, and might do little to meaningfully improve the city's economy.
If V&A Dundee is straining under competing tensions, that's partly a reflection of the stringent standards to which cultural spending is held in an age of relative austerity. In order to gain government funding, cultural institutions in the U.K. must demonstrate their worth as motors of social and economic transformation far beyond their primary role. Katrina Brown, director of the Glasgow visual-arts organization The Common Guild and former curator of Dundee Contemporary Arts, insists the proper focus for the museum's success will be in providing something for Dundonians themselves.
"The overall point of the V&A has to be that the people of Dundee are getting a new cultural venue for themselves, and it's lovely to hear the place talked of as a new living room for the city," Brown told CityLab by telephone. "We could have spent that money on a new roundabout on the waterfront rather than a museum, and probably no one would be questioning the cost, or whether it answered multiple agendas."