While the city of Atlanta has been too busy to hate, it's also apparently been too busy to change street names that honor white supremacists and slavery supporters.
Over the years, Atlanta has changed the name of seven streets that honor Ku Klux Klan and Confederate leaders—but that leaves several dozen still saddled with such name associations. Atlantans have long debated what to do about these, but last year's alt-right rally in Charlottesville moved the local leadership to finally take action. The city created the Confederate Monuments Advisory Committee in August 2017 to explore ways to deal with the Lost Cause namesakes spread across the municipal landscape. The task force identified six monuments and roughly 30 street names that could soon possibly meet the chopping block.
Some of those names, like Walker Street and Gordon Place, sound pretty benign. The average pedestrian might have no clue that there are Rebels—specifically, Confederate generals John B. Gordon and James George Walker—hiding behind those boring signs. But others that are more overt: Take, for example, Confederate Avenue and East Confederate Avenue.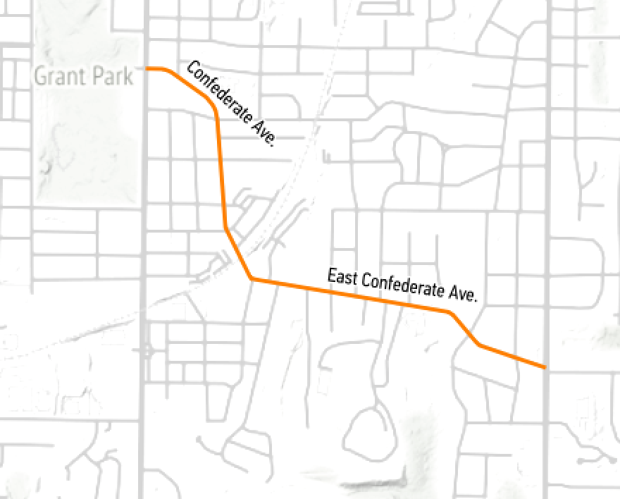 Those two street names were up for discussion at a City Hall public hearing last week, called by city council member Carla Smith, an African-American woman. And while you might think that "Confederate Avenue" is a slam-dunk candidate for renaming, not everyone who showed up for the discussion was in agreement.
The Atlanta Journal-Constitution reports that one man named David Moreland testified that as a descendant of a Confederate soldier, and as someone who sang "Dixie" songs with his friends in school, that he'd find changing the street's name an "abomination." From his testimony, as reported by the AJC:
When I was a young boy, you were proud to be an Atlantan, proud to be a Georgian, proud to be a Southerner, and you were darn proud to be a descendant of Confederate ancestors. … Is there any wisdom in tearing down Confederate Avenue? Is there any justice? There's a road named in this town after my family. We're descendants of slaveholders. Does that mean me and my two brothers should go to a concentration camp? My people are not white supremacists and I am not a Nazi. Where does this end, folks?
He was not alone in his romance with the Confederate past at the hearing, but he was outnumbered: Most attendees wanted to change the name to "United Avenue." (Another, less popular option was was, uh, "Considerate Avenue.") After low-hanging fruit like Confederate Avenue is out the way, the city will commence hearings on thornier questions—whether, for instance, Bell Street is named after Confederate Congressman Hiram Parks Bell or another, less objectionable Bell. And what exactly is Memorial Drive—one of Atlanta's longest streets, stretching from Stone Mountain in the far northeastern suburbs to the city's downtown—memorializing: a Confederate cause or nah?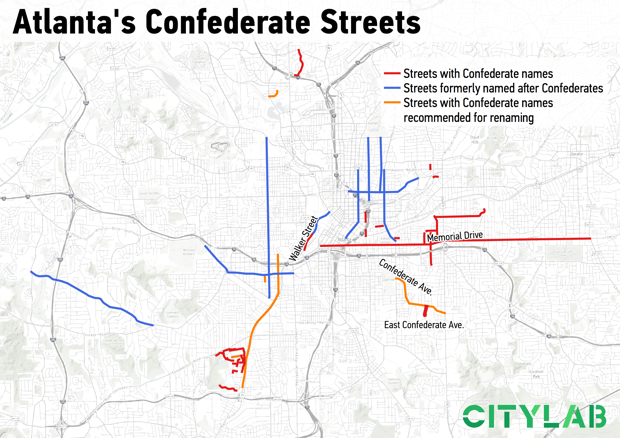 The task force's report on the matter also identified three separate eras when Confederate street names and monuments were created. There was the immediate post-Civil War era, from the war's end leading up to 1889. Then there was the Jim Crow era, from 1890 to 1930, when the bulk of Confederate monuments were created in the U.S.;  the era of "massive resistance monuments," beginning in 1954 with no end in sight, when local governments began erecting Confederate memorials in response to the Brown v. Board of Education U.S. Supreme Court ruling that outlawed racial segregation. In 1955, Georgia Governor Marvin Griffin promised that "there will be no mixing of the races in the classrooms" and then had the state flag altered so that the Confederate battle insignia would cover two-thirds of it (the flag was later changed again in 2003 to remove the Confederate parts). In 1958, the state acquired Stone Mountain—where the Ku Klux Klan was reborn in 1915, and where a huge carving honoring Confederate leaders had been started. The memorial project was re-started and finally completed in 1972.
Georgia is one of a few states that prohibits anyone from moving or destroying a Confederate monument—in fact, they can't even be "concealed, obscured, or altered in any fashion." The law doesn't say anything about street names, but renaming streets in Atlanta is neither cheap nor simple: The proposal must be reviewed by the city's urban design commission, then its public works department, then the utilities committee, and finally the city council. If you want to suggest naming a street after a living person, that person has to be at least 75 years old (No, Bobby Brown Parkway is not named after the King of R&B). Just to get started, the application fee is $2,500, which is compounded by the costs to the city for replacing the street signs if approved. Which is, yes, expensive.
But keeping streets named after Confederates comes at an expense as well.
"Every day I have to tell someone that I live on Confederate Avenue," resident Kristy Marynek testified at the public hearing last week. "And that cost to me is that it makes me sound as though I am complicit in continuing to stigmatize my brothers and sisters in reminding them of this painful history."