The Spanish flu pandemic of 1918 came in three waves. When the first wave crept up in New York City during the spring, residents and officials alike saw it as just another round of the seasonal flu. By mid-summer, the number of related deaths waned, and that first wave barely received a mention in the health department's weekly bulletins.
A century later, though, historians remember the 1918 Spanish flu as the "mother of all pandemics." In the months after the first wave, it went on to kill an estimated 50 million to 100 million people worldwide. That surpasses the 20 million deaths reported during World War I, which was just coming to an end, and the 35 million HIV-related deaths over the last 40 years. It remains one of the most overlooked medical events in history, though its lessons still inform how public health crises are handled today.
It's no coincidence, then, that the Museum of the City of New York opened a new exhibit on the history of infectious diseases in the city with a look back at the outbreak of Spanish flu. "Germ City: Microbes and the Metropolis" features historic photos and charts documenting how this pandemic played out, as well as artifacts from other outbreaks, including a letter from the infamous "Typhoid Mary," a lung specimen from someone who suffered from tuberculosis, and a protective suit worn by officials during the 2014 Ebola outbreak.
But in 1918, September 15 marked a frightening turning point. On that date, the city officially reported its first death related to the disease, said Sarah Henry, deputy director and chief curator of the museum. That signaled the second and deadliest wave of the outbreak, which would eventually kill some 33,000 New Yorkers in just over a year, accounting for two-thirds of deaths in the city.
Until then, local officials in New York and other U.S. cities didn't require doctors to report cases of the Spanish flu. That hampered early efforts to monitor the outbreak and evaluate efforts to stop it from spreading. It wasn't until the crisis became indisputable that the U.S. surgeon general demanded weekly reports from city health departments, and even then, reports were inaccurate: Doctors often attributed deaths to other illnesses or took too long to report flu-related deaths.
In many ways, New York City had the perfect environment for the airborne flu virus to spread: In the densely packed metropolis with 5 million people—then the largest population of any city—large families crowded inside small homes, and children and workers crammed inside schools, workshops, and into the subway. Many of the best U.S. doctors were overseas helping with World War I efforts, leaving cities scrambling to deal with surging death rates. Seemingly healthy people would die in a matter of days. Victor Vaughan, an Army doctor, made a dire prediction in private, according to John Barry, leading historian and author of The Great Influenza: "Civilization could have disappeared within a few more weeks."
Compared to other large U.S. cities, though, New York had a relatively low death rate, at about 4.7 per 1,000 people. Boston and Philadelphia reported 6.5 and 7.3 deaths per 1,000 people, respectively. Henry and many historians chalk it up to the the city's existing public health infrastructure and the mobilization efforts of Royal Copeland, who had just been appointed as the city's health commissioner. "A city doesn't come up with an emergency response like this out of the blue," Henry said. "And the New York Health Department brought to bear its experiences confronting other diseases, particularly tuberculosis."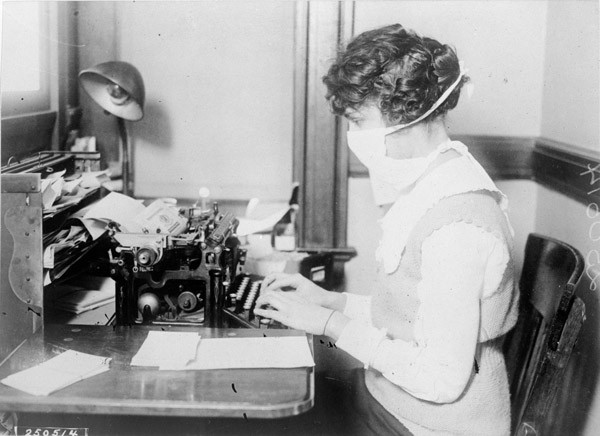 Copeland's campaign centered around education, with weekly bulletins advising people to use handkerchiefs, to "sneeze, not scatter," and to stay out of crowds. Boy Scouts handed cards warning spitters that they were in violation of the sanitary code, which would have resulted in fines and jail time. And the city printed out hundreds of thousands of leaflets, distributing at least 900,000 to students in particular.
Instead of halting subway services, Copeland came up with a creative solution. "The health commissioner put in place staggered workdays by industry, so that instead of everyone arriving at work at 9, some were to come in later or earlier depending on what kind of business they were in," Henry said. Retail stores were to open at 8 a.m., offices at 8:30, and theaters followed a specific evening schedule, according to "Fighting Influenza with Transit Systems," Copeland's article in the November 1918 edition of The American City.
Actually, it was curious—controversial, even—that theaters and other public gathering places were kept open at all. New York City was one of the few cities that kept schools open. Copeland's rationale: "My purpose in doing it all in this way, without issuing general closing orders and making a public flurry over the situation, was to keep down the danger of panic," he told the New York Times after the epidemic ended. "I wanted people to go about their business without constant fear and hysterical sense of calamity."
The need to control panic is an issue that still comes up during disease outbreaks today. When the 2014 ebola epidemic made its way from West Africa to the U.S., the panic—along with misinformation, fear, and discrimination—spread faster than the virus itself. It didn't help that local politicians like Chris Christie, then governor of New Jersey, fueled the flames by putting a healthy nurse in quarantine, against the advice of public health officials.
Barry said there's a fine line between curbing panic and telling the truth, and one of the most dangerous gaps during severe outbreaks is the gap between what scientists know and what politicians say. For that reason, he's in the camp of researchers who criticize Copeland for downplaying the severity of the epidemic early on.
In fact, asked if New York City stood out in its response to the Spanish flu, Barry said yes: "It stood out as doing less than another city in any other country, just about." He credits the relatively low death rate to that first, mild outbreak during the spring, which helped boost residents' immunity to that strain of virus (though other historians disagree on that point).
Instead, Barry holds San Francisco's response as the standard for responding to the outbreak. By the time flu-related deaths topped 2,000 in October, the city's board of health issued a closure on everything from schools to dance halls, theaters, and other public gathering places. Churches were left open, but officials advised that if services must be held, they should happen in open spaces. San Francisco also urged people to wear masks, mandating it as one's patriotic duty (though the effectiveness remains up for debate today). Those who didn't comply were fined $5. Some even went to jail.
Most notably, Barry said, was that officials were clear about the severity of the epidemic once it reached the West Coast. "National public health leaders said literally, 'This is ordinary influenza by another name,'" Barry said. "In San Francisco, they basically said that this is a deadly threat but we are in it together, and it continued to function better than other cities. Blocks were organized, they closed schools, and teachers volunteered."
Is a repeat of 1918 possible? It's true that advances in medical technology, namely the flu vaccine, can curb the spread. But as Anthony Fauci, director of the National Institute of Allergy and Infectious Diseases, said last year at a pandemic preparedness forum in Washington, D.C., "One hundred years after the lethal 1918, flu we are still vulnerable."
Yet few know the details of the Spanish flu of 1918. (Even its name misleads—it has nothing to do with Spain.) In fact, as seasonal flu outbreaks come and go, Henry said there isn't a collective awareness of the topic itself. "As a culture and as a city, I think our attention in public health tends to turn more toward lifestyle and environmental illnesses," she said. "So much of the day-to-day awareness of infection that dominated the lives of our predecessors has receded from our mind."
"Germ City: Microbes and the Metropolis" will be on display at the Museum of the City of New York through April 28, 2019.