The scenes captured in Hong Kong and other cities along China's southern coast during Typhoon Mangkhut in mid-September were almost apocalyptic: trees being uprooted, towers swaying back and forth as their windows shattered, ocean waves barreling into buildings, roadways turned into rivers. Mangkhut's highest wind speed clocked in at 180 miles per hour—the strongest storm on the planet this year. In the Philippines, the storm claimed at least 70 lives.
Weeks earlier, Typhoon Jebi slammed into Japan with winds up to 107 miles an hour—the strongest typhoon the country has encountered in the last 25 years. At least 11 people were killed, and tens of thousands were left without power; the storm smashed a tanker into a bridge, flipped cars over, and mangled the streets of Osaka. On Saturday, Typhoon Kong-rey—yet another "super typhoon"—hit South Korea, killing 2. It's the 25th tropical storm in the 2018 season.
Starting a thread of various videos today in HK and Shenzhen as the world's strongest storm #TyphoonManghkut wiping our cities. (Videos are not mine but collected from messages doing the rounds w WhatsApp and WeChat) pic.twitter.com/FXU5ITrFqN

— Jen Zhu (@jenzhuscott) September 16, 2018
The alarming reality is that typhoons—the Eastern Hemisphere's hurricanes—are getting stronger, and possibly more frequent, testing the resilience of Asia's booming-but-fragile megacities.
"Asia is on the frontline of the spike in hazards of nature, because of the very high exposure of people, their high degree of vulnerability, and the sheer strength of the new generation of floods and storms, made worse by climate change," said Vinod Thomas, former director general of independent evaluation at Asian Development Bank and a visiting professor at the Asian Institute of Management in Manila.
In a 2016 study published in Nature Geoscience, marine scientists looked at the intensity of typhoons recorded by Hawaii and Japan over the last 37 years. They found that typhoons that struck East and Southeast Asia intensified by 12 to 15 percent, and that the proportion of Category 4 and 5 storms doubled—even tripling in some regions. When they accounted for the damages caused by both wind and water, that rise in intensity translates to as much a 50 percent increase in destructive power.
Typhoons in the open ocean showed only modest changes in intensity, but those that made landfall were often stronger, due at least in part to the warmer coastal seas.
That's why Thomas and other climate experts are warning cities like Tokyo, Guangzhou, Hong Kong, and Jakarta—all megacities of 10 to 40 million that are expected to grow even larger in the next few decades—to prepare. In fact, given their rapid growth and often unrestricted urbanization patterns, they could be vulnerable even to smaller storms.
"These cities have all grown dramatically, so do you need bigger storms to have more damage?" said Robert Nicholls, a leading expert in coastal engineering at the University of Southampton in the U.K. "Actually, you don't."
Typhoons pack a lot of destructive potential. While high winds may seem like a special peril for these increasingly vertical metropolises—China alone has more than half of the world's 40 tallest buildings, and more "supertalls" are coming to Asia—the bigger threat comes from the torrential rain and the storm surges. Nicholls was the lead author of a 2007 report from the Organization for Economic Co-operation and Development detailing the potential human and economic loss associated with flooding in the 136 largest coastal cities. Collectively, the cities could lose as much as $35 trillion in assets—everything from housing and buildings to the transportation system and other public utilities—by 2070, up from the estimated $3 trillion value in 2005.
Eight of the top 10 cities most vulnerable in this respect lie in Asia (the other two are Miami and New York). That includes Guangzhou, which is estimated to have have some $3.4 trillion worth of "exposed assets" in 2070, up from $84 billion in 2007. Within India, Calcutta and Mumbai may see a loss of $2 trillion and $1.6 trillion, respectively. And both Tokyo and Bangkok stand to lose roughly $1 trillion, according to the report.
Economics aside, the projected loss of human lives alone should spur countries and their cities to think more urgently about tomorrow's storms. Today, 13 of the largest cities outlined in the OECD report sit on the coast; more than a third of the global population live about 100 miles of a shoreline. And by 2070, 15 of the top 20 most vulnerable populations will be in Asia.
"The sheer density of population in Asia is highest in the world, especially in South Asia, which makes the damage that much higher" said Thomas. "They are still heavily rural, and the plan is only to become more urbanized. If you go from [being], say, 50 to 65 percent urban, that increase is millions and millions of people." In fact, the OECD estimated that up to 150 million people will be vulnerable to flooding in 2070, up from 40 million just a decade ago. That's more than 15 million people between Guangzhou and Shanghai, 11 million in Dhaka alone, and more than 25 million in Calcutta and Mumbai combined.
An alarming UN report warned on Monday that the planet is poised to see even more extreme weather and higher sea levels unless world leaders manage to take drastic actions to curb global warming in the coming decade. Even a half degree rise in temperature will affect hundreds of millions people—most of them the poor and vulnerable. "The poorer will be located where they should not be located," Thomas said. "And they will be the first to be hit."
Just as hurricanes hit the poor the hardest in America—many of the poverty-stricken communities along the U.S.-Mexico border in Texas were in the direct path of Harvey, for example—many factors make low-income communities across the Asia more vulnerable. They're more likely to live in low-lying areas, or in hard-to-reach rural outskirts, as leaders and developer allow urban sprawl to continue unregulated.
It doesn't help that the sprawl, as well as illegal mining and logging, has led to massive environmental degradation, preventing the natural landscape from absorbing rain water. That contributed to the kind of landslides that killed dozens in the Philippines during Typhoon Mangkhut.
Just as troubling: Even as they grow taller and more populous, these megacities are sinking, and sinking fast. "You have land sinking faster than the sea is rising at the moment," said Nicholls. Jakarta, with 10 million people currently and a projected population of 310 million by 2045, is experiencing subsidence especially fast—largely a result of the excessive pumping of groundwater—making it one of the riskiest cities for any kind of water-related natural disasters. About 40 percent of the land is already below sea level; a tropical cyclone could inundate the whole city.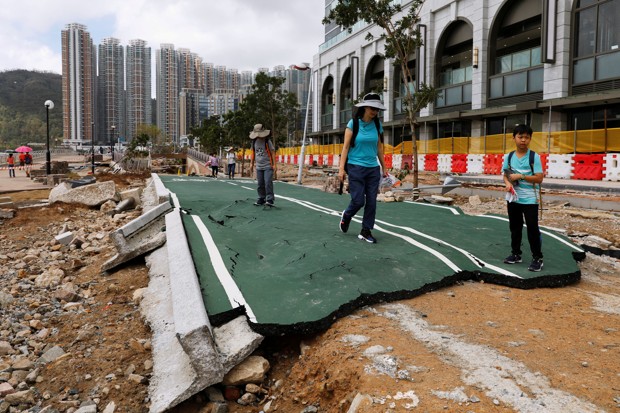 Does that leave Asia's megacities—or even those in the U.S. and beyond—completely helpless? Not quite. If there is one lesson to be learned, Nicholls says it's that cities need both emergency preparedness and climate adaptation plans. Japan is often regarded a world leader in disaster response, thanks to the sheer frequency of storms, earthquakes, and tsunamis that have struck the island nation. (One engineer in Japan has even tried to find the silver lining of his country's predicament by building the world's first typhoon-powered turbine. The energy from one typhoon, he says, could power Japan for the next 50 years.) The sheer frequency of rebuilding efforts have allowed the country to put stronger focus on resiliency.
During Jebi, for example, Japan issued evacuation advisories to over a million residents while the meteorological society provided real-time updates on the storm. As one expert at the World Bank explained it to The Independent, roads and public buildings in coastal cities allow excess water to flow away. Private buildings, meanwhile, must adhere to strict building codes, designed to protect cities from Japan's many earthquakes. And being the high-tech society that they are, there are networks of sensors that set off alarms in individual households and shut down flood gates to prevent flooding from storm surges. (Jebi still managed to injure at least 600 people in Osaka.)
But other, less affluent Asian nations don't have that capacity, of course. And when cities get bigger and denser, emergency preparedness becomes more challenging. All that makes Thomas worried about the future if we fail to address the root causes of these stronger typhoons—that is, the warming atmosphere that is supercharging them.
"Until we turn off the tap—which is the [climate] mitigation—these efforts will not be able to stay in line with worsening situation," he said. "On that, the pace of change is far too slow."
Thomas offered this metaphor: "It's like you're prepared to take an intermediate exam, and you've done the management side of what to do in the case of a storm. But what you're facing is a high-level exam, for which you just don't have either the capacity, the technical ability, or simply the mindset to deal with. That would make the best of efforts fall short."