Race and class are seen as key fault lines in America's deepening political divide. But a new analysis of congressional voting under Trump shows an additional fault line—a divide that falls across the way we live and get to work, between homeowners and drivers on the one hand, and renters and mass transit commuters on the other.
That is the big takeaway from an analysis of voting by congressional representatives during the Trump administration, conducted by my colleague Patrick Adler of the University of Toronto's School of Cities.
Adler looked at correlations between the level of support members of the House of Representatives gave to Trump's legislative agenda (using FiveThirtyEight's measure) and some 1,300 separate demographic, social, and economic characteristics of their constituents. Many of these were overlapping variables, which he then clustered into a handful of major categories, like homeowner versus renter and car commuter versus transit user, as well as race, education, and family type (married versus single). As usual, I add that correlation is not causation and point only to associations between variables.
Adler's analysis suggests that these two key dimensions of our daily life—the kind of housing we live in and the way we commute to work—play a powerful role in America's political divisions, more so than education (measured as the population share of college graduates), about the same as race and marital status, and only slightly less so than family structure.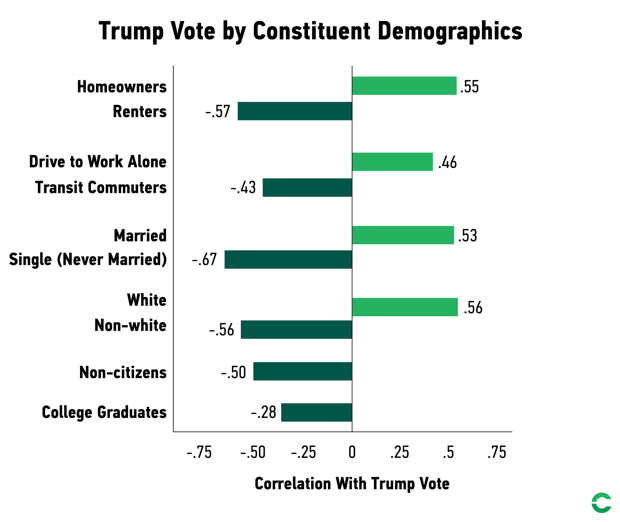 Representatives from congressional districts with higher levels of homeownership were more likely to support Trump's legislative agenda, while representatives from districts with higher levels of renting were much more likely to oppose it, an important finding when affordable housing policies are hot topics this election season.
The way we commute to work is another key dimension of Trump support. Representatives from districts where a large share of commuters drive to work alone were more likely to support Trump's agenda, whereas reps from districts with a greater percentage of mass transit commuters are more likely to be against it. As I have argued previously, the car is increasingly a factor in America's political divide, especially between urban and rural communities.
Race, even more so than class, has been identified by many as the key factor in Trump's rise. Though there is a correlation between Trump support and a larger share of white constituents, the correlation with a district that has a greater share of homeownership is just as strong.
Health insurance, or more specifically Obamacare, is another big wedge issue in American politics. Congresspeople representing districts with more uninsured people were more likely to vote against Trump's legislative agenda, but the correlation was not as strong as that for support of Trump's agenda and homeownership; it was about the same as commuting style.
The share of college graduates is seen by many as a key feature of America's political divide. But the type of housing we live in and the way we commute to work, are even more strongly associated with support for Trump's legislative agenda than the share of adults that are college graduates.
The only factor more related to America's legislative divide is family structure—the share of people who are married or not. Representatives from districts with a larger share of married households are significantly more likely to support Trump's legislative agenda, while those in districts with a large share of single or non-married households are not.
When it comes to Congress, Republicans are the party of homeowners and drivers; Democrats are the party of renters and transit users. Since city-dwellers are more likely to rent and to use mass transit, these findings reflect the powerful role of rural and urban density in shaping America's congressional lines, especially this midterm election.
In America today, it's not just class and race, but way we live in and the way we get to work that are key dimensions of our deepening political divide.
CityLab editorial fellow Claire Tran contributed editorial assistance to this article.