Last Wednesday, in front of the prosecutor, defense attorneys, and a gallery peppered with people, Judge Lisa Paglisotti greeted Brittany Mistelske, a 24 year old appearing in her court as a result of a misdemeanor charge.
After a quick hello, Judge Paglisotti addressed the fact that Mistelske hadn't shown up to court the week before. But rather than punishing her or even reprimanding her, the judge told her earnestly that she was worried about her.
"Sorry, I know I missed the last time," says Mistelske.
"No, I'm glad to see you," says Judge Paglisotti.
If this doesn't sound like a typical judicial exchange, it's because this is not a traditional court. All of its proceedings take place in a meeting room in the Redmond Library; defendants are called "court participants;" and when someone successfully completes a court-mandated program, it's called graduation, and often comes with a certificate and cupcakes.
This is the King County Community Court in Redmond, Washington, an alternative and collaborative approach to the justice system.
Launched in April, the court takes place every Wednesday afternoon for about two hours. It includes all of the traditional players (judge, prosecutor, defense attorneys), but instead of a trial that focuses on guilt and punishment for those found guilty of low-level offenses, it focuses on problem-solving.
Before opting for community court, a potential participant observes a session of community court and can choose the court rather than a traditional trial. King County staff assessors then meet with the participant to figure out what hardships could be contributing to their criminal activity. The assessor makes a recommendation to the prosecutor and defense attorney about the most beneficial course of programs. If the prosecutor, defense attorney, and participant agree,  they all present the plan to the judge on a Wednesday for final approval.
Usually a program is a mixture of services as well as community service, and a requirement is that the participant attend Wednesday court sessions to check in with the judge. The process typically takes 10 to 12 weeks, and if they do everything, their case will be dismissed.
Krista Alexander became a community court participant in June, after she was caught trying to steal food from a grocery store, because she said she couldn't afford to buy it. The 34-year-old said she has a seizure disorder and anxiety, but has managed to complete 10 hours of community service at a local shelter and attend counseling sessions and doctors' appointments. She is on track to graduate at the beginning of October.
"It's been like a seatbelt or your mom holding your hand across the street," Alexander said. "It's just that extra little something that I've needed right now."
But perhaps the court's greatest asset is its accompanying resource room. Every week, a large group of volunteers descend on the library to help facilitate everything from services that address mental health, domestic violence, and substance use, to legal and employment assistance, whether they are court mandated or not. The room is designed to make it as easy as possible for court participants, or anyone in the community, to get all of the help they need.
The goal of the community court and resource room is to keep people who have committed low-level offenses from getting swept into the justice system's revolving door, said King County court manager Callista Welbaum, who oversaw the development of the Redmond community court.
"A lot of these low-level offenders are struggling with substance use issues, mental health issues, homelessness, other sort of life situations that make it really difficult for them to be successful in the criminal justice system," she said. "They respond very well to a model where our goal is sort of to marry compassion with accountability."
Welbaum said one of the court's first participants was a woman who was charged with theft. During about five weeks in community court, she was able to start getting food stamps and other benefits that she didn't know she was eligible for. And while completing her court-mandated community service at a non-profit agency, where she worked with homeless women, she was offered a job.
"She was able to go from going through her court case and working through that, to getting it dismissed, to then starting employment after her time with us," said Welbaum.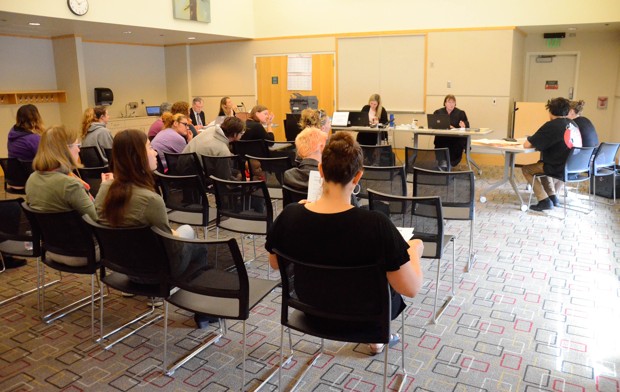 The Redmond court is one of the community courts that has developed in the past 25 years since the first one opened its doors in New York City in 1993. The New York court was seen as a way to better address the overabundance of low-level crime, said Jessica Kay, senior planner for the Center for Court Innovation, the New York-based organization that created it.
Over the last few years, there has been a noticeable increase in the number of community courts in the United States. Kay said there are about 100 in existence today. The increase is due to the success of community courts and their focus on rehabilitation programs. These outcomes are cheaper than putting someone in jail, and play a key role in helping to reduce mass incarceration, she said.
As they went through the process of creating the court in Redmond, Welbaum said King County officials observed community courts in New York and Washington state, and received guidance and technical assistance from the Center for Court Innovation.
After about two years of preparation, the Redmond court opened its doors. Since April, it has seen approximately 50 court participants of which at least 15 have graduated, said Welbaum.
Each participant is someone who has committed a misdemeanor crime like theft, criminal trespassing, or possession of drug paraphernalia. And people who have had a violent felony charge in the preceding five years are not allowed to participate. But it is ultimately up to prosecutors and defense teams to refer the cases they consider a good fit.
Once a case has been referred and the person has opted into the court, they must agree to a contract between them and the city prosecutors.
"Participants are making an agreement with the city that they're going to stay out of trouble and try and address essentially the underlying issues that are bringing them to the justice system and in exchange the city will dismiss the case if they do that," said Kate Cozby, a defense attorney who represents community court participants.
If they don't complete those requirements, their case will be sent to a more traditional court, where, having waived the right to a jury trial when they agree to participate in community court, the process for the defendant will involve only a reading of the police report and the judge's ruling. But so far, Cozby said, they haven't had this happen.
Not every defendant is interested in community court: At least 20 people who were offered spots in the court turned it down, opting to have their case tried in a traditional court instead. And when Judge Paglisotti held court last week, at least two people required to be there did not show up.
But for those that it is a good fit, it can be life changing. Welbaum said one woman who graduated two months ago has continued to come back to court on Wednesdays simply to informally check in with the judge and the resource room, because she finds value in it.
"These relationships are built when you see somebody every week," said Welbaum. "It becomes, for a lot of people, a really good part of their week, to get some affirmation and acknowledgement for what they're doing well."