In his Phoenix office, Senator John McCain kept a poster on the wall depicting Tempe Town Lake and the commercial developments that sprang up there after the man-made waterway opened in 1999. Wellington "Duke" Reiter, executive director of Arizona State University's City Exchange Program, said that when he saw the picture, he knew McCain understood the power of the project.
Today, the lake is a bustling attraction in the middle of the Phoenix metro area. But it's just a sliver of a massive project first proposed in the 1960s that envisioned new green space, recreational areas, commercial development, and walking corridors along a 40-mile stretch of the Rio Salado (Salt River) that snakes through the city.
That plan was devised in 1966, when students from the University of Arizona proposed an ambitious idea to breathe life back into the river. After dams were built upstream in the early 20th century, the riverbed mostly dried up throughout the Phoenix area, except in times of heavy rain. The students imagined its future as a commercial and tourist corridor that would unite a newly sprawling Phoenix region.
Ultimately, though, it never came to pass. There were too many stakeholders to get on the same page, and the challenge of securing funding proved insurmountable. (In 1987, voters throughout the county rejected a property tax increase to support it.) Not only would a proper Rio Salado development project involve working with multiple city governments, but also state, county, and tribal officials, as well as industrial giants, like mining companies, that had taken residence on certain banks of the river, Reiter said.
But in 1988, Tempe Mayor Harry Mitchell forged ahead to complete Tempe's own slice of the plan that was set out two decades earlier. According to current Tempe Mayor Mark Mitchell (Harry's son), Arizona's congressional delegation in Washington, D.C., was instrumental to getting the help of the Army Corps of Engineers to construct the lake. Since then, office buildings, apartments, parks, and an arts center have sprung up around it, and more than 2 million people visit it each year. Meanwhile, the rest of the riverbed and its banks remained dry and bare.
That's where John McCain comes in.
In April 2017, just before his glioblastoma diagnosis became public, McCain approached ASU to see what it would take to get the Rio Salado project moving again. Short answer: a lot.
The project, dubbed Rio Reimagined, went to Reiter, who leads the university's efforts to strengthen relationships between ASU and the cities around it. The first step would be setting a project scope and convening the necessary civic, tribal, and industry leaders.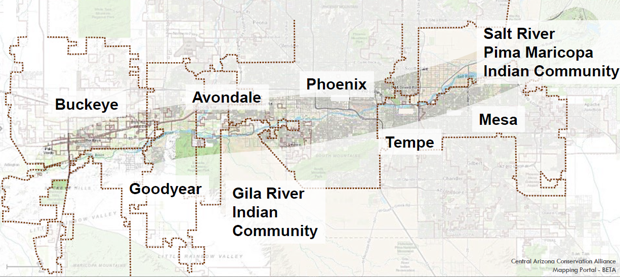 This, of course, is where the things fell apart in the first attempt. With six municipalities and two Indian communities along the river, it's not hard to see why. Reiter says he wouldn't have pitched such a large project, but that's what McCain wanted.
"I believe if we get this done, someday your kids and you will be walking along and you'll be able to say, 'I played a role in that. I was part of the effort that made this such a wonderful place to raise your kids,'" McCain told a group of ASU students in August 2017.
McCain's imprimatur gave the project the credibility it needed, Reiter said, and his relationships with mayors and tribes along the Rio Salado helped bring everyone together. Shortly after the two first met, they convened a meeting of local civic leaders interested in the project to go over next steps.
"The implementation of Rio Reimagined in the way Senator McCain imagined is a really fitting legacy," Mark Mitchell said.
But getting everybody on board is just the beginning. There's still a long road ahead to plan, design, and secure funding for the project.
Beyond its ambition, the project is notable for another reason. If completed, it stands to be a rare local mark of McCain's legacy. That's partly because McCain focused so heavily on national and global affairs in his three-decade Senate career, and partly because his career in Congress was marked by his public aversion to earmarks and "pork-barrel spending" that bring federal funds to local infrastructure projects like this one.
"Senator McCain was essentially the pioneer senator who began pointing out pork-barrel spending in floor speeches," said Pete Sepp, president of the anti-earmarks National Taxpayers Union Foundation. Unlike many members of Congress, McCain hasn't left a trail of infrastructure projects that he secured funding for. While that might have pleased fiscal conservatives, that stance didn't endear McCain to all Arizonans.
"Modern Arizona wouldn't exist without immense amounts of federal largesse. Arizona's great statesmen—Carl Hayden, Ernest McFarland, Barry Goldwater, Mo and Stuart Udall, and John Rhodes—understood this," former Arizona Republic columnist Jon Talton said in an email. "The change in attitude tragically coincided with Phoenix becoming a huge metropolis, with huge urban needs, which received little help from the GOP delegation."
McCain's resistance to federal funding for civic projects was hardly limited to Arizona: He frequently voted against infrastructure spending bills, even those signed by Republican presidents. Notably, in 2008, he was one of 24 senators who opposed an Amtrak bill that's credited with saving the system from financial ruin.
On the Rio Salado project, McCain's name and influence have come in handy when making connections to federal agencies that could provide funding down the line, Reiter said.
"When an agency got a call from his office, people took the call and invited us in for meetings," he said. "We hope that the senator's legacy continues to be powerful enough to open those doors."
Either way, it's going to be a long time before Rio Reimagined has any design proposals or renderings on the table, Reiter says. "What we first need to do is socialize the idea that we can come together as a major metro area and get behind an idea that we all determine together." He imagines that it will be decades before any project is agreed upon, designed, and built.
And if shining greenways, parks, recreational areas and commercial developments span the banks of the Rio Salado, people can thank McCain for bringing the players to the table.
"His real interest was seeing people rally around something that would bring them together," Reiter said. "Whether you're an urbanist or a stakeholder or a mayor or tribe president, he wanted to see if people could rally around a project."