"Traveling from West Africa to Europe is easier than doing this trip we are trying to do," explains Emeka Okereke. The 38-year-old Nigerian visual artist and writer is referring to the logistical challenges of his latest Invisible Borders Trans-African Road Trip.
Last week, Okereke and a dozen emerging African artists set off overland in a single van from Lagos, Nigeria, to Maputo, Mozambique, planning to traverse nearly 7,000 miles and nine countries, in 95 days. Sponsored by GoPro, Leica, and Open Society Foundations, and organized by Okereke's Invisible Borders Trans-African Photographers Organization, this road trip is the eighth he has produced since 2009.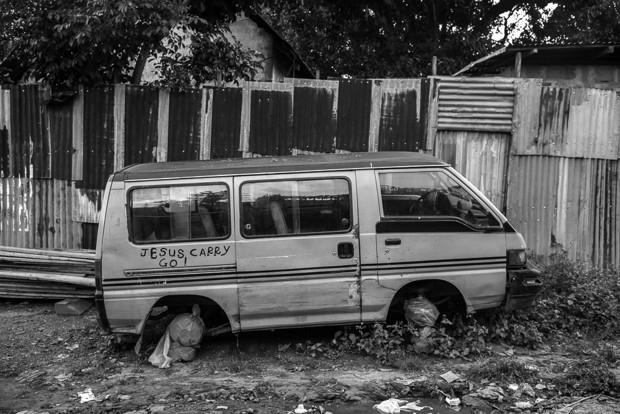 This year's journey will mimic the route of the first wave of the Bantu Expansion, the millennia-long migration of Bantu-speaking people from their ancestral homeland, which borders present-day Nigeria and Cameroon, to Central, Eastern, and Southern Africa: The route was the site of a number of historically significant border conflicts. The journey's participating artists will consider how that past affects people living on the borders today—and create art that attempts to make sense of it. "We try as much as possible to engage and meet people, make useful encounters and allow what we are going to create as artists to be informed by the experiences of those encounters," Okereke says.
The group will visit cities and border towns in, and in between, Nigeria, Cameroon, Central African Republic, Democratic Republic of Congo, Rwanda, Uganda, Zambia, Zimbabwe, and Mozambique. Among the cities they will visit are: Enugu, Yaounde, Garoua-Boulaï, Bangui, Bukavu, Kigali, Kamembe, Kampala, Lusaka, Harare, Mutare, and Maxixe.
Okereke is particularly attuned to the transformations taking place in African cities. The continent is urbanizing at breakneck speed (recently calculated to be much faster than previously thought) at the risk of the environment, health, security and social cohesion.
"Urbanization in Africa is actually where all of the confusion is coming. There is a lot of transformation going on, like the negotiation of land and how people live in the space," he says. "There is also lot of talk about retaining our cultural values and traditions, which is super complex because we have different ethnic groups and languages coming together from different parts of the country, all clinging to one place. Also, there is pressure from the West to be designed like Paris, London, or New York. So everyday life in the city becomes about circumventing or navigating this constant change."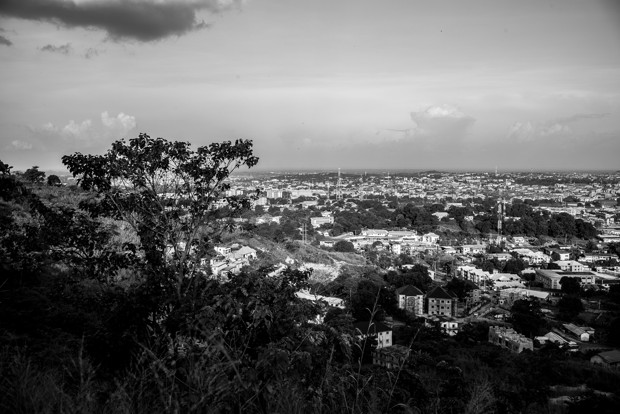 The group will spend at most three days in each location, relying on local project managers to scout beforehand the artists and organizations they should meet. Not all experiences will be collective. The artists are encouraged to roam solo and go where encounters lead, even if it is to an artist outside the collective who wants to collaborate on the spot. Everyone regroups during weekly portfolio reviews on the road. Artwork and the archival footage will be shared through an app-based daily blog in English, French, Portuguese, and Kiswahili, and through a book and documentary film, both of which will be released in 2019.
The artists chosen for this year's trip come from Nigeria, Kenya, South Africa, Congo, and Morocco and include photographers, writers, filmmakers, and performance artists.
Based on past journeys, Okereke expects that, "As we travel, the van becomes a space for conversation where we process our experiences and talk about our ideas and reflections. We will have cameras and microphones inside to record everything, so it becomes a kind of archive."
This sort of leisurely yet investigative cross-border movement is so rare in Africa in large part due to the difficulty of overland travel. In some areas, movement can be hampered by administratively arduous border crossings, poor and limited road infrastructure, especially between regions, and, of course, border conflicts. Okereke considers these challenges of movement one sign of the continent's social, political and economic stagnation, contrary to the persistent Africa Rising narrative; and he attributes many of these difficulties to the arbitrary national borders and false divisions established during colonialism, ones that continue to define societies and fracture African society.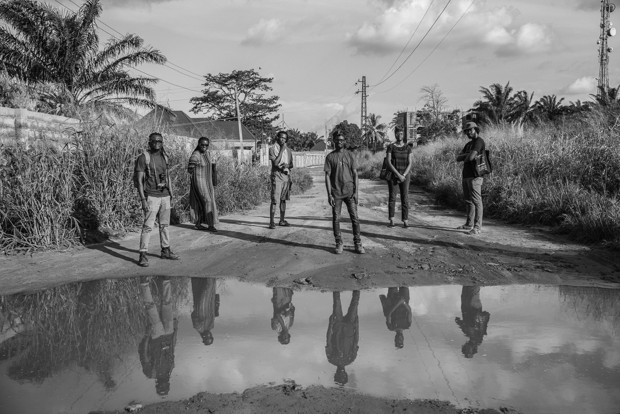 "We are using the body as an entity for the re-imagination of the imposed cartographies," Okereke says. "That agency—to be Africans in these places—is also a responsibility to think in these spaces. That is the only claim we have to these places and beyond: that we are all strangers and we are asking ourselves what it means."
"But we also understand being a stranger here was a result of a construct designed to keep us all apart in this way and not functioning, " he says. "And this is what the trip is about really."