The nail-biting drama of rush-hour congestion, shuttle bus transfers, and airport mix-ups—now in a deck of cards: It's LOOP: The Elevated Card Game, developed by Chicago merchandiser Transit Tees. The game draws on the relatable pleasures and perils of using the Windy City's elevated rapid-transit network, the venerable L; it's a love letter to the joys of public transit, as well as an opportunity to mocking its abundant annoyances.
The gameplay is similar to UNO or Crazy Eights, but instead of matching numbers, suites, or colors, players match the L line or station. For example, if the top of the pile is a Brown Line card for the Washington/Wells station, you can play any other Brown Line, or another Washington/Wells card (as if you're transferring lines in real life). The object of the game is to get rid of all of your cards first. The player who most recently used public transportation gets to deal.
Along the way, LOOP players have to overcome various transit-oriented challenges. If you pull the dreaded "Forgot Farecard," you have to "go back home," which reverses the order of the players' turns. Grab a "Busker" card and the next player gets a "generous donation" from all other players. If you're caught "Manspreading," you have to hand over one card to the players sitting on either side of you. Some cards are sweet ("Give Seat to Elderly"), others less so ("Sat In Puddle"). The most outlandish is surely "Train Car Preacher," where the player has to stand up and give a short lecture about anything, like your hot take on wearing backpacks on the train during rush hour.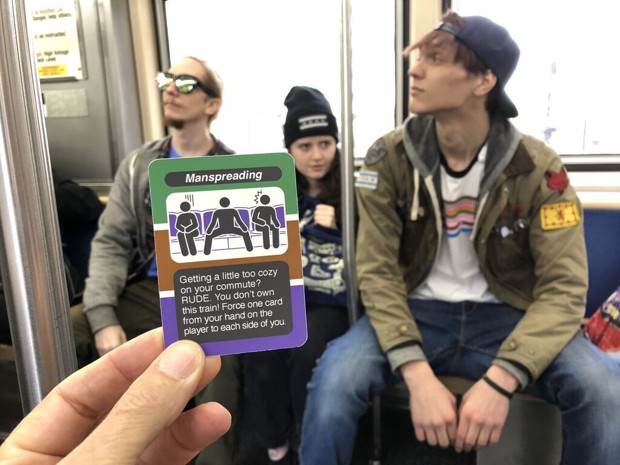 "In the play testing, I was a little nervous about that one, to see if people would actually want to stand up and say something," said Tim Gillengerten, owner and creative director for Transit Tees, which designs Chicago and transit-themed merchandise, as well as licenses official Chicago Transit Authority products. "But it's been a lot of fun. It gives someone the opportunity to show their personality and talk about what happened to them recently on the train."
The game was dreamed up last January, in Transit Tees' creative studio in Wicker Park. To fill the deck, employees went around and shared their hilarious, relatable, or unfortunate experiences of riding the L. Creating a card for each of the 140+ L stops was impossible, so the designers focused on just the Loop, the district where multiple L lines circle Chicago's downtown core.
LOOP's attention to technical accuracy and use of CTA design cues should impress transit geeks; all stations and locations are accurate, except for one added transfer point between the Red and Blue lines at Monroe, for the sake of easier gameplay. Each station card even has the specific coordinates on Chicago's grid layout.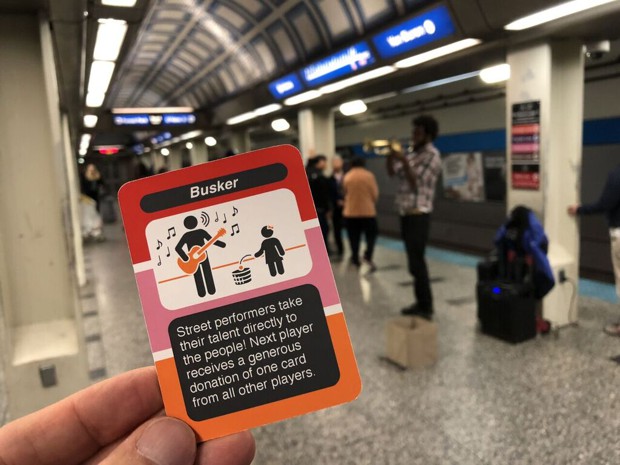 That's the sort of verisimilitude likely to impress fans of transit-themed gaming, a genre that also includes the wildly popular mobile game Subway Surfers, in which a graffiti artist runs down train tracks endlessly, and the London Game, a board game first released in 1972 that has players navigating around station closings and hazards in the UK capital's Tube system.
LOOP appears to be one of the first major card games to focus on transit. The portability of the medium brings an added bonus: You can play the game while actually riding the L, for some meta-transit action.
Public transportation merchandise like LOOP seems to strike a chord among transit-oriented teens across all metros. Washington, D.C.'s WMATA sells yoga pants, the New York Transit Museum stocks shower curtains, and both the London Tube and Berlin's subway have their own lines of handy transit-pass-equipped sneakers.
To pick up LOOP,  you can visit Transit Tees' two brick-and-mortar outlets in Chicago: The deck sells for $20, and preorders ship out on Black Friday.