Keep up with the most pressing, interesting, and important city stories of the day. Sign up for the CityLab Daily newsletter here.
***
What We're Following
An easier ride: Getting around a city like New York is a daily challenge for someone who uses a wheelchair. Less than a quarter of the city's subway stations are accessible and its door-to-door paratransit is too often a no-show. While most can hop in an Uber or Lyft when the bus is late, a dearth of properly outfitted vehicles makes ride-hailing services implausible for wheelchair users: Of nearly 118,000 active ride-hailing vehicles in the city, only 554 (0.5 percent) are wheelchair-accessible, according to a recent study that cites the city's data. The takeaway: The unreliability of locating and waiting for a vehicle renders the services "useless" to wheelchair users.
Ride-hailing companies say they want to help change this. Last month, for example, Uber announced a partnership with one of the country's largest paratransit providers. But the ride-hailing app has also argued in court that it is a technology company, not a transportation provider, and is therefore not subject to transportation-related measures in the Americans with Disabilities Act. Accessibility advocates say the company can take some clear steps toward improving things: "Instead of spending $100 million to defend a lawsuit, put a hundred vehicles on the road," one advocate says. "Show that you're trying to make progress." Today on CityLab: Ride-Hailing's Long Road to Accessibility
---
More on CityLab
---
Oh, Christmas Tree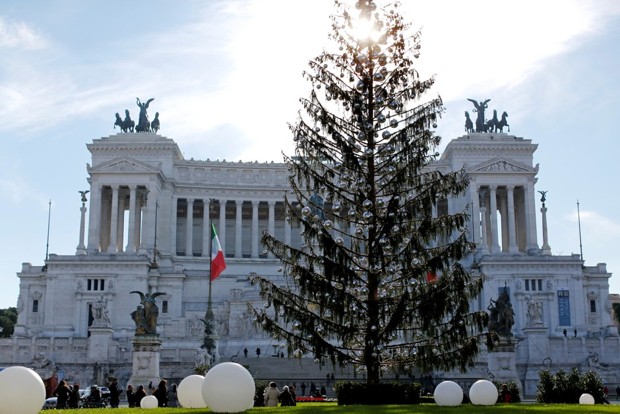 Getting it together by the holidays has always been one way to signal that an institution, whether it's a municipality or a family, is functioning properly. Last year, Rome learned that the hard way when its 65-foot Christmas tree drooped sadly and was pronounced dead a week before the holiday. It was nicknamed Spelacchio, which in Italian translates to either "mangy" and "bald."
As Charlie Brown learned, screwing up the tree can be a springboard to bigger problems. Cities worldwide have long had to deal with the fallout from coniferous fails—from Reading, Pennsylvania's pretzel-topped failure in a state full of evergreens to a notorious Paris installation that looked like an adult toy. A word of advice to cities: Just get a real tree. CityLab's Sarah Holder has the roundup on all the many ways cities screw up their Christmas trees.
---
What We're Reading
London's mayor declares "climate emergency" (The Guardian)
The behavioral economics behind Citi Bike's bike angels (NPR)
How Sesame Street takes on homelessness (New York Times)
Amazon warehouse employees in NYC launch unionization push (Bloomberg)
The Republican civil war over criminal justice reform, explained (Vox)
---
Tell your friends about the CityLab Daily! Forward this newsletter to someone who loves cities and encourage them to subscribe. Send your own comments, feedback, and tips to hello@citylab.com.