Keep up with the most pressing, interesting, and important city stories of the day. Sign up for the CityLab Daily newsletter here.
***
What We're Following
Tag, you're it: If you've ever received a speeding ticket in the mail, then you've gotten a taste of how much law enforcement has come to rely on cameras. The way the government found your address was likely through automated license plate readers, which scan plates and can log information in a central database that's accessible by other entities. With a network of license plate readers, thousands of plates can be scanned each minute across an entire city.
Police can even put a criminal suspect's plate on a "hot list" that will trigger alerts whenever a camera snaps a picture of it, creating what amounts to a real-time map of a suspect's whereabouts. The cameras have produced a staggering amount of data, with 2.5 billion license plates scanned across 23 states in 2016 and 2017. While every driver on the road is fair game for traffic enforcement, civil liberties and privacy groups argue that the technology gathers too much sensitive information about people who have nothing to do with crime. Here's how one researcher put it:
In a nutshell, it's like face recognition—except every single face comes in a standard format and is directly linkable to a government identity record. It allows mass tracking, and because plates are issued by the government, we're a bit desensitized to the idea that they'll be tracked. It's powerful stuff, and it's not under control.
CityLab's Tanvi Mistra has the story: Who's Tracking Your License Plate?
---
More on CityLab
---
Goodbye 'Gramsterdam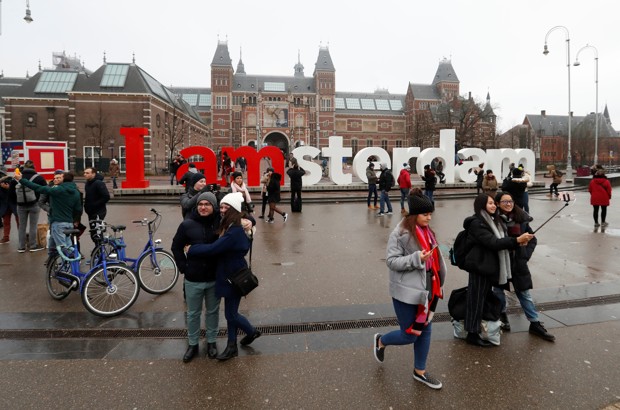 After almost 15 years, Amsterdam's famed "I Amsterdam" sculpture is gone. According to Curbed, the red and white letters were removed after a petition from a city councillor argued they attracted mass tourism for all the wrong reasons, saying in a statement, "This slogan reduces the city to a background in a marketing story."
Last year, CityLab's Mark Byrnes reflected on how the sculpture spawned the 'grammable city trend that has spread to cities around the world:
I don't remember the faces or the surroundings, just the giant letters standing proudly in front of the Rijksmuseum, which I, an American Millennial, am doomed to forever identify as "the museum behind the 'I amsterdam' sign." I'm not proud of that but I can only blame my then-fresh and empty brain so much. Why would a popular historic city tap into the worst urges of FOMO-poisoned outsiders?

The letters were installed in September 2004, just months after Facebook launched, three years before the first iPhone was sold, and six years before Instagram existed. These inventions have since helped stretch out the gaping portal to hell we dance around every day while the sign has only continued to grow in popularity.
---
What We're Reading
More lawmakers are looking into banning cashless restaurants (Next City)
This course helps former prisoners learn the tech they missed in jail (Fast Company)
Down with "studentification": How cities fought for their right not to party (The Guardian)
Amtrak, keep the mod flipboard sign. It's part of your heritage (Philadelphia Inquirer)
George H.W. Bush's final ride: A train that connects him to a long presidential tradition (Washington Post)
---
Tell your friends about the CityLab Daily! Forward this newsletter to someone who loves cities and encourage them to subscribe. Send your own comments, feedback, and tips to hello@citylab.com.