What We're Following
House calls: About a decade ago, Nationwide Children's Hospital in Columbus, Ohio, embarked on a project to treat a different kind of patient: the neighborhood. In 2008, the hospital came looking for tax incentives to improve its roads, sidewalks, and parking. The city agreed, with a condition: It required the hospital put money into stabilizing the nearby Southern Orchards neighborhood by fixing up its housing.
That eventually got the hospital into the real estate development business itself. What began as holding up its end of a tax deal became an investment in 272 single-family homes and dozens of rental units around the South Side. As an emerging body of medical research shows, neighborhoods and housing can determine health, and this program stands out for its emphasis on low-income tenants and mitigating the possible side effects of displacement. Today, CityLab's Laura Bliss reports on what happens when a hospital plays housing developer.
---
More on CityLab
---
Park Yourself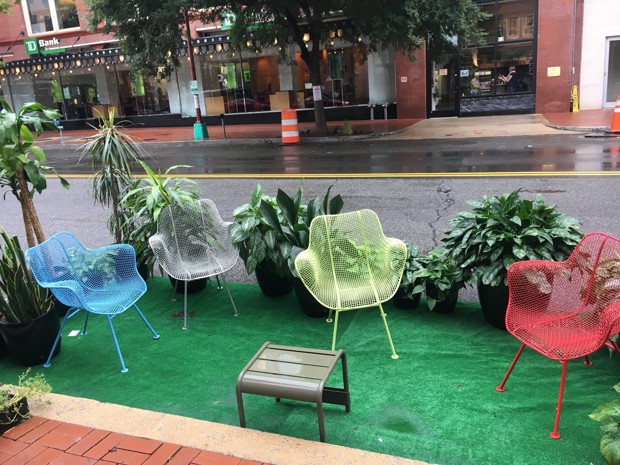 If you notice some pop-up parklets around town today, that's because it's Park(ing) Day, the placemaking event where cities let residents turn parking spaces into miniature parks. The annual tradition started in San Francisco back in 2005, and last year CityLab detailed the history of how the urbanist holiday took off around the world. One of the originators of the idea describes the installations as "as the gateway drug for urban transformation." Of course, parking is a hot topic in urbanism, but it's remarkable how these little parklets are just the right size for sharing photos on social media. In fact, if you snap a parklet pic today, tag @citylab and check our Instagram story later today for a roundup of the festivities in cities around the world.
---
What We're Reading
A black political candidate was canvassing in her district. Then someone called the police. (Vox)
Flood insurance is broken (Curbed)
The potential link between heat and violence in cities (New York Times)
One small change to New York City's intersections is saving pedestrians' lives (Quartz)
Ben Carson's HUD: Political loyalty required, no experience necessary (Washington Post)
---
Tell your friends about the CityLab Daily! Forward this newsletter to someone who loves cities and encourage them to subscribe. Send your own comments, feedback, and tips to hello@citylab.com.