Keep up with the most pressing, interesting, and important city stories of the day. Sign up for the CityLab Daily newsletter here.
***
What We're Following
Auto pilots: If you're eager for self-driving cars to take over the road, you might be growing impatient. But there are promising advancements in autonomous shuttles—if you're just willing to slow down a bit.
Cities and companies have been testing low-speed AVs (we're talking 10 to 35 miles per hour) in pilots across the country. Early projects in Detroit; Las Vegas; and Arlington, Texas; show the potential AVs have for last-mile trips that are often too small for mass transit (Axios). Meanwhile, self-driving shuttles have arrived in Columbus (WaPo) and will soon come to Babcock Ranch, Florida (Curbed) as part of broader smart city projects that we've detailed previously on CityLab (here and here). The Knight Foundation also just invested $5.25 million in studying how AV technology can help public transit in five cities (Smart Cities Dive).
The Verge writes that compared to their self-driving car cousins, these autonomous vehicles are slow and boring—and that's a good thing. In addition to testing an emerging technology more safely, these pilots in downtowns, college campuses, and small communities could have the added benefit of bringing road speeds down. It might not be the car of your dreams, but maybe it could help make our streets a little calmer.
Readers, tomorrow is Park(ing) Day. If you're making a parklet or just visiting one, we'd love to what it looks like. Send pics and tell us all about them at hello@citylab.com and we could feature it in tomorrow's newsletter!
---
More on CityLab
---
Keep the Change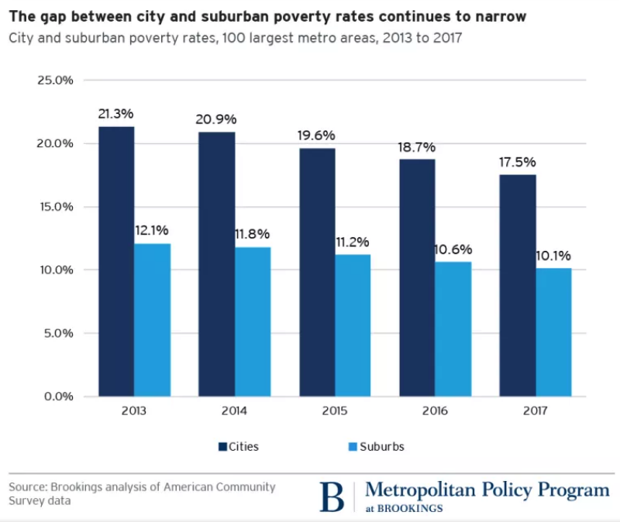 The latest Census numbers on poverty and income had some good news: the national poverty level ticked down to its lowest point since 2006, to 12.3 percent. Brookings' Metropolitan Policy Program finds that cities made up a larger share of that overall reduction in poverty in this most recent year, accounting for 55 percent of the decrease from 2016 to 2017. That continues a trend of a narrowing gap between city and suburban poverty rates, as shown in the above chart shows. But that reduction was also concentrated in a smaller number of cities, speaking to how uneven economic progress can be. CityLab context: The War on Poverty Isn't Over
---
What We're Reading
How architects and designers are rebuilding Puerto Rico (Curbed)
Amazon will consider opening up to 3,000 cashierless stores by 2021 (Bloomberg)
Windows on how cities change can be all too captivating (New York Times)
Can New York's plan to close its jail on Riker's Island build a more just city? (Fast Company)
Goodbye cars, hello color: the great reinvention of city intersections (The Guardian)
---
Tell your friends about the CityLab Daily! Forward this newsletter to someone who loves cities and encourage them to subscribe. Send your own comments, feedback, and tips to hello@citylab.com.