Keep up with the most pressing, interesting, and important city stories of the day. Sign up for the CityLab Daily newsletter here.
***
What We're Following
Never say Netherlands: As the United States takes its last gasps to stop climate change, cities have looked to the Dutch as a possible model for redesigning our communities for a wetter world. With dikes and levees, pump stations and retractable barriers—all erected to hold back floodwaters—water engineering has become the "principal export of the Netherlands." Dutch ideas dominated in the rebuilding after hurricanes in New Orleans, Houston, and New York.
It's all very impressive, but as researcher Billy Fleming of the University of Pennsylvania's School of Design writes, "it would be difficult to imagine two nations in the Global North with less in common when it comes to flood risk." One major deadly storm in 1953 catalyzed the Netherlands' efforts to keep their cities dry. The United States has seen at least 10 hurricanes bring comparable surge heights since 2000. The two countries just aren't comparable for their needs on coastal infrastructure—and their political systems couldn't be more different. Read Fleming's perspective piece on CityLab: The Dutch Can't Save Us From Rising Seas
---
More on CityLab
---
Voting Blocks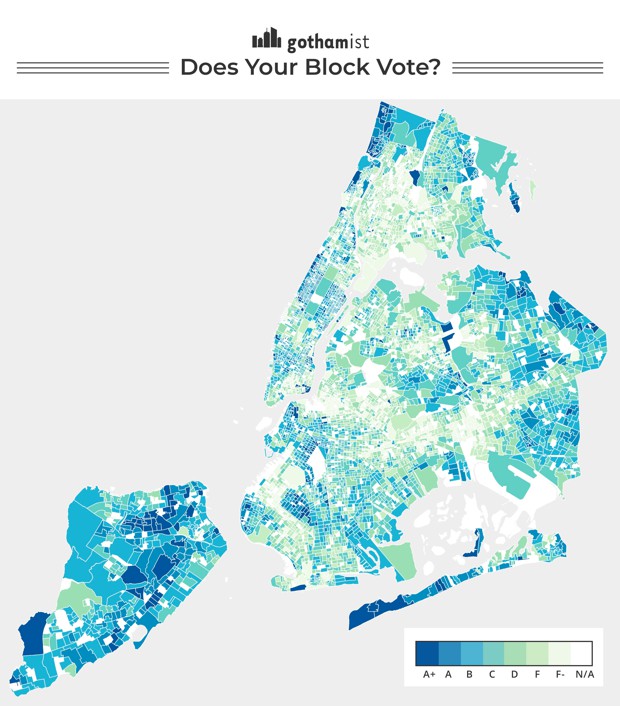 During New York's primaries last month, voter turnout among Democrats was hailed as "remarkable," with the state's biggest turnout coming from New York City. But with even with an active primary season on the left, only about 26.8 percent of the city's registered Democrats turned out to vote.
Voter turnout hasn't historically been that high. Gothamist launched an interactive project called "Does Your Block Vote?" to show where voter turnout rates were at their lowest in the city in the 2014 gubernatorial election. Enter an address to see how much of that district voted four years ago. The tool gives a letter grade for turnout compared to the citywide vote, and New Yorkers can share it to shame their neighbors into voting. CityLab context: In the U.S., almost no one votes in local elections.
---
What We're Reading
How Sears Kit Homes changed housing (Curbed)
New York had its first weekend without a shooting in 25 years (NPR)
How a subprime auto lender consumed Detroit with debt (Jalopnik)
Voter registration around Austin smashed records. That may be a problem. (ProPublica)
Snubbed, cheated, erased: The scandal of architecture's invisible women (The Guardian)
---
Tell your friends about the CityLab Daily! Forward this newsletter to someone who loves cities and encourage them to subscribe. Send your own comments, feedback, and tips to hello@citylab.com.