Keep up with the most pressing, interesting, and important city stories of the day. Sign up for the CityLab Daily newsletter here.
***
What We're Following
Hard times: The U.S. economy may be doing well by many metrics, but even people with jobs are feeling the pinch. While the national unemployment rate averaged just 4.4 percent in 2017, nearly 40 percent of working-age adults reported at least one material hardship that year, according to a new report from the Urban Institute. Among families with at least one working adult, 35 percent had trouble fulfilling a basic need like buying food, paying medical bills, or keeping up with rent, mortgage, or utility payments.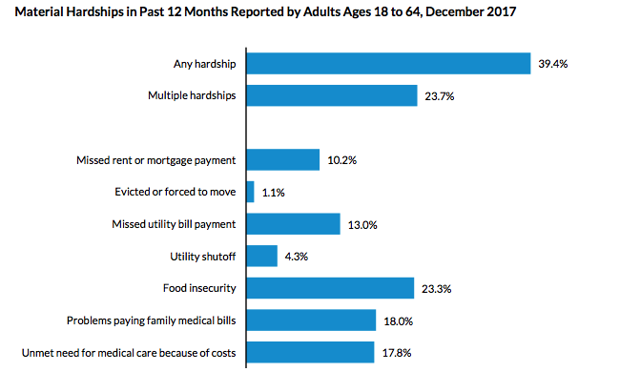 The study points out how poor nutrition, unstable housing, lack of heating or utilities, and limited access to health care intertwine to make life more difficult for families. New gaps in the safety net can exacerbate these problems. As the federal government proposes raising rents for housing aid and cuts to SNAP benefits that fight poverty, it's worth remembering that the stress of covering the rent is not just an economic phenomenon: It can affect people's health, too. "People talk a lot about health, education, or jobs, but they don't often pivot back to housing or where people live," as one researcher said. "A stable home is the foundation to thrive."
---
More on CityLab
---
---
What We're Reading
How London's trial of smart cards in the '90s transformed bus travel (The Guardian)
The best things to do with kids in 13 U.S. cities (Curbed)
The school shootings that weren't (NPR)
Your next weather apocalypse: the smokestorm (Wired)
Trump's tax cuts were supposed to depress housing prices. They haven't (New York Times)
---
Tell your friends about the CityLab Daily! Forward this newsletter to someone who loves cities and encourage them to subscribe. Send your own comments, feedback, and tips to hello@citylab.com.