Keep up with the most pressing, interesting, and important city stories of the day. Sign up for the CityLab Daily newsletter here.
***
What We're Following
Night moves: If you've heard of "night mayors," you might imagine a dream job that finally puts your "work hard, play hard" mantra to good use. But it's not the party you think it is. For one thing, you're nothing like an actual mayor—hence the preference for toned-down titles like "director of the office of nightlife." The gig is decidedly bureaucratic, dealing with noise complaints, business licensing, congested corridors, parking challenges, rats… the list goes on. But as more U.S. cities are seeing value in that kind of job, we wanted to know: What, exactly, does it take to be a successful liaison between nightlife and city hall?
"What the night mayor does is actually city planning after dark," says Mirik Milan, Amsterdam's former night mayor, and the world's first. But ultimately, the job's key qualification is being a good listener, and understanding how to help the community and its regulators speak the same language. CityLab's Linda Poon spoke with several nightlife officials around the U.S. about what it means to oversee a city after dark. Read her story: So You Want to Be a Night Mayor?
---
More on CityLab
---
Más Transit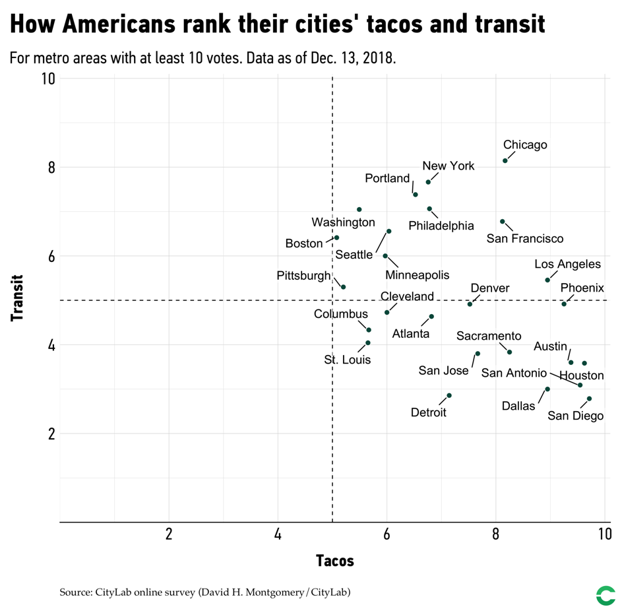 In Monday's edition, we asked readers to weigh in on the quality of their cities' tacos and transit, based on what started as a silly idea on Twitter—and, well, you delivered. With more than 1,000 responses, CityLab's David Montgomery graphed how CityLab readers feel about these two critical metrics of a strong city. The results for cities that received more than 10 votes are shown above. Who knew people felt so good about their cities' tacos? Transit… well, that's another story.
---
What We're Reading
The Amazon invasion of New York and Virginia will be slow (Wall Street Journal)
Dr. Elon & Mr. Musk: inside Tesla's production hell (Wired)
The criminal justice reform bill is both historic and disappointing (New Republic)
HUD took over a town's housing authority 22 years ago. Now the authority's broke and residents are being pushed out. (ProPublica)
---
Tell your friends about the CityLab Daily! Forward this newsletter to someone who loves cities and encourage them to subscribe. Send your own comments, feedback, and tips to hello@citylab.com.