Keep up with the most pressing, interesting, and important city stories of the day. Sign up for the CityLab Daily newsletter here.
***
What We're Following
Grow up, not out: We talk a lot about what car-free streets could mean for reducing pollution, improving business, and saving lives. But what could it mean for families?
For a hint, look to Pontevedra, Spain. For almost two decades, the city has carried out a pedestrianization policy that has filled the streets with strollers, toys, and playgrounds, becoming a friendlier place for kids and their caretakers. The removal of cars from the city's center even seems to be attracting families: Since 2000, the population of kids age 0 to 14 has increased by 8 percent, while Spain overall grapples with low birth rates.
There was, of course, early resistance from neighbors and businesses. But their initial concerns have faded away, and local leaders have even reaped rewards at the ballot box for the plan. "Cities must be designed so citizens can afford being a parent—an urban model that favors work-family reconciliation," says one demography expert. "They need to feel accompanied through the process and [that they are in] an ecosystem that values childhood and teenhood." Read the latest in our Room to Grow series: What Happens to Kid Culture When You Close the Streets to Cars
---
More on CityLab
---
Case of the Cyber Mondays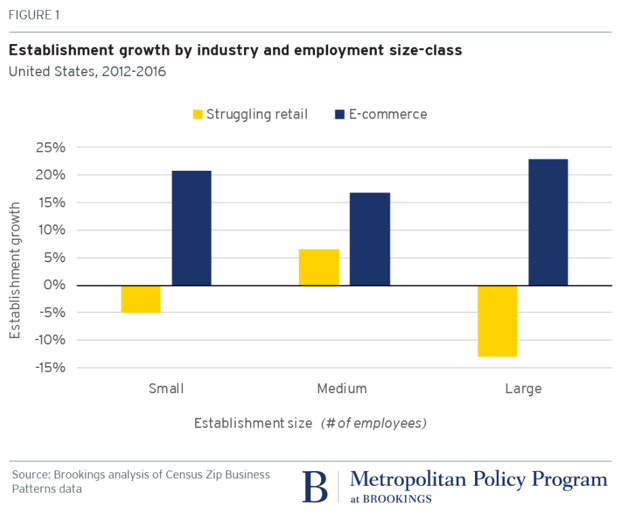 We probably don't need to remind you that e-commerce is booming. But do you know how much? From 2012 to 2016, online businesses added 8,269 physical establishments (including warehouses and offices). That's 20.6 percent growth, compared to 4.4 percent across all industries. Meanwhile, struggling retailers such as clothing, book, and department stores posted a net decline of about 6,120 establishments nationally, down 4.2 percent. The chart above from the Metropolitan Policy Program at Brookings shows how e-commerce's growth has come in all business sizes.
The report also finds that job sprawl of e-commerce resembles the pattern of brick-and-mortar establishments. Nearly 56 percent of establishments are more than 10 miles from a central business district, much like 49 percent of brick-and-mortar retailers locate near the customers in dense suburbs. But the pattern of development isn't an exact fit, as the warehouses that fulfill those online orders are increasingly locating in less dense neighborhoods closer to the urban core to enable those speedy overnight deliveries. CityLab context: After the retail apocalypse, prepare for the property tax meltdown
---
What We're Reading
The suburbs are changing. But not in all the ways liberals hope. (New York Times)
Podcast heads-up: On The Media asks "Whose streets?" (WNYC)
Jeff Sessions left behind a record-breaking gun prosecution machine (The Appeal)
GM announces cuts at car assembly plants in Michigan, Ohio, Canada (NPR)
Reader's choice: There's a smarter way to regulate D.C.'s scooters (Washington Post; h/t Nick Samonas)
---
Tell your friends about the CityLab Daily! Forward this newsletter to someone who loves cities and encourage them to subscribe. Send your own comments, feedback, and tips to hello@citylab.com.