Keep up with the most pressing, interesting, and important city stories of the day. Sign up for the CityLab Daily newsletter here.
***
What We're Following
Can it be done?: Cities consume more than two-thirds of global energy and account for at least 70 percent of carbon emissions, and that means they have an enormous task ahead of them in the fight against climate change. With less than three years to deliver on the commitments made in the Paris climate agreement, it's going to take unprecedented actions—Banning combustion engines! Solar panels on every roof!—to meet the goals. But that still only gets us halfway there, one sustainability specialist estimates.
The hard but necessary work is to revamp cities so they cancel out the carbon they emit. Some designers and advocates are pushing for what they call climate-positive design, which requires redesigning neighborhoods, buildings, and transportation networks to reduce and absorb carbon. And technological changes aren't the biggest hurdle standing in the way—getting to a net-zero design at a holistic scale will rely more on policy and bureaucratic changes, but progress on those so far has moved slowly. Today on CityLab: Is "Climate-Positive" Design Possible?
---
More on CityLab
---
Love, Actually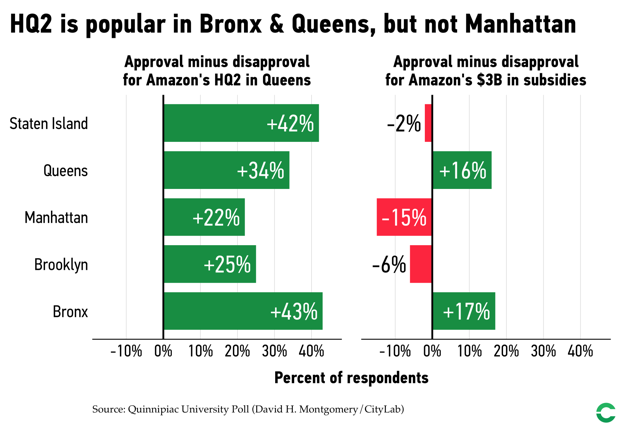 More than half of New Yorkers view Amazon's plan to open a headquarters in Long Island City, Queens, as a blessing, not a curse. In fact, a new Quinnipiac University poll finds that despite the controversy surrounding the company's selection process, only 26 percent of New York residents disapprove of the deal.
But as you can see above, Amazon enthusiasm varies a lot by borough. The city is a bit more evenly divided on the $3 billion in subsidies given to the mega-online retailer. Meanwhile, Manhattan residents were most skeptical of the deal, with 16 percent more respondents disapproving than approving of the city's tax incentives. But in Queens, residents not only welcome HQ2's arrival to their borough; more people actually approve of the tax incentives than disapprove, with a plus 16 percent net approval. CityLab's Sarah Holder and David Montgomery crunched the numbers: Why New Yorkers Actually Support Amazon HQ2
---
What We're Reading
Are rural voters the "real" voters? Wisconsin Republicans seem to think so (New York Times)
What Chicago's voters can look forward to in a very crowded mayoral election (ProPublica)
Seattle's population is booming, except where it's shrinking (Next City)
Watch AI conjure an entire city from scratch (Fast Company)
Architects build gingerbread city to whet appetite for design (Reuters)
---
Tell your friends about the CityLab Daily! Forward this newsletter to someone who loves cities and encourage them to subscribe. Send your own comments, feedback, and tips to hello@citylab.com.