Keep up with the most pressing, interesting, and important city stories of the day. Sign up for the CityLab Daily newsletter here.
***
What We're Following
No way, Jose: Like many expensive cities, San Jose, California, is struggling to keep its teachers. Of the 1,400 classroom teachers employed by the San Jose Unified School District, one in seven have to be replaced each year. In the heart of Silicon Valley, the towering gap between housing prices and teacher salaries is now so extreme that the school district has considered another idea: building apartments for teachers on school grounds.
The idea is still in its earliest days, but it's already being met with outrage that this housing might be located near some of the wealthiest neighborhoods in the country. One superintendent told CityLab's Sarah Holder how perplexed he was about the resistance: "I'm a person who works with your kid every day—you trust me with your student in my classroom, but I'm not good enough to be your neighbor?" Read Sarah's story: Why Are So Many People in San Jose Fighting Housing for Teachers?
---
More on CityLab
---
Read All Over?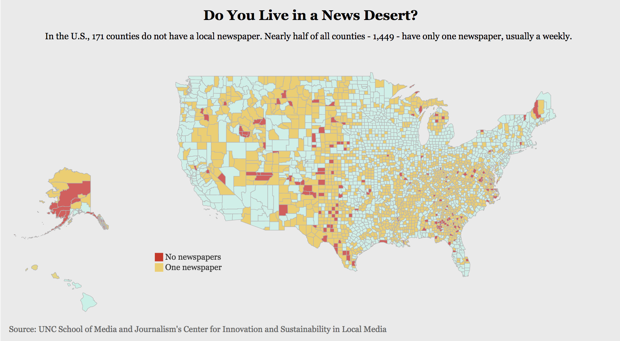 The era of the competitive two-newspaper town is long gone—half of the 3,143 U.S. counties have only one newspaper, as the map above shows. Since 2004, nearly one in five newspapers has disappeared, according to a new study on "news deserts" by the University of North Carolina's School of Media and Journalism. Many of the surviving papers have turned into "ghost papers" as they've cut staff back dramatically.
That's left hundreds of rural towns entirely without a newspaper. But the decline of print has hit cities and suburbs the hardest: About 70 percent of the newspapers that closed or merged (1,300 news outlets) since 2004 were weeklies or dailies that once served metro areas. (h/t Poynter and NiemanLab) CityLab context: The hidden costs of losing your city's newspaper
---
What We're Reading
Why a landowner in Akron is fighting to keep the homeless on his property (New York Times)
Rent control is back (Slate)
Portland could make big businesses fund clean energy (Fast Company)
Podcast alert: The worst way to start a city (99 Percent Invisible)
Even in Philadelphia, one of the most determined sanctuary cities, refuge is elusive (ProPublica)
---
Tell your friends about the CityLab Daily! Forward this newsletter to someone who loves cities and encourage them to subscribe. Send your own comments, feedback, and tips to hello@citylab.com.