Keep up with the most pressing, interesting, and important city stories of the day. Sign up for the CityLab Daily newsletter here.
***
What We're Following
Front facing: Last month, The New York Times explored a paradox of modern New York City: In "a city teeming with tourism and booming with development," some 20 percent of storefronts go empty.
Do cities need rent control for businesses? New York is ready to tackle that question next month, as a city council committee considers a bill to address storefront vacancy, Crain's New York reports. The measure would entitle compliant commercial tenants to a 10-year renewal of their lease. But Mayor Bill de Blasio has signaled his skepticism with the bill, which would force landlords into negotiations over their own property.
As Oscar Perry Abello writes in Next City, storefront vacancy is a problem that "you can't go back to not noticing." The gaps in the streetscape reveal the challenges that mom-and-pop shops face from soaring rent, competition from e-commerce, and gentrification. The question for cities is: What can be done to fix it?
CityLab context:
---
More on CityLab
---
Terrible Thing to Waste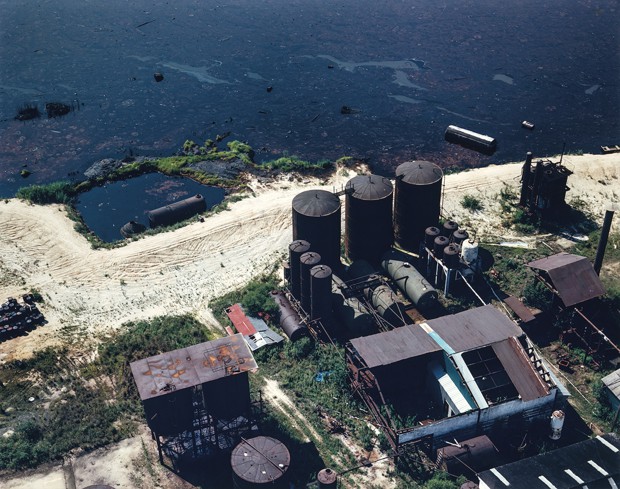 There are nearly 40,000 EPA-monitored toxic waste sites across the United States; nearly 900 are regulated under the agency's Superfund program. These heavily contaminated industrial sites leave deep scars on the landscape, which photographer David Hanson documented in the late 1980s. His new book, Waste Land, shows 67 sites together to dramatic effect. Even 30 years later, not much has changed: Most Superfund sites remain dangerously polluted. Take a glimpse of America's toxic wastelands on CityLab.
---
What We're Reading
How connected is your community to elsewhere in America? (New York Times)
As Bird scooters take off in Detroit, one guy wants to make them free for kids (Detroit Free Press)
What would a truly walkable city look like (The Guardian)
Can money create a neighborhood? (Curbed)
---
Tell your friends about the CityLab Daily! Forward this newsletter to someone who loves cities and encourage them to subscribe. Send your own comments, feedback, and tips to hello@citylab.com.