Keep up with the most pressing, interesting, and important city stories of the day. Sign up for the CityLab Daily newsletter here.
***
What We're Following
Tiny in Texas: You've likely heard of the "housing first" approach to addressing homelessness, which focuses on getting people into permanent, safe housing before dealing with other issues like unemployment or addiction. In Austin, Texas, one nonprofit is taking that idea a step further, by putting community first. The Community First! Village is a planned development of tiny homes and RVs that's optimized for socialization, with front porches, grouped facilities and amenities, and outdoor kitchens intended to gather residents, all of whom are men and women who have struggled with chronic homelessness.
Founder Alan Graham, who started out by feeding people out of a pickup truck with church friends, was inspired by seeing how RV parks and campgrounds could instill a sense of neighborliness among short-term residents. "There was this inherent sense of community," he says. "I think now it's because of the small spaces." Now he's building what's set to be the biggest tiny-home community for the homeless in the United States. The 27-acre village just broke ground on an expansion that will nearly double its size and bring its total population to 480 people. That's roughly 40 percent of the estimated 1,200 chronically homeless people living in Austin. Today on CityLab: In a Texas Town of Tiny Homes, the Chronically Homeless Find Community
---
More on CityLab
---
Corporate Raid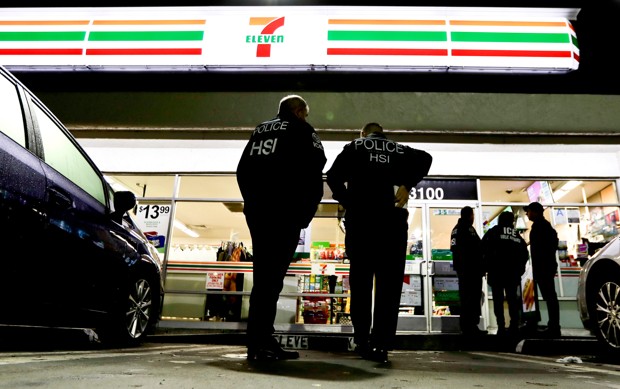 Bloomberg has an eye-opening story about ICE raids on 7-Eleven stores and how those raids might be used to take back convenience stores from its independent franchise operators. That's the fear that hung over Gurtar Sandhu when he heard one of his Los Angeles stores had been raided by four plainclothes immigration officers on January 10. Sandhu is one of four franchisees that Bloomberg finds has been raided by ICE who has had legal disputes with the giant retailer over its employment practices. Here's an excerpt from Bloomberg; read the full story here:
In August, sitting in the office of the store that was raided surrounded by boxes of Slurpee syrup, he said he didn't know if or when he'd hear from immigration again. He appeared still to be baffled by his first experience with ICE. "I totally understand if you are doing something illegal," he said, "I mean, if they know that I am doing something wrong. But why not just send me the subpoena and say we need to give them the information? Why all the drama? Why all the show?"

The show wasn't just for Sandhu. The day he was raided, immigration officers fanned out across America, serving inspection notices and arresting suspected undocumented workers at 98 7-Eleven stores in 17 states and Washington, D.C. Since then agents have raided several more, and Bloomberg has learned that ICE and federal prosecutors in Brooklyn, N.Y., are engaged in criminal investigations of multiple franchises. 7-Eleven, an American icon and the world's largest convenience store chain, has become the highest-profile target of a sweeping corporate immigration crackdown by President Trump.
CityLab context: The real message ICE sends with their 7-Eleven raids
---
What We're Reading
The pink transit tax: Women spend more than men to get around New York City (Wired)
Next chairman of House transportation committee talks infrastructure (Washington Post)
Amazon's new neighbor: the nation's largest housing project (New York Times)
One overlooked midterm takeaway? The green wave in cities. (Fast Company)
Why Jeff Sessions's final act on police departments could have more impact than expected (ProPublica)
---
Tell your friends about the CityLab Daily! Forward this newsletter to someone who loves cities and encourage them to subscribe. Send your own comments, feedback, and tips to hello@citylab.com.