José Andrés is one of America's most famous celebrity chefs, but he does more than appear on the Food Network and morning shows (and spar with President Trump). He works to alleviate the toll of disasters such as Hurricane Maria, which devastated Puerto Rico last year, and the more recent storms Florence and Michael. In his book We Fed an Island (co-authored by Richard Wolffe), Andrés recounts how he and hundreds of volunteers made home-cooked meals for Puerto Ricans after Maria struck.
Andrés's nonprofit, World Central Kitchen, served more than 3 million meals on the island. As the New York Times noted in October 2017, "No other single agency—not the Red Cross, the Salvation Army nor any government entity—has fed more people freshly cooked food since the hurricane, or done it in such a nurturing way." In February, Andrés was named Humanitarian of the Year by the James Beard Foundation.
I corresponded with Andrés via email and asked him about the relationship between food and place, his "recipe" for building better recoveries after disasters, his start in Spain, and his move to D.C. (a city that he, more than anyone else, put on the culinary map). Our conversation has been lightly edited.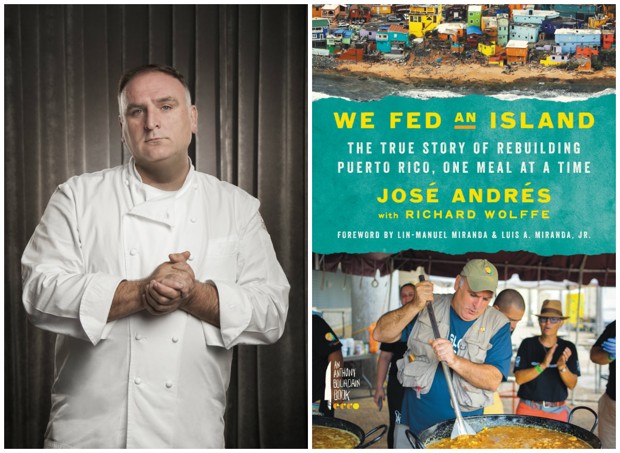 Before we get to your work in Puerto Rico, let's start with a few questions about food and place. You trained under Ferran Adrià at the restaurant El Bulli [in Spain's Catalonia region]. How did Catalonia shape your approach to cuisine and life?
I grew up in Catalonia, just outside of Barcelona. It's such a beautiful place. It has its own unique history and culture, and it is located at a crossroads between many different cultures—Castilian, Valencian, Basque, French, Italian—which make it a deeply diverse, rich region. And there is something in the water there that inspires creativity. Just think of all the amazing artists and thinkers, like Ferran, but also Salvador Dalí, Antoni Gaudí, Joan Miró.
Eventually, you moved to Washington, D.C., and established two of your first restaurants in revitalizing neighborhoods: the original Café Atlántico in Adams Morgan and Jaleo in Penn Quarter. Tell us about your connection to Washington, D.C., and its neighborhoods.
I have loved the city of Washington since I moved here in the early 1990s. It had some amazing stars in the food world, even back then, and its location between Maryland, Virginia, and Pennsylvania makes it perfect for the best products. Back then, Penn Quarter and Adams Morgan, maybe they were not a lot to look at, but there was so much potential … which we have seen over the last 25 years.
What motivated you to establish World Central Kitchen to help with disaster relief?
My original inspiration was going to Haiti after the earthquake in 2010. The capital and much of the country were absolutely destroyed. But we started to see what it would mean to build local capacity, to teach the next generation of cooks and bakers, to build school kitchens. It would mean more strength against future disasters, healthier communities, a brighter future.
What role does food play in helping places rebuild after disasters?
Food has a vital role in helping people rebuild—good food is so important to make a person feel human, understood, appreciated, especially in the times of most need. After a disaster, many people who do not have a roof over their head, they might not feel like anyone cares—especially when they are given a sterile packaged meal. But a warm plate of food, that really does help people feel hope again.
You write in your book that after two days of trying to understand the situation in Puerto Rico from afar, you knew you had to take the first flight out there. Can you elaborate on what was going through your mind when you decided to go there in the immediate aftermath of Maria?
It was not a difficult decision to make for me … it was a question of, "How can I help? What can I do?" I am a cook—have trained my whole life to just act, get in the kitchen, start cooking. I knew that my team from World Central Kitchen could activate kitchens on the island, find cooks and volunteers, locate ingredients, and begin cooking.
When you were providing meals after Maria, what did you learn about the state of disaster-relief efforts? What problems did you notice?
The biggest problem to me is bringing outside supplies—like when FEMA sent military meals from the mainland to try to feed people. Look, if I'm trying to get people back on their feet, and the economy working again, but then I dump outside resources and packaged food into the situation, what am I doing? This top-down mentality doesn't think about the local community and its needs.
What would a better system of disaster relief look like? How can communities and their people become more resilient?
We really need this new model of disaster relief in which we are focusing on building up local capacity. The goal should be to get the local economy back up and running as soon after a disaster as possible, and not keep people relying on outside support. Strengthening the capacity of local farmers and producers can help them recover more quickly after a disaster.
CityLab editorial fellow Nicole Javorsky contributed research and editorial assistance to this article.