It was cheap and garish and not very imaginative, so generic that it might well have been churned out by some your-design-here online vendor. And it was—no matter which side of the aisle you're on; no matter if you get amped or feel hollow when you see it—genius. Perched atop the heads of millions of voters, a red baseball cap emblazoned with one vague yet unforgettable message became the most politically potent image of 2016. "MAKE AMERICA GREAT AGAIN," it commanded in all-caps.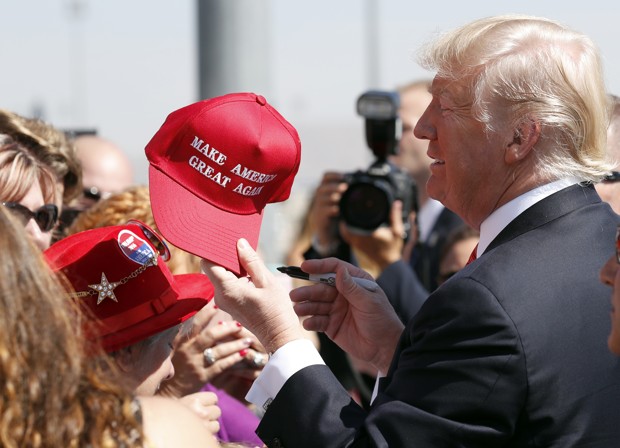 Of course, the poly-cotton accessory alone didn't win Donald Trump the presidential election. But the MAGA hat did initiate strangers across state lines into a club governed by a shared (albeit amorphous) dream. And that helped get him to the White House.
As the country prepares for a midterm election, Republican and Democratic candidates running for positions up and down the ballot are trying to find their own Red Hat—a symbol and a style that sets them apart and sells their message, Trumpian and otherwise. Design can help win and lose elections; at an event in Washington, D.C., last week, a gaggle of designers gathered to talk about how.
Nolen Strals and Bruce Willen of Post Typography, a creative design studio based in Baltimore, discussed the importance of political branding with three experts in the field: Ben Ostrower, CEO & Creative Director of Wide Eye Creative; Anjelica Triola, co-founder of Creative Caucus; and Erik Wooten, Creative Director at Stoneridge Group.
Here in two-party America, designers for political campaigns have been generally worked with a limited palette of colors and icons: reds, whites, and blues; stars and stripes. That's not enough anymore, all five of them emphasized. For new candidates, especially, to run and win, logos need personality, authenticity, and punch. "We consume information differently now," said Triola. "We're constantly staring at screens with visual content, and we're used to higher levels of design."
And getting the logo right is only part of the battle: "Design matters," added Ostrower. "But capital B branding is the whole shebang."
If the iconic image of 2016 was a hat, 2018's answer so far has been an exclamation point. Alexandria Ocasio-Cortez—the young congressional candidate who unseated a 10-term incumbent in the primary and will run to represent New York's 14th district in November—wears bold red lipstick and advocates for more progressive policies than her Democratic establishment counterparts. She had an ad campaign to match.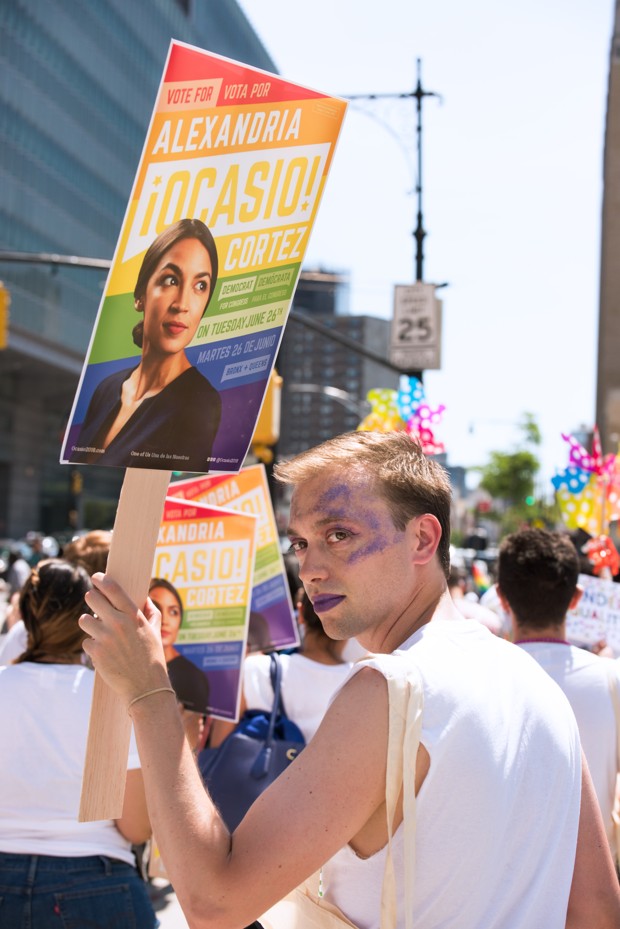 Designed by the New York-based firm Tandem, Ocasio-Cortez' design uses splashes of bright yellow and deep blue, and a slanted font that leaps across posters and almost off the walls. Dual exclamation points with stars for dots frame her middle name; words are contained in speech bubbles, as if made to be shouted. "It could be a poster for a new Netflix series," Willen said. There's no American flag to be found, and no chance of mistaking her merch for someone else's.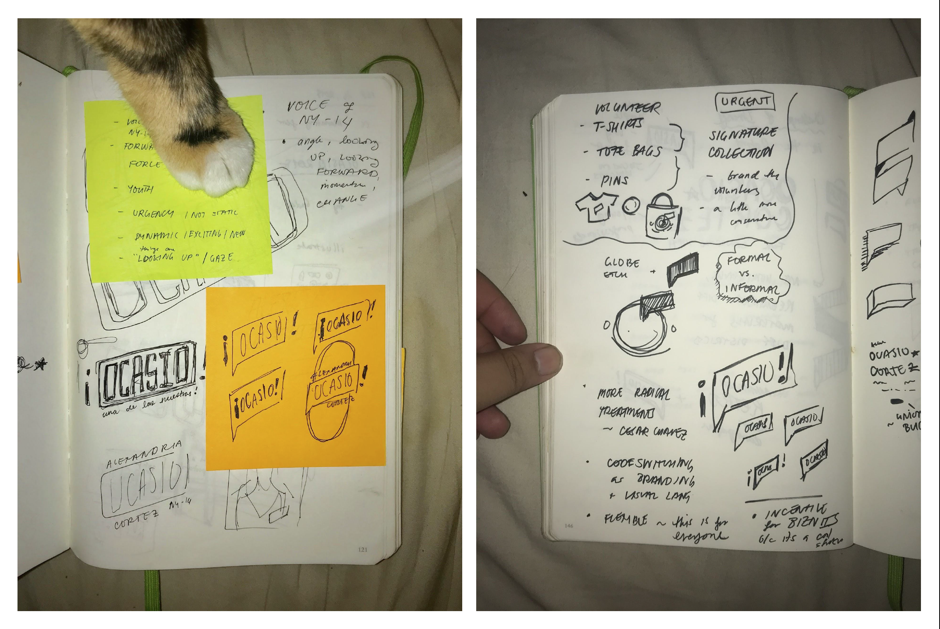 Beto O'Rourke, who's challenging Ted Cruz for a Texas Senate seat, is running a similarly subversive Democratic campaign, but is taking an entirely different tack: O'Rourke's design team sucked out all the color from his stark black-and-white BETO FOR SENATE posters. "It's a striking choice," said Willen, one that defines O'Rourke as an outsider—especially when pitted against Ted Cruz's busier campaign logo, which features the state of Texas, red and blue lettering, and the slogan "Tough as Texas."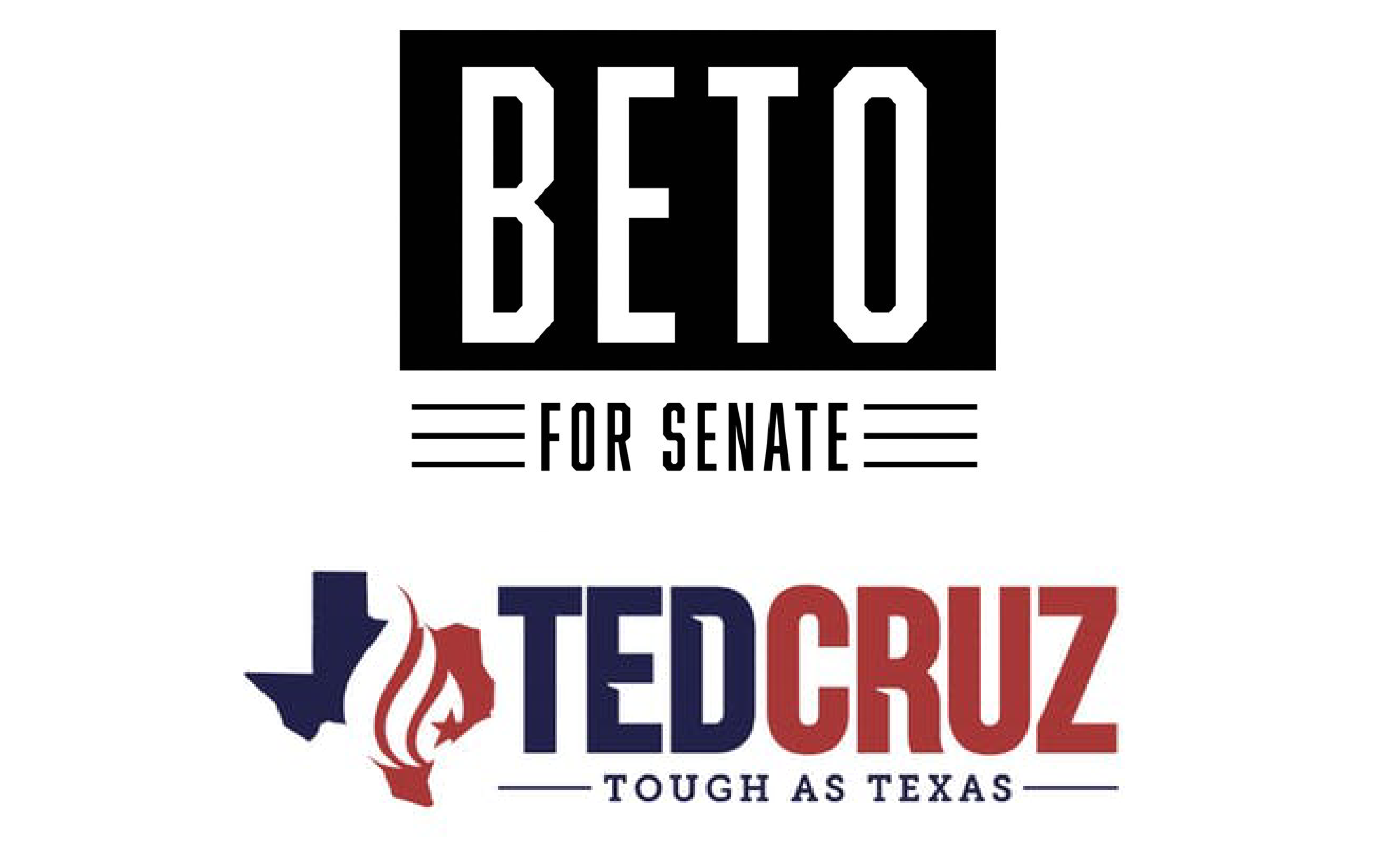 If you're launching a campaign in Georgia, conventional wisdom might suggest slapping candidates' names inside a Georgia peach. But for Stacey Abrams, a Democratic gubernatorial candidate who could become the first African American woman governor ever if she wins in November, Ostrower's team wanted to create a different look: a dark, distinguished navy-blue background color with the candidate's name in a chunky, all-caps font. Splashes of brighter colors (an orange called Bittersweet; a green called Puerto Rico, and a light Cornflower blue) form an inclusive palette.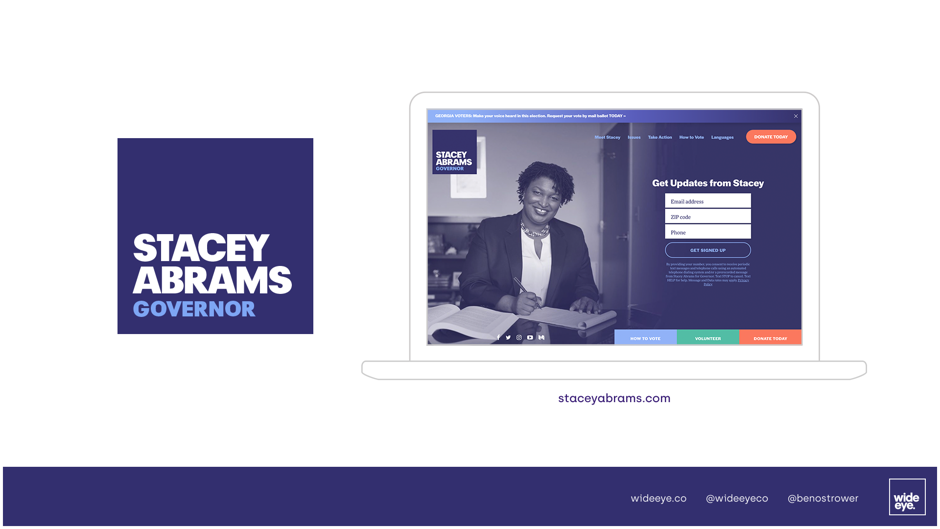 And if you're a conservative veteran running for governor of South Carolina, you might find it easy to blend in in a sea of red star-emblazoned yard signs. Instead, John Warren, who checks all those boxes, was given a less obvious makeover, which integrates a medal-style design with a bold letter W. "It reads military but not so cliché," said Wooten, who designed the campaign.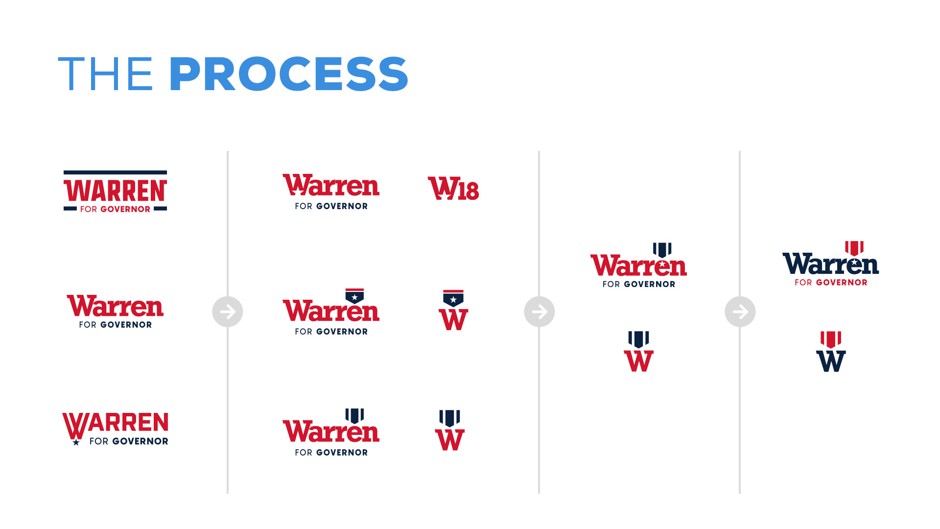 Personality-driven is the new cookie-cutter: Veronia Escobar's run for a Texas Senate seat features campaign materials of hot pink, her favorite color. James Ehiers, who ran for governor of Vermont, fancies himself as an outdoorsman, so his logo resembles the tag on a pair of Levi's. Pat Colbeck, who's running for governor of Michigan, used to be on an astronaut support team, so he got a logo that resembles NASA's classic "meatball." Pennsylvania Governor Bob Casey, who's running for reelection, embodies a Dadcore spirit. Heidi Heitcamp is running a second, extremely contentious senatorial race in North Dakota, and is using the same design as her first: her name above a field of grains and sky. ("It is North Dakota," Ostrower laughed. "When you get to the authentic heart" of a candidate, you don't have to force it.)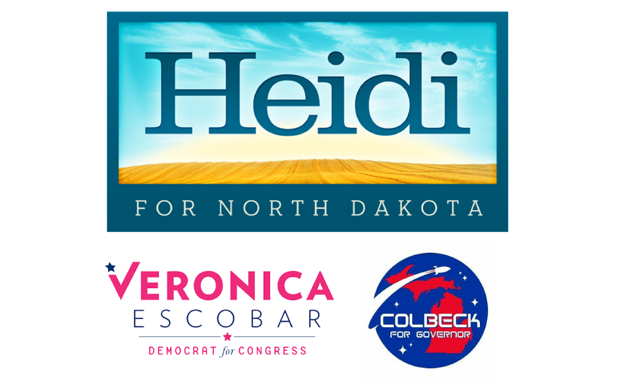 To really commit to shifting the political design paradigm like this, though, you have to completely divorce the conventional concepts of political design from your brain, and build a design team that includes political outsiders, Triola says. To market new candidates, you need new blood in the design room.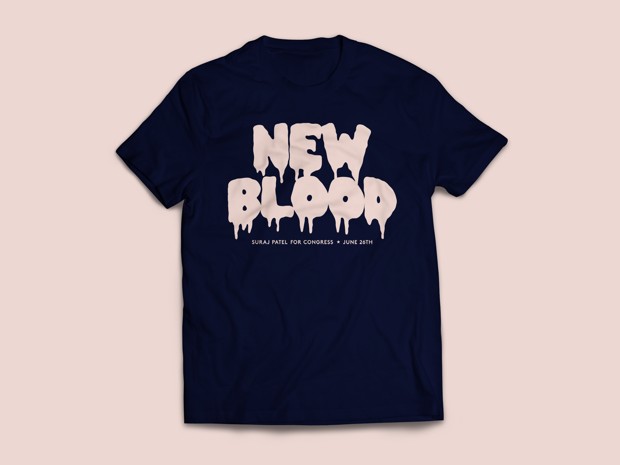 "A lot of political consultants and different branches of the democratic party are generally risk-averse," agreed Ostrower. "The problem is designers aren't really broadening the process until the fear that drives campaigns has already set in." That's too late.
With candidates like Ocasio-Cortez, the Democratic Socialists of America have some of the best-designed campaigns out there, Triola says, because there are "easier on-ramps for candidates" within the party, and fewer gatekeepers. "If you're open to partnering with people who haven't done politics before, [your designs will] be more distinct," she said. "And if you take a different approach to branding, you'll be able to reach audiences that were previously ignored."
Part of the battle is getting these ignored, disenfranchised, or apathetic voters—people of color and Millennials, especially—to the polls: In the last presidential election, only a little more than a third of eligible voters across the country voted. "The biggest demographic in the country is not white men," said Ostrower. "It's people who don't vote."
Design can play a big role in increasing turnout, simply by reminding people why voting matters, and how to get involved.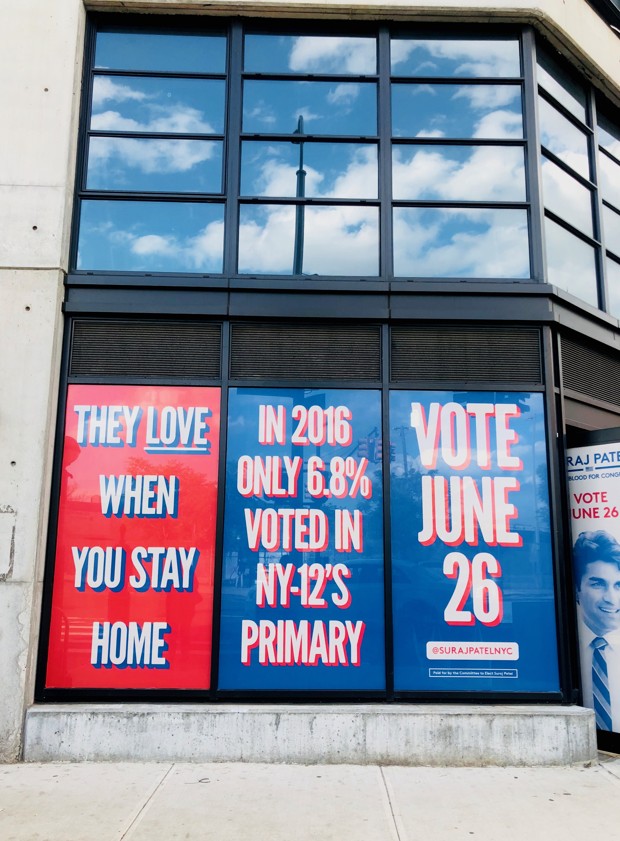 Triola worked with the design firm Ronin to create the campaign materials for Suraj Patel, a first-time candidate who ran to represent New York's 12th Congressional District (but lost in the June primary). Mailers weren't just mailers, they were multi-page zines; traditional political buttons were replaced by condoms and coffee cozies. His campaign occupied space in local bars and held "grown-ass civics classes." And, at the center of many of Patel's posters wasn't his message or his face, but the election date itself: June 26th.
Still, there's a fine line between paying too little attention to design, and too much. Hilary Clinton's polished, well-oiled campaign literature was cohesive, and on-message, and fastidiously crafted by the design team at the much-lauded Pentagram. It was beautiful, most everyone agreed. But its professionalism may have also fueled the perception that Clinton was an aloof, overly-managed candidate, said Willen. The design process was composed of a set of closely monitored pipelines, without much room for deviation.
Besides helping "hold his hair down," as Wooten noted, Trump's hat didn't follow a style guide. It was participatory in nature, and easily reproduced by DIYers who made their own variations and other people not on campaign staff.
There are ways to encourage that spirit, without forgetting to hire a designer. Triola suggests equipping volunteers with the skills to use simple design software tools like Canva and posting a lot of templates online.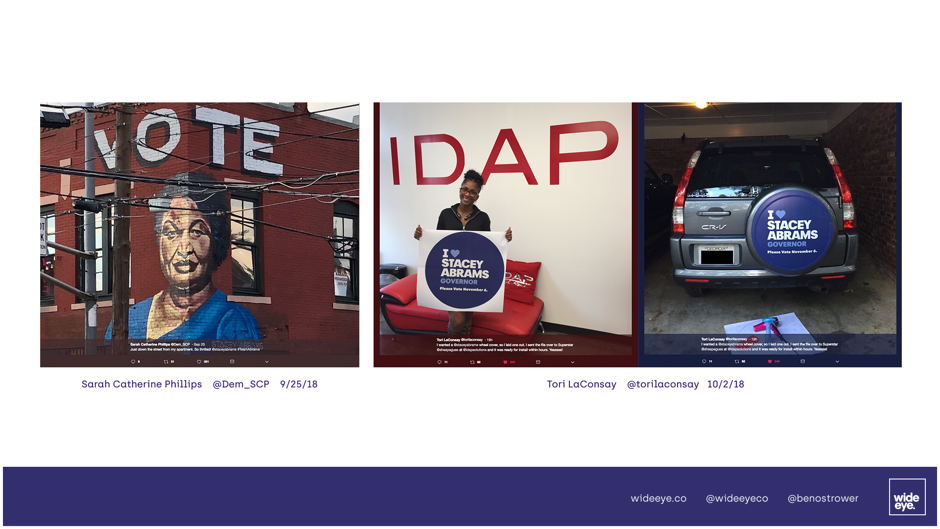 Ultimately, though, creating an effective campaign is as much about authenticity as it is about flexibility: Once an unplanned image goes viral, they said, run with it. So what if Bernie's comms people didn't think of "Feel the Bern" themselves? Let people chant it. If people connect to Beto on a skateboard, as they did after this video of him rolling through a Whataburger parking lot did in August, don't try to rebrand him in some more-statesmanlike manner. (You can now buy Beto-on-a-Board shirts on Etsy.) People will find natural affinities with candidates if they're given a chance.
Beto O'Rourke skateboarding in the Whataburger parking lot https://t.co/PE5fWLddnN pic.twitter.com/OTQUaOaxsE

— Josh Billinson (@jbillinson) August 19, 2018
To that end, some of the most effective branding, Triola said, is peer-to-peer, and experience-driven. Get people to register to vote by leading them into a bar, not a church basement. Bring conversations with candidates to art galleries. There are also untapped networks of micro-influencers already operating in communities: If a local barber shop has an Instagram account with 60,000 followers, maybe you should get your hair cut there, she says. Influencers endorse products that, they promise, will make your life better. If politicians do their jobs right, they have a lot more power to transform communities than a lotion does.
But the designers admit that design alone can't actually swing an election. That's still up to candidates. Ocasio-Cortez' bold campaign had to be matched by an even bolder message; Beto's black-and-white posters would fall flat if Ted Cruz destroyed him in debates. While Barack Obama drew strength from the promise (and, says Willen, almost MAGA-esque vagueness) of "Hope" and "Change" and credibility from a cohesive, Clinton-polished campaign branding, it was really his speeches and his salience that carried him through two terms.
In races where Millennials are voting, however—or in places where they're not, and candidates are betting on boosting turnout—design and branding can go a long way in actually getting them in the door. "Literally, the people running for office are changing," Ostrower said. "It's an important trend for the country to call out and recognize."