Heading into flu season, predicting the virus' spread and mapping where outbreaks might occur remains an imperfect science. But a new study says a surprising factor impacts how bad the season is: city size.
The study, published in the journal Science, finds that smaller cities like Nashville experience flu season differently than larger, denser metropolises, with shorter and more intense outbreaks of the disease that can strain public-health infrastructure. Accounting for the impact of humidity, the researchers also found that larger cities such as Miami and New York had flu seasons that started earlier and stretched into the spring, but with cases that were more spread out.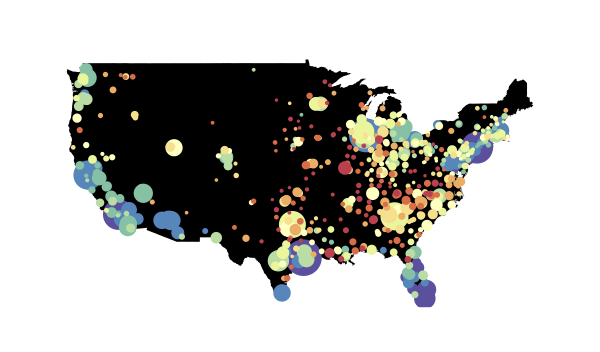 One of the study authors, Benjamin Dalziel of Oregon State University, said the results were "counterintuitive"—after all, wouldn't a big city where people are packed downtown during the workday and on crowded trains be ripe for a rapid outbreak?
That's where the climate conditions come in. When an infected person coughs or sneezes, the virus-laden moisture droplets create what Dalziel calls a "moving cloud of risk." In less humid winter conditions, those droplets can stay in the air longer. Dalziel and his co-authors found that pockets of high population density connected by organized movement in larger cities actually lessened the impact of humidity, so a change in the weather doesn't make as big a dent.
"If an infected person is sitting right beside you, it matters less what the specific humidity is," Dalziel said on a press call. "If there are a lot of people and transportation patterns frequently draw them together, it helps the virus find new hosts, even when climatic conditions aren't at their most favorable."
Essentially, the easy spread of the flu in big cities means that its impact is blunted, and herd immunity increases as more people come into contact with the virus.
Influenza-like illness (ILI): Miami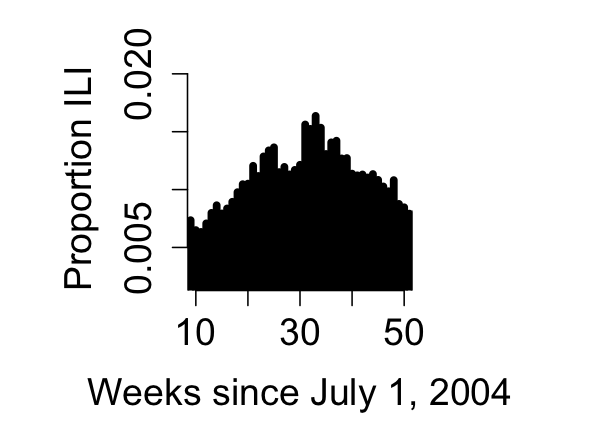 The study counted weekly occurrences of influenza-like illness from six years of medical claims data collected from 2002 to 2008 across 603 three-digit ZIP codes—that is, the first three digits of a standard ZIP code—that correlate with cities of varying size and different structures. The patterns were consistent year to year, and predictable given a city's size and where people live and work within the city.
Tracking and predicting where the flu will spread has been an inexact science, and last year's aggressive season proved how difficult predicting outbreaks can be. When a rash of outbreaks swept the country at around the same time last winter, many cities found themselves low on anti-viral medications by mid-January. Attempts by several researchers and even Google have proven imprecise. (Google shut its prediction down in 2015 after missing the season's peak by 140 percent.)
Dalziel said the hope is that by looking at city size, there can be more focus on the role of cities in flu surveillance, which has largely happened on the state or regional level. For example, if larger cities start the flu season earlier, public-health officials there could monitor sooner to see how severe the nationwide impact will be. The study's findings could also be applied to other infectious diseases.
The results don't indicate an ideal urban size for limiting the flu's spread, nor do they mean that any particular city is safer than another for the flu (so keep washing your hands, no matter how crowded your morning train is). The findings do have implications for how cities might prepare for flu season, though. In larger cities, officials would do well to limit how far the virus spreads, in part by vaccinating earlier to limit early infections.
But in smaller cities, hospitals and clinics need to be prepared for an intense outbreak, the kind that can strain healthcare providers by flooding waiting rooms with sick patients, especially where healthcare is less readily available.
"Barriers to access to healthcare in more rural areas is a huge topic, said Dalziel, "and our data is consistent with the idea that small towns could benefit from strengthening healthcare systems."
"We're certainly not saying that it's easy to handle flu in Manhattan," he added. "It's hard to handle everywhere. We're just emphasizing that perhaps we need to strengthen surge capacity in smaller cities."