In this increasingly strange and troubled world, one might want to salve their soul with a road trip to see the artifacts of more thoughtful and optimistic time.
Such a therapeutic adventure may not be too far away: Writer and curator Sam Lubell along with photographer Darran Bradley released their latest architectural travel guide, Mid-Century Modern Architecture Travel Guide: East Coast USA (Phaidon, $35) last month. A follow-up to their recent West Coast guide, it includes over 250 houses, offices, schools, museums, civic and religious buildings that tell the story of the industrial and cultural prosperity that occurred up and down the Eastern Seaboard after World War II.
Lubell and Bradley play all the Modernism hits and a lot of deep cuts—with brief histories and elegant photographs of the kitschy stores along US-1 in Fort Lauderdale, Wallace Harrison's UN Plaza in Manhattan, and a whole lot in between. (Bradley's Instagram is well worth a follow if you're into these kinds of buildings.)
Organized by region (New England, New York and New Jersey, Mid-Atlantic, the South, and Florida), the guide also includes a glossary of architectural terms and information on how to visit these sites. For readers with no travel plans, Lubell's site descriptions give a rewarding perspective on the ideas that fueled each design and how reality has guided their aging.
CityLab spoke with Lubell over the phone recently about the new guide and how the travel it required formed his views on the U.S. East Coast's postwar buildings.
What would you say are are the major differences in East Coast Modernism from region to region?
There are so many styles in each region—so many different approaches and so much talent. There's an incredible variety, but it's all unified by the idea of Modernism as a way to start over.
I think the way these regions think of their own Mid-Century Modernism depends on the legacy of their buildings, how those buildings came to be, and what kind of preservation community each place has today. The East Coast generally has a high appreciation for its Modernist legacy. Certainly, New York City has a strong preservation ethic since the demolition of Penn Station, but if you go further afield it's not necessarily the case. A lot of the stuff in Florida is going away because the state doesn't have same kind of laws to protect these projects, nor does it have the same spirit of preservation.
There are so many big name architects who have done work on the East Coast, so those are easier to landmark. It's the lesser-known gems that are really at risk.
Unlike your West Coast guide, which was published just before the 2016 election, the end of the introduction in this one hints at a contemporary America that is socially fractured and building poorly. Was there a sense of urgency in making this edition, to show readers places that represent a more optimistic or ambitious version of the country?
We live in a time where a majority of what gets built is cookie-cutter and done for short-term gain, done without inspiration, done in ways that don't suit the time and age. Not that all Modernism was amazing, but a lot of what's left shows great respect for design merged with technology.
Most of the attention put on buildings today is committed to where the money is, so architects are devoting their energy to commissions for rich clients and everything else has to be sidetracked—schools, government centers, post offices, stores, things that are not high on our culture's current list of priorities. We get a poorer urban realm as a result. We're putting profit over respect and attention to design. The whole idea of Modernism was that great architecture should for everyone.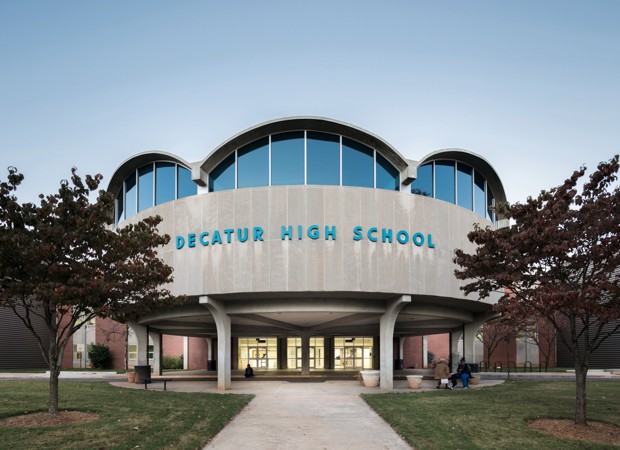 What kind of criteria did you establish for a building to be good enough for an entry in the guide?
It was hard. One thing we decided was on was that if you can't see it from the street it's automatically cut, and in some cases we didn't know until we got there. That was the case with a lot of houses. The Leonhardt House by Philip Johnson on Long Island is a good example—it's beautiful but we couldn't find it, because it's on a long driveway. We went down to the beach to try to see it from there but eventually gave up.
Otherwise, we were focused on just having a good balance of buildings and styles to represent each region, which meant we couldn't include every great mid-century modern building in New York City.
In putting this together, did you develop a new sense of what makes American Modernism special?
I did a lot of road trips to see each one which was great because I got to see buildings I didn't think I'd ever have a chance to see. Architecture is so much about the experience of seeing them and understanding them in the context of their surroundings. It's inspiring to see how much of it there is all over the U.S., to see how much attention was given in so many places to having excellent design. When we do another book for another part of the country you'll see it's incredible and widespread there as well.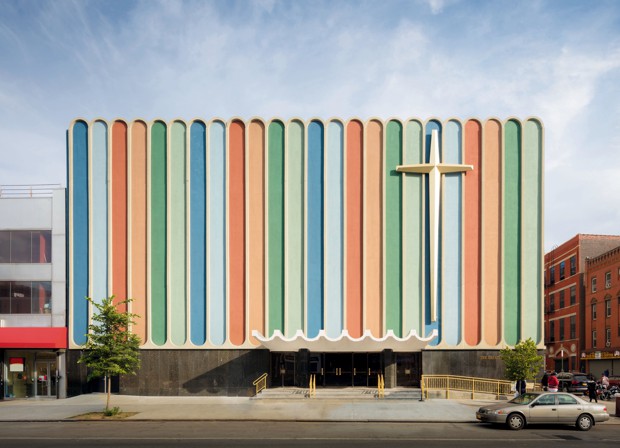 Up and down the East Coast you'll find great Modernism in places you might not expect, like New Haven, which had an ambitious university president [at Yale] when a lot of the buildings we've highlighted there were built. Same goes for Raleigh-Durham, where you had good schools with an interest in doing things differently and a focus on innovative design. I knew Sarasota was hotbed for architecture, but not to the extent that it really is. It's basically the Palm Springs of the East Coast. We knew the tip of the iceberg—the big names—but everywhere you go there you'll find impressive buildings and a strong commitment to good design.
Were there any discouraging site visits, where you could tell that the building wasn't cared for or not likely to be around much longer?
Most of the buildings we saw are in good shape, but a few aren't. There's a house by Paul Rudolph outside Miami that was really ruined by additions that had been put on, so we didn't include it in our guide. There were a few houses where you could tell they were not in the best of shape and that if the owner understood the legacy their building, they wouldn't have let it deteriorate.
There were also buildings that had been torn down or altered beyond recognition and since we didn't want to make our book too negative we didn't include them, like John Johansen's Mechanic Theater in Baltimore and Marcel Breuer's American Press Institute building outside D.C.
And what were some pleasant surprises?
In Manchester, New Hampshire, you not only have two amazing Frank Lloyd Wright houses down the street from each other but also Christopher Kantiaris's St. George Greek Orthodox Cathedral, which has a Jetsons-like appearance. It's beautiful and totally unexpected.
We could have done a whole chapter on the stuff Gene Leedy designed. He's a Florida architect and one of the important figures of Sarasota's Modern movement. His own office in Winter Haven is a stunning glass cube with cantilevers in all directions shading it. Down the street in the next town over is Lakeland, where Frank Lloyd Wright did an entire campus for Florida Southern College—the most intense concentration of Wright buildings in the world. It's an astounding collection of architecture, with a Futuristic-meets-Native-American style. He referenced Native American imagery in a lot of his work but it really shines through there.
Speaking of Wright, there's also a few houses of his in a Usonia District he planned in Pleasantville, New York. It's the closest he ever came to realizing Broadacre City. There's also a great George Nakashima Woodworker Complex in middle of New Hope, a Pennsylvania town known for its furniture design. George Nakashima built some amazing structures and the one we included is a studio with a rippling fiberglass roof that arcs over traditional Japanese spaces with an incredible amount of exposed glass. Few people know this place exists.
One more would be Russel Wright, who was best known for his furniture design but he also created Manitoga, his estate in Garrison, New York. It's basically another version of Fallingwater and it's an astounding place built on a former quarry and perched next to a waterfall that he diverted a stream into. He created an immaculate procession with a pond that you walk up to and over and there's salvaged wood beams that hold the whole thing up.