More than a week after Hurricane Florence made landfall, many roads in the Carolinas remain inundated. Receding floodwaters have left behind a trail of destruction (and dead fish) on major highways, and hundreds of roads and bridges are heavily damaged or impassable because of fallen trees and power lines. And more flooding is expected as rain-swollen rivers in South Carolina crest. As of Friday, more than 840 roads in North and South Carolina remained closed.
For drivers used to relying on GPS navigation apps, it can be dangerously fluid situation, since road conditions can change too fast for official government maps of road closures to keep up. Following complaints on social media of evacuees who followed a third-party navigation app and ended up in a flooded street, the North Carolina Department of Transportation warned motorists not to trust GPS navigation apps like Waze last week.
Ali: Waze and other travel apps are great but they are unable to keep up with the #FlorenceNC road closings. It is not safe now to trust them with your life. This storm, this flooding, these road closings are worse than Matthew, and they'll get even worse. Please stay safe!

— NCDOT (@NCDOT) September 17, 2018
At the peak of the hurricane's heavy rains, NCDOT admits it had trouble keeping up with updating road closures—more than a thousand had to be updated by hand in just a few days. By the time this information was sent to third-party apps and finally updated on their end, it was too late was some. "After the storm had gone, we were getting hundreds of road closures at a time across the state," said Steve Abbott, communications supervisor at NCOT, on Thursday. "We weren't able to keep up, so then [the apps] weren't able to keep up with us."
GPS navigation systems aren't able to keep up with the changing road closures and are directing people onto roads that are confirmed closed and/or flooded. If you are in a safe place, stay put. Call 511 for updates. Check our website for more helpful info: https://t.co/vGgZpSAIRr

— NCDOT (@NCDOT) September 17, 2018
The storm proved to be a test of the powers, and limits, of mapping technology. "Whenever there's a major event like this, the city or state always know the major roadways that are affected, but they don't always know the minor ones," said Andrew Stauffer, head of civic engagement technology at Esri, a Redlands, California-based firm that provides digital mapping services to government agencies. Esri's Disaster Response Program is currently working across 33 cities to help monitor how people are getting around post-Florence, from road closures to contraflow traffic to mandatory evacuation zones.
But during natural disasters, most residents rely on mobile phones, where Esri's detailed but slow-loading ArcGIS Map can't reach the people who need it the most. So little over two years ago, Esri entered into a partnership with Waze, the Google-owned navigation software company, to prioritize direct communication with residents via real-time updates and push notifications.
After a municipal government notifies Esri of a planned road closure, the team edits the map with updates showing in Waze within 10 minutes. At the storm's peak on Monday, Waze says it has flagged the closure of more than 1,300 North Carolina roads, and hundreds of others in Virginia and South Carolina.
Waze also collects unscheduled closures through its community of map editors—volunteers from all over the world who report traffic conditions and new neighborhood landmarks. The company dedicated 350 map editors specifically to Florence-related updates, in addition to coordinating with over 200 government agencies with its year-round Connected Citizens Program.
"We think of our map editors as first responders," said Maiyan Bino, localization manager of Waze. "It's a collective community effort… regardless of whether [map editors] live in the region of crisis or not."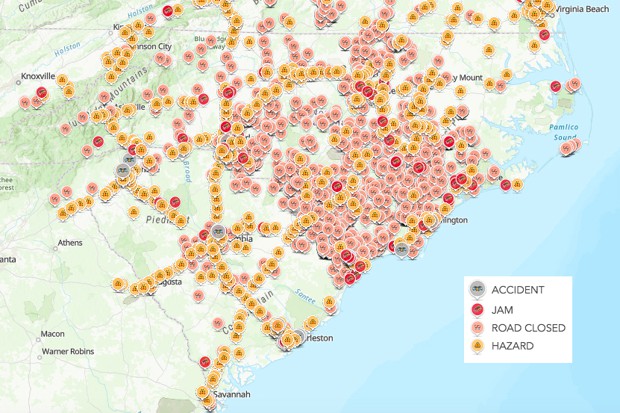 The duo also coordinates with FEMA and the Red Cross to map out its National Shelter System. Waze will send a push notification to residents in Florence-affected areas asking if they need help, and if so, routing them to the nearest shelter. Esri optimizes where the shelters allocate resources, like food and sandbags, based on where evacuees seem to be heading. Esri also used real-time rain gauges and aerial imagery to measure Florence's impact, hopefully improving predictive modeling of future natural disasters.
Among the major navigation apps, Waze maintains that its crowdsourced and constantly updated maps are the most accurate. (Though Google owns Waze, Google Maps does not share all of Waze's functionality.) Google created a Florence Crisis Map, with evacuation routes and shelter information, but it exists on a separate webpage, not within the Google Maps app, which may be more difficult for a user to load and navigate in a time of crisis. Apple Maps did not respond to CityLab's request for comment.
Despite mixed reviews on the speed and usefulness of real-time traffic updates, the data that was collected over the last week could prove useful for longer-term emergency preparedness planning. After Hurricane Harvey, Esri analyzed cellphone location data to figure out how many people evacuated, where they went, and how far they traveled. This, says Stauffer, aids local governments for the next natural disaster to optimize when exactly to send out evacuation notices and make sure people actually listen.
Stauffer isn't sure if similar data will be collected for Hurricane Florence. "It's a little bit of a post-mortem to say 'Hey, what worked? What were the areas that were flooded? Were people affected? Did people really leave?'" said Stauffer. "They learn from that and helps better prepare the area."
INRIX, a transportation analytics firm that partners with local government agencies, describes its hurricane approach as a "one-two punch"—combining the power of both numbers and humans. INRIX's algorithms process billions of data points per day; for example, the company uses historical data that measures the number of vehicles that typically cross a road during certain hours and days, in order to predict if a road has been accidentally closed off during a natural disaster.
INRIX also staffs a 24-hour command center, where 150 employees monitor for unplanned events and update maps in real time. For example, if a road is suddenly flooded, the INRIX team can update the map within three to four minutes of receiving the information.
Similar to how Esri collected cellphone data after Harvey, INRIX partners with automakers to map how drivers respond to evacuation announcements. Evacuation traffic typically peaks 24 to 48 hours before landfall, so INRIX's goal is to optimize the best time to send evacuation notices to avoid congestion.
"How people move and how they pay attention to the warning is a big part of the story," said Jeff Summerson, director of project management at INRIX. "It's a collection of data we're getting from all the devices and contacts on the ground. Algorithms and people work together to solve this problem."
Compared to previous hurricanes, government agencies are being "more proactive than reactive" this time around, says Stauffer. The South Carolina Department of Transportation approached Esri a week before the storm with evacuation plans already set. The goal is to learn from every storm in order to better prepare for the next one.
"Every geography is a little bit different," said Stauffer. "We saw what happened in Texas and in Florida short after. With the size of this storm, who knows if it changes? We'll learn a lot in a week. There could be something new so we're all more prepared for the next round."