Chicago's upcoming mayoral race—newly wide-open because of the decision of Mayor Rahm Emanuel not to run for reelection—is an exciting opportunity to advance changes that produce a more livable city. That's a goal that surely every candidate would sign on to.
Key to livability is transportation. Safe, accessible, and frequent systems of mobility should be the link between our city's residents and jobs, education, and recreation. Making access easier for Chicagoans is an opportunity to expand economic development and reduce our notorious segregation.
Right now, our systems aren't working. Last year, 132 Chicagoans died in crashes on our city's streets. The amount of traffic on our roadways has been steadily increasing. Meanwhile, the number of people riding CTA buses is at its lowest level in decades. Unsafe conditions are distributed inequitably around our city; pedestrians are more likely to be struck and killed on the South and West Sides than downtown or on the North Side.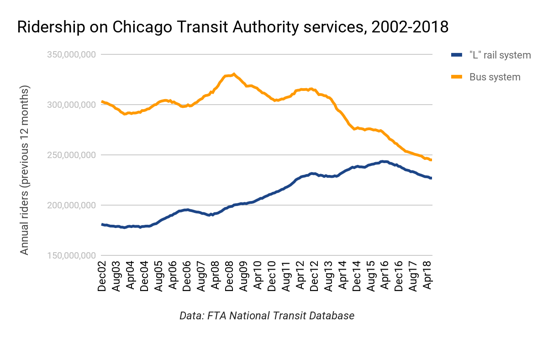 So far, though, the declared mayoral candidates have said very little about how they'd address our city's transportation challenges. Several candidates, including Ja'Mal Green, Troy LaRaviere, and Willie Wilson, have suggested they'd eliminate Chicago's controversial red-light camera program—despite the fact that it reduces the number of the most destructive crashes—because of a concern that it is a regressive policy designed to extract fees from residents of poor neighborhoods. But on none of the candidates' platforms is there a serious policy about how they would address the Chicago Transit Authority, the city's bus and rail provider, or whether they might invest in improvements for cyclists, walkers, and other users of the local transportation system.
This has to change. And from our experience, research, and passion, we know that Chicago can do a lot better. Collectively, we have worked for years on transportation issues related to Chicago. We've been employed by local organizations like the Metropolitan Planning Council and the Brighton Park Neighborhood Council; we've written for local outlets like Streetsblog Chicago; and we've served as representatives on groups such as the Transportation Committee of the Chicago Metropolitan Agency for Planning, the Active Transportation Alliance Community Equity Advisory Group, and the 33rd Ward Transportation Action Committee.
As such, we have laid out a platform of clear, tangible policy proposals related to transportation that we hope mayoral candidates will endorse, at movechicago.net.
These policies aren't unique to Chicago; indeed, many of them could be implemented by cities across the country. But Chicago's next mayor could serve as a national model for how to build an equitable transportation system that prioritizes sustainability and livability.
Our key suggestions include, first, beefing up the city's bus network, bringing it back to offering the round-the-clock, convenient service across the city it used to provide.
Second, the city must work to integrate the CTA (which runs buses and elevated trains within the city) with the Metra system (which operates suburban commuter rail) while establishing a unified "fair fare" system that reduces costs for low-income city residents and encourages transit use, rather than dissuading it.
Third, the city must make more room for walkers and bikers to make our communities more attractive for neighbors and businesses while improving safety and expanding play areas for children.
Fourth, the mayor should begin planning to invest in new, high-quality bus and rail lines where new development and currently inequitable access merit them—while stopping wasteful projects, like the proposed transit tunnel to O'Hare Airport being promoted by Elon Musk, before they get off the ground.
Finally, Chicago's next leader should commit to equitable transit-oriented development that further prioritizes affordable housing while minimizing displacement. Today's Chicago is one of dramatically diverging wealth, from the gleaming, million-dollar apartments in towers downtown to the too-common, vacancy-plagued neighborhoods. New construction and preserving existing affordable housing around transit can serve as a tool for smoothing those inequities.
We believe that the changes we recommend are not only reasonable, but they are affordable and could be implemented within the next mayor's first term in office. They are not empty goals, either. Seattle has proven a model for other cities by committing to addressing climate change and improving equity, increasing transit ridership by expanding service even as it has fallen in most American cities, building new rail lines, and offering fares that are affordable to all members of that city's population. It has also worked to reshape communities around transit, encouraging higher-density construction and guaranteeing multiple options for different types of inhabitants—wealthy and poor, single and with children, old and young.
Seattle's not perfect—displacement is a real concern in this rapidly growing city, and the share of transit riders who are lower-income people has been falling. Chicago has plenty to learn from it—and can succeed where Seattle hasn't.
Unlike most other cities (including New York or Boston), the mayor of Chicago has direct control over much of the city's public transportation system. This individual will select the Chicago Transit Authority's leader and a majority of its board members. And the mayor has considerable influence over matters discussed in Springfield by virtue of the city's role as the state's economic powerhouse. He or she will lead the city's Department of Transportation, which manages most of the city's streets, and decides how to allocate space to pedestrians, bicyclists, transit riders, and drivers.
Historically, Chicago's mayors have made transportation a top priority, too, even if their decisions haven't always significantly improved life for the city's residents. Mayor Richard M. Daley spent millions of dollars on street planters designed to make the city look prettier in the 1990s, but moved slowly to expand bike infrastructure, particularly in low-income communities. His successor took several steps forward: Mayor Emanuel's administration increased access to bike lanes, created the Divvy bike-share system, and improved bus service downtown.
But progress on those fronts has slowed over the past few years. Emanuel abandoned good ideas, like turning the city's most popular bus line into bus rapid transit, despite it being constantly held up in traffic. And he was distracted by shiny objects designed primarily to serve the wealthiest few, like the aforementioned tunnel to O'Hare, despite an existing rapid rail service. Neither Daley nor Emanuel invested in a significantly expanded transit system (though both admirably identified funding for reconstruction of many rail lines); the last addition to the 'L' rail system—the Orange Line—opened 25 years ago. Bus service mileage provided is down more than 20 percent from the early 2000s. And both supported the continued entrenching of the city's segregation and inequalities, in part by ignoring the potential for investing in low-income communities on the city's South and West Sides and taking advantage of existing infrastructure, such as the extensive Metra rail commuter system, which is currently underused.
Whoever voters elect, Chicago's next mayor will acquire significant power to influence transportation policy. And residents should be able to make a clear and informed choice about how the city's mobility systems work. Instead of maintaining the status quo, we could choose to maximize safety for walkers, bikers, transit riders, and drivers. We could contribute to reducing the disastrous impacts of climate change. We could choose a mayor who is a committed advocate for the transformation of Chicago's transportation system, pushing it toward becoming more equitable, sustainable, and livable.
If put into place, these proposals would help produce that better Chicago. The next mayor has to be ready to adopt bold, exciting ideas to bring us into the future.