On September 8, Tulsa celebrated the grand opening of Gathering Place, a new park beside the Arkansas River near the city's Maple Ridge neighborhood. The goal behind it, says Executive Park Director Tony Moore, is to bring together Tulsans from all walks of life so they can enjoy a shared experience. That's not unusual—but Gathering Place is very different from the average public park in its variety of spaces and sheer scale.
The first phase of Gathering Place is a huge 66.5 acres. (Once the second and third phases of construction are completed, the park will span 100 acres.) The George Kaiser Family Foundation, joined by other foundations and businesses, covered the $465 million price tag—the largest private donation to a public park in U.S. history. The park's designers are Michael Van Valkenburgh Associates, the landscape architects responsible for Brooklyn Bridge Park in New York City, Maggie Daley Park in Chicago, and other well-known urban public spaces.
Many visitors to Gathering Place park off Riverside Drive, then walk through two small gardens to a crescent-shaped path that curves around a large adventure playground and wetlands.
The park has a five-acre adventure playground for children aged two through 12, with seven different realms targeted for different age groups. Volcanoville was built specifically for toddlers and includes a padded play area with low-level climbing elements in bright colors. Charlie's Water Mountain has a spray area, mist area, tunnels, dams and streams, and a water lab.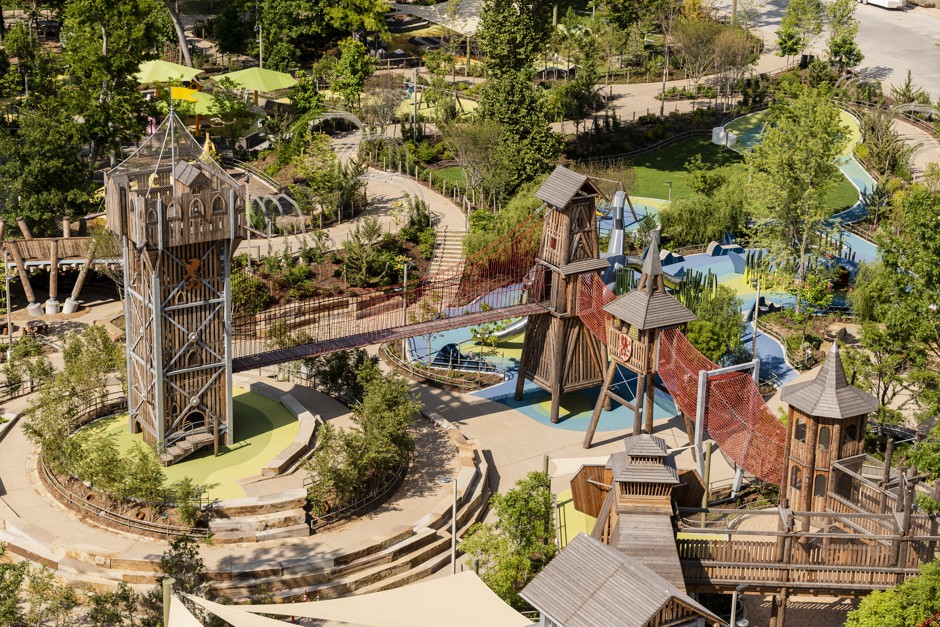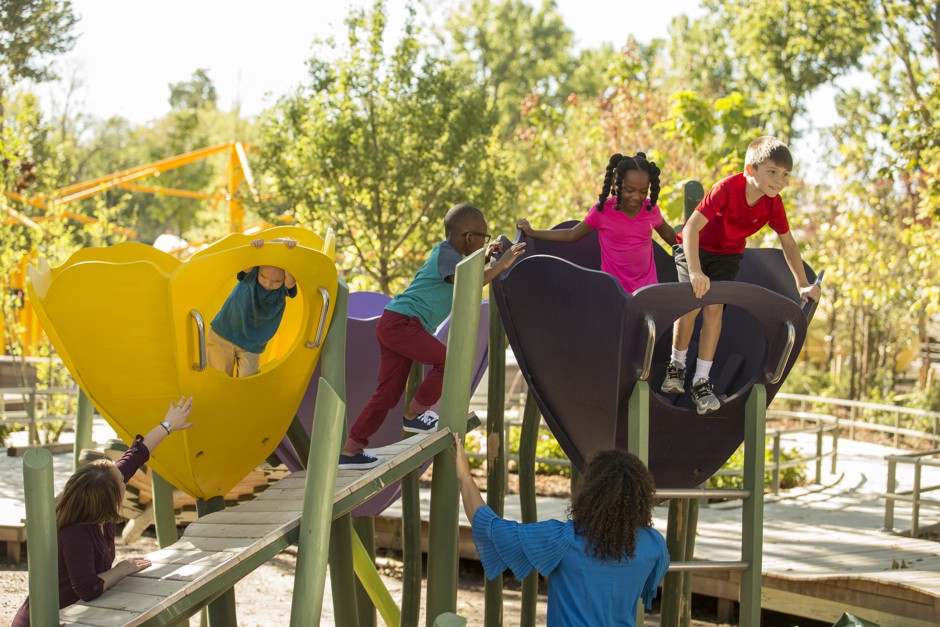 Accessibility was important to the park's creators. There are 21 points to enter and exit. Long ramps allow children who use wheelchairs to access the lower levels of towers in the playground area, as well as a large elephant structure that has a slide.
"The ramps themselves don't look like your typical accessibility points," said Jeff Stava, the Gathering Place project lead at George Kaiser Family Foundation. "In fact, the ramps are so long and fun that able-bodied children love to run up them and down them as well. It creates an environment where children with disabilities and able-bodied children coexist in the play experience rather than being segregated."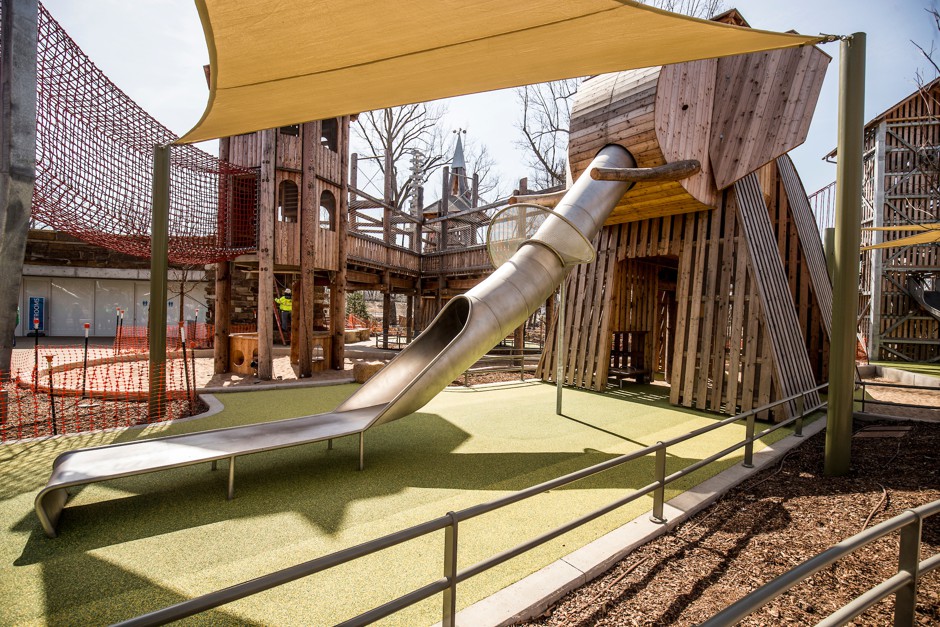 The park also has a sensory garden with a giant spinning boulder, and amplified voice tools that encourage kids to ask questions about the world around them.
In the middle of the park are a pond and a boathouse. Visitors can check out paddle boats, kayaks, and canoes.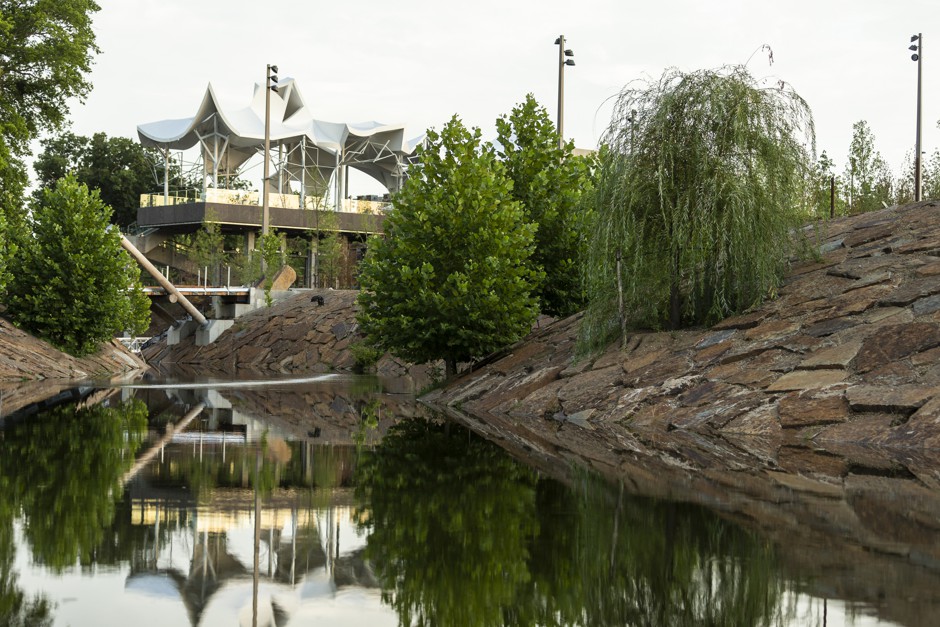 A coffee/ice cream cafe and dining patio offer a range of food options so park-goers can linger over a snack or meal. The park will host festivals throughout the year with vendors serving foods from different cultures.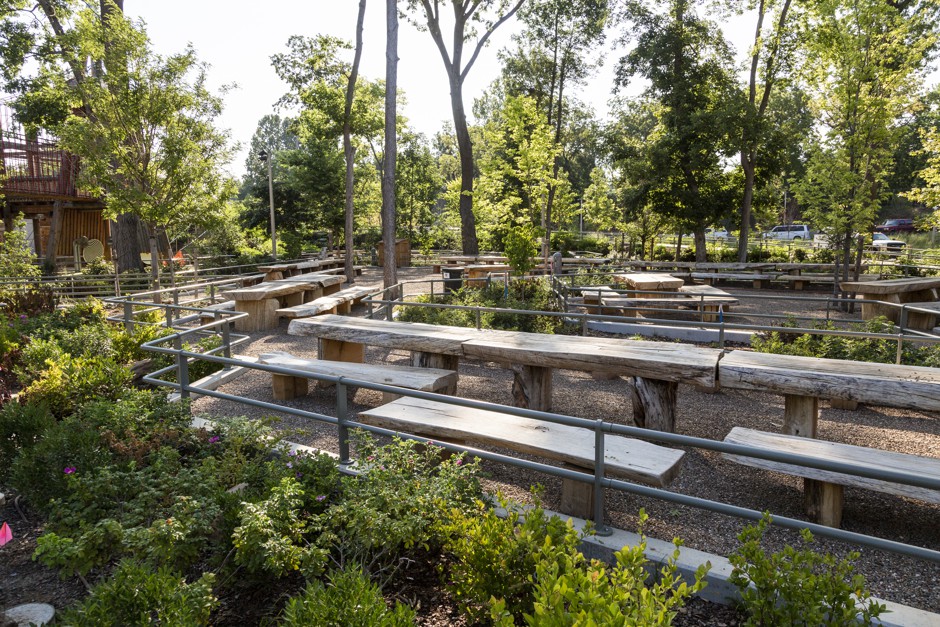 Closer to the parking lots, Gathering Place features a spacious skate park, designed by California Skateparks. It has beginner through advanced courses to accommodate different skill levels.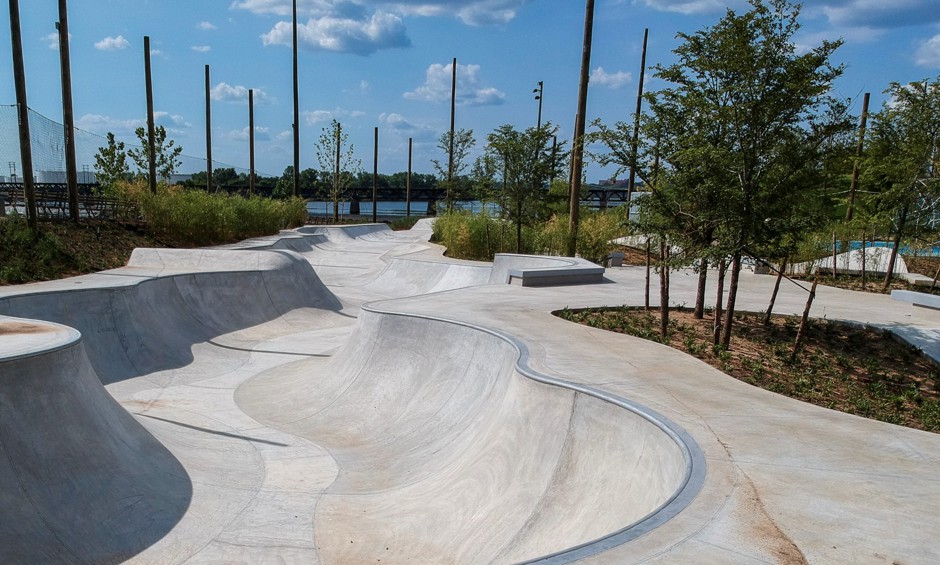 Near the skate park are courts for basketball, volleyball, street hockey, and street soccer.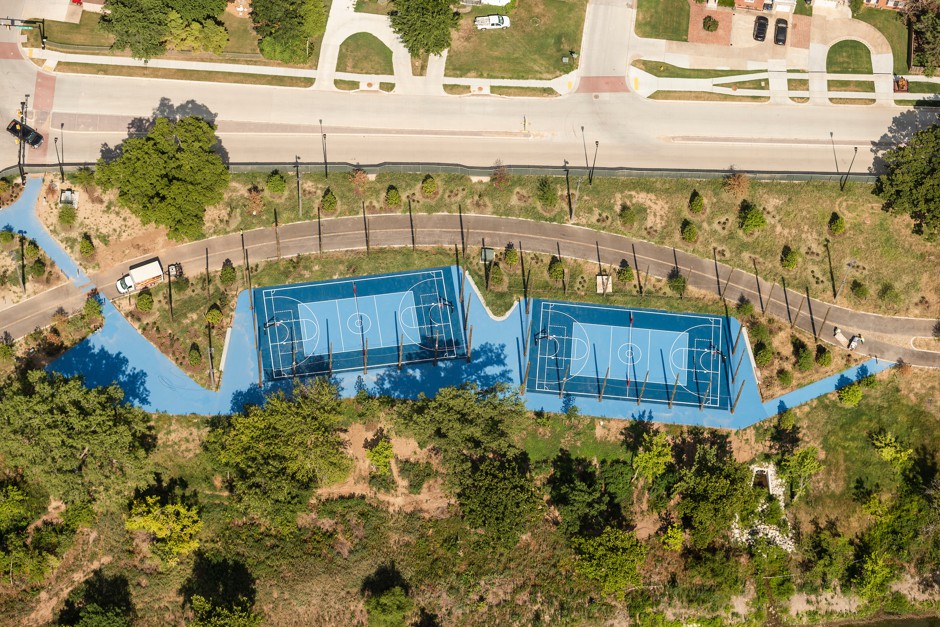 "In essence, [it's] a mini-theme park," Moore, the park director, told CityLab. A single day at a regular theme park can cost a family hundreds of dollars. One reason why public parks are so valuable is that locals can return to them over and over again, free of charge—as people in the Tulsa area will surely do now that Gathering Place is open.