Paul Richards-Kuan decided a modern problem needed an old-fashioned solution. Seeking to combat the displacement and alienation that are potential byproducts of gentrification, he came up with a plan: monthly block parties in Houston, Texas's changing East End.
"I picked up a phrase somewhere: 'Why have a meeting when you can have a party?' So I took it and ran with it," the 28-year-old associate pastor at St. Paul's United Methodist Church said as he hauled gear from the back of his blue Volkswagen Golf into M.C. Cullinan Park on a Saturday morning in October.
With folding chairs and tables, pop-up tents, hot dogs and a cornhole game set, Richards-Kuan looked equipped for a day's tailgating at a Texans NFL game. But to him, these parties are serious fun.

"Our fancy-pants mission statement is, 'cultivating a framework of belonging in the East End,'" he said. "How do we create a broadly inclusive space based on shared values of community building, civic engagement, that sort of stuff."
Richards-Kuan and his wife, Karyn, moved to the East End when she started as a clergy member at St Paul's. The church is located about a mile or so from the East End, a large, diverse, and mostly low-income district of about 150,000 residents with some of the city's oldest Hispanic neighborhoods. He soon followed her to St. Paul's, leaving his previous assignment in the largely white, middle-class suburb of Katy. "I felt frustrated where I was at. It was kind of church as usual," he said.  
The community events hosts other events—an annual party for Dia De Los Muertos (Day of the Dead) in the East End's Magnolia Park neighborhood draws thousands, for example—but Richards-Kuan hopes the block parties can fill a gap.
He believes that regular small-scale, low-key, get-togethers can complement one-off festivals and dry municipal meetings where an audience listens to a speaker address a specific issue. When he thought about the role of "third places," he realized that not everyone wants to build a social network through a church and not everyone has the time or money to sup $5 lattes at gatherings in coffee shops during the work day.
So this year, he and a couple of friends started organizing two block parties a month in two locations that now draw anywhere from ten to 50 people. They are deliberately simple and unpretentious affairs billed as potlucks to keep costs down. People are willing to walk for a mile to get to the parties, he said: no small distance in Houston's heat and humidity.
The city's branch of the Local Initiatives Support Corporation, a national community advocacy non-profit group, provided training and a $2,500 grant for supplies, food, and a slick website. The idea is also backed by a local non-profit, the Journey Charitable Foundation.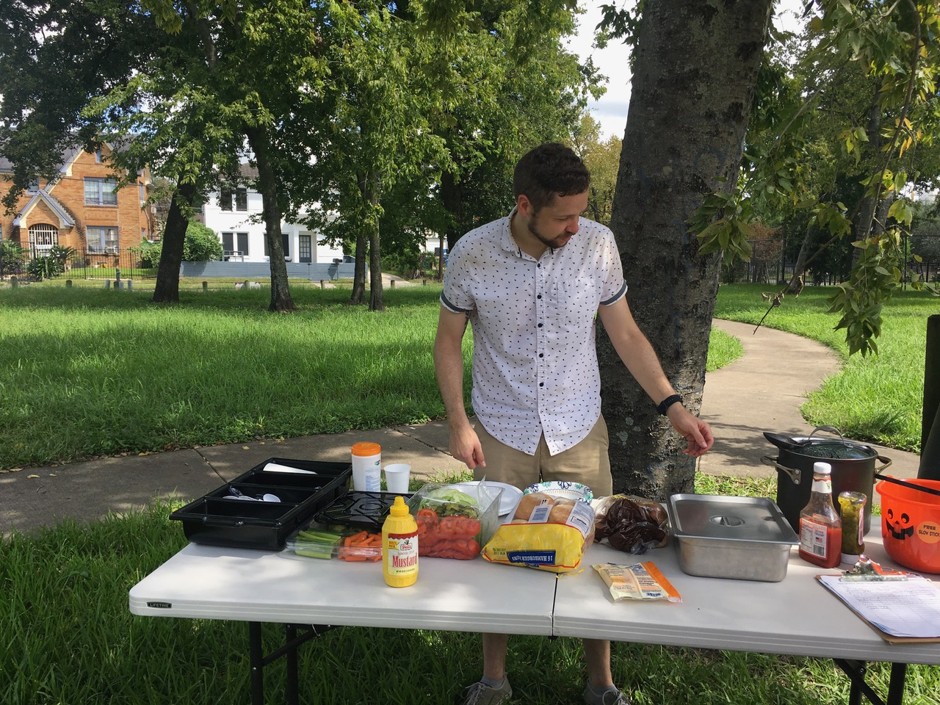 Richards-Kuan subscribes to the principle that getting along with your neighbors means getting to know them. The website boasts a quotation from Dostoyevsky's The Brothers Karamazov: "True security is to be found in social solidarity rather than in isolated individual effort."
Trim, bearded, with a tattoo on his right arm referencing a German pastor killed by the Nazis, Richards-Kuan was born and raised in Houston. When he and Karyn moved to the East End, for a time they lived opposite Cullinan Park, a modest green square next to a middle school with a playground, rusty communal grills and a picnic table covered in profane graffiti. On this particular Saturday, the park also has overgrown grass, the city's mowing crews not having responded with the utmost alacrity to the 3-1-1 call Richards-Kuan had placed days earlier.
In contrast to much of Houston, the East End is characterful and varied, a mix of industrial, commercial and residential, with freight trains trundling past tree-lined streets and grimy warehouses. An urban farm, Finca Tres Robles, was founded in 2014 and is based near a zinc plant, a coffee wholesaler and a boxing gym. It's helping to place an emphasis on healthy options in an area with a "food desert" problem.
Houston's dramatic population growth in the past two decades has mostly touched the low-density, car-centric outer suburbs, but high-rise condos and townhouses aimed at young professionals have sprouted in and around downtown in recent years as city living has grown more appealing, aided by improvements to parks and public transport and an enviable restaurant and bar scene.
With the well-heeled west side of town unaffordable for many, the East End looks poised for an influx of new residents attracted by the central location, good road and public transport links, a range of old and new housing, nearby nightlife options and ambitious plans to redevelop the decaying industrial sections around the principal waterway, the Buffalo Bayou, adding parks, trails and housing.
Estella Gonzalez is vice president of the Super Neighborhood Council in the Second Ward, a part of the East End close to downtown. She said that the light-rail line is spurring private developments that are changing the aesthetics as well as driving up prices.
"It's a sense of losing the neighborhood character. A lot of the new homes that are being built are tiny, tall town homes on lots that were previously single-family lots, so the neighborhood really started changing, the way that it looked," Gonzalez said. "We don't want to be rebranded. We're proud of the history and the culture in the community, so let's celebrate that. I think that the block party is a great way to get new and old folks together and also to have the people who have been here for a long time talk about the challenges that they're having."
M.C. Cullinan Park is in Eastwood, an early master-planned neighborhood two miles from downtown that officially opened in 1913. The tycoon Howard Hughes is said to have lived there briefly; a light rail station is named for him on a line that opened in 2015. More than three-quarters Hispanic, the median household income in the neighborhood is about $48,000.
A handsome old building opposite the park was probably once student accommodation, perhaps a frat house—the University of Houston campus is only 1.5 miles away. A couple of doors down, a four-story townhouse is under construction and looms over the surrounding homes.
It's a physical manifestation of the gentrification that Richards-Kuan says is worrying. Many long-time residents have been besieged by fliers and yard signs offering quick cash for houses. To combat a practice they view as predatory, the block partygoers have been grabbing the signs and "repurposing" them to advertise their own events.
Samantha Villagomez arrived at the block party wearing a gold-sequined dress and bearing a big metal pot. The lifelong local said she had been up all night cooking and seasoning beans in search of the perfect blend of brown sugar, spices, onions and pork. Seventies disco music played from the tinny loudspeaker of a portable radio she placed on the table—tuned to a local community station, naturally.
The parties, the 54-year-old said, help her recapture the sociable spirit she remembered from her youth. "Nowadays it seems to be very unwelcoming," she lamented. Villagomez thinks that fear of crime has made people wary of outdoor activities: "People do not want to come out of their shell."
Another attendee, Jose Calvillo, said he is "really not a very sociable guy." Earlier this year, though, "just for grins, my wife sent me out here on a reconnaissance tour," the forty-something non-profit worker added. He sat at the picnic table with his wife, Erika. "Ever since we've tried to come out here."
In addition to boosting attendances for the regular monthly events, Richards-Kuan aims to partner with schools to encourage students to be more active in the community. One day he'd like to be able to swap the back of his car for a trailer so he can hitch it to his truck and make the party equipment more portable.
"Older residents are happy to drop in and tell stories about the old elementary building down the road where they went to school, what it was like in the 50s, 60s, or 70s, and how all the young people there should have tons of babies so that the neighborhood will flourish. Younger residents are excited about social issues in the neighborhood, and many are interested in organizing politically around local issues related to gentrification," Richards-Kuan observes.
"From the outside, some people may look at our neighborhood as poor, trashy, or less beautiful. But it has great people and a great vibe."