San Francisco is one step closer to becoming the first U.S. city to open a safe injection site—a space where heroin addicts can use drugs, without fear of arrest. That is, if Philadelphia doesn't beat them to it.
Last week, both cities' councils passed propositions that would allow safe injection sites to be opened. But it could be years before this translates into a working facility—if ever. The California measure is still awaiting California Governor Jerry Brown's signature. And U.S. Deputy Attorney General Rod Rosenstein has vowed to take "swift and aggressive" federal action against any city that makes moves toward opening one.
But that threat hasn't stopped advocates in San Francisco from moving ahead: Last week, a mock safe injection site opened to the public for four days in the heart of the Tenderloin District, where many of the city's homeless and addicted residents live. The space was assembled by a consortium of community groups and nonprofits, including the Tenderloin Health Improvement Partnership (TLHIP) and the city-based nonprofit GLIDE, along with the Drug User's Union and San Francisco's AIDS Foundation.
Designed by Capitol One Design Pro Bono, a design firm that provides services to nonprofits, the exhibition space was created in part to help ease the anxieties of community members about what supervised injection facilities are like and what they do. The result: an almost Instagrammable space, with a consciously welcoming vibe, built like a high-end private medical clinic. One room had metal stools to sit on while injecting; another "chill room" with bright blue walls had plush seats for relaxing afterwards. On some surfaces, syringes were neatly arranged in boxes. On others, there were headphones for visitors, through which one could hear stories of San Francisco's addicts; in turns painful and hopeful. "You could call it a sales pitch," GLIDE Harm Reduction Program Manager Paul Harkin told the San Francisco Chronicle.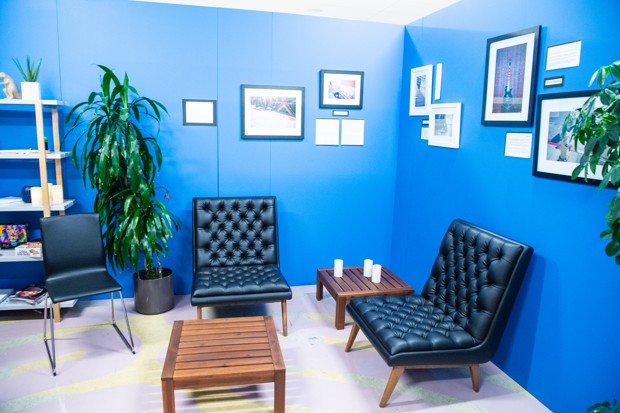 San Francisco's fake injection site was modeled in part on operational ones in Vancouver, British Columbia, which opened the first of six sites in 2003 and is planning to open more. In Australia, a two-year trial site opened in Melbourne in 2017. According to the Drug Policy Alliance, approximately 120 such safe-injection sites exist in 12 countries around the world. They typically supply users with multiple needles of different sizes and related drug-preparation kits, along with Narcan (an overdose antidote), Fentanyl strips (to test drugs for synthetics), and syringe disposal containers, so people can safely get rid of needles instead of leaving them littering the streets.
There's a wide variety of approaches to these facilities: Some are led by medical professionals, others by community peers. Seattle is currently planning on implementing a fixed mobile version, packing syringes onto a van that can sit in neighborhoods by day and park in a garage by night. New York City is considering creating a few sites to be used for medical research.
"A lot of people that come through have heard about safe injection sites and are concerned about the opiate crisis," said Ken Kim, the clinical director at GLIDE, which provides food, health care, and housing aid to San Francisco's low-income residents. "But they don't have anything they can imagine, or they have concerns: Maybe this worked in Vancouver, but how would it work here?"
That's a question city leaders and public health experts are eager to answer as the rate of opioid-related overdose climbs in U.S. communities big and small.
A large body of research suggests that medicalizing the consumption of illegal narcotics can be an effective public health strategy. Providing clean tools prevents infectious diseases like HIV and Hepatitis C from spreading. And, when combined with a suite of supportive services for homeless or addicted residents, safe injection sites can create a life-saving pipeline between an addicted population and community health professionals. But not all the research is consistent: One recent—potentially flawed—meta-analysis found that while drug-related crimes did decrease around sites, there was "no effect on overdose mortality or syringe/equipment sharing."
Studies on the impact of Vancouver's first supervised injection facility, Insite, have shown that it reduced litter, discarded syringes in the streets, and the number of people injecting in public. Self-reported data from the site indicated fewer instances of needle-sharing. "It's a pretty naïve expectation that people arrive at a site and are so-called cured of their addictions," Mark Tyndall, the executive director of British Columbia's Center for Disease Control who helped open the city's first injection site, told KIRO Radio. But the sites aren't supposed to stop drug use—they're supposed to stop people from dying.
Overdose deaths in the U.S. climbed to 72,000 in 2017, doubling in only a decade. But plans to create safe-injection facilities to combat overdoses have repeatedly failed. In King's County, Washington (an area that includes Seattle, where 258 people died from overdoses last year), efforts to open two facilities began in 2016. Five cities in the county, not including Seattle, preemptively banned them, and a ballot initiative attempted to make them illegal county-wide. Though the initiative was eventually blocked by a court ruling, and $1.3 million was allocated to building the site in the city in 2018, Seattle's plans have not yet moved forward.
Much of the resistance stems from community fears that safe injection sites encourage drug use and related criminal behavior in the neighborhood. "They're actually inviting people to bring these illegal drugs into their places of business," Rosenstein told WHYY last week, in response to Philadelphia's measure. "If you start down that road, you're really going to undermine the deterrent message."
But advocates argue that users will always find a way to shoot up, either on the streets or elsewhere. And in San Francisco, that's been the reality: As one op-ed writer recently argued in the San Francisco Chronicle, if Rosenstein visited the city, "he'd know that San Francisco already sanctions injection sites. It's just that these sites are our sidewalks, BART trains and stations, Starbucks restrooms, and playground sandboxes."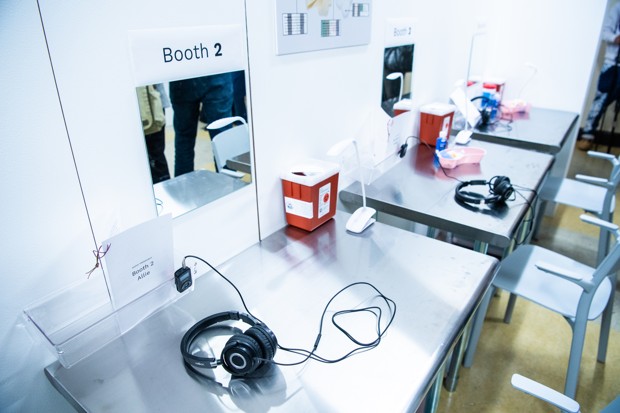 To guide the planning for San Francisco's mock facility, lead designer Jenny Kempson visited sites in Vancouver and talked to members of the San Francisco Drug Users' Union, which advocates for rights of the estimated 22,500 drug users in the city. Based on their feedback, the site called for wide berths between each booth, so that if someone overdoses, there's enough room to handle them safely. The space also boasts lots of flat surfaces—particularly important for homeless users, who "just don't have space to go through their things or just really sit comfortably at all" in parks or on sidewalks, Kempson said.
Locating the site inside an existing community hub—a building in the Tenderloin best known as "Freedom Hall"—was a deliberate move, too. On the ground floor, users can access GLIDE's walk-in center, where they can get bus tokens, certificates of homelessness, and shelter reservations. On the sixth floor is HealthRIGHT 360, a federally qualified health clinic that provides physicians to low-income residents. Just down the street, a mobile hygiene start-up Lava Mae parks its free public showers on Mondays. "Why we wanted to do a brick-and-mortar rather than a mobile site is really the multi-service aspect," said Kim.
Among the estimated 1,000+ visitors to the mock facility over the week were city officials from the Department of Homelessness and the Community Police Advisory Board; a group of San Francisco drug users; and Mayor London Breed, who commissioned the site during her time as City Supervisor in 2016 (and who lost a sibling to an overdose in 2006).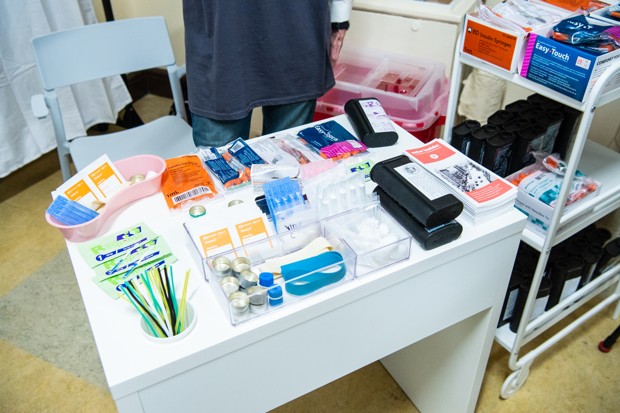 According to GLIDE's Kim, the exhibit succeeded in showing city residents the advantages of the model—and its limits. "If you have seven booths for the approximately 22,000 injection users in San Francisco, you're guaranteed there's going to be a line," he said. "I think it would be great, if and when San Francisco moves forward on this, to make sure we're not just relying on one site."
The "if" might depend on what action the Justice Department has in store, and the "when" will come after Brown signs the bill (he has until September 30 to do so). While Breed has been an active champion of the sites, Brown has not yet made a public statement.
And, as with many of San Francisco's ills, reducing drug use on the streets comes back to tackling the housing crisis. "If people had housing they wouldn't be using drugs in the street," Kim said. "The overarching issue here is poverty and homelessness."