The wildfires that ravaged California over the weekend are showing no signs of stopping anytime soon. In Northern California, the Camp Fire leveled the city of Paradise late last week, engulfing and destroying the town in a matter of hours as desperate residents fled the wall of flames, some being overtaken in their cars.
"Ninety-five percent of the town is gone," town council member Michael Zuccolillo told the San Francisco Chronicle.  
In Southern California, nearly all of Malibu was under mandatory evacuation orders, as was Thousand Oaks—still reeling from Wednesday's mass shooting—as the Woolsey Fire tore through the hills and advanced all the way to the Pacific Ocean. The evacuation has displaced 170,000 people.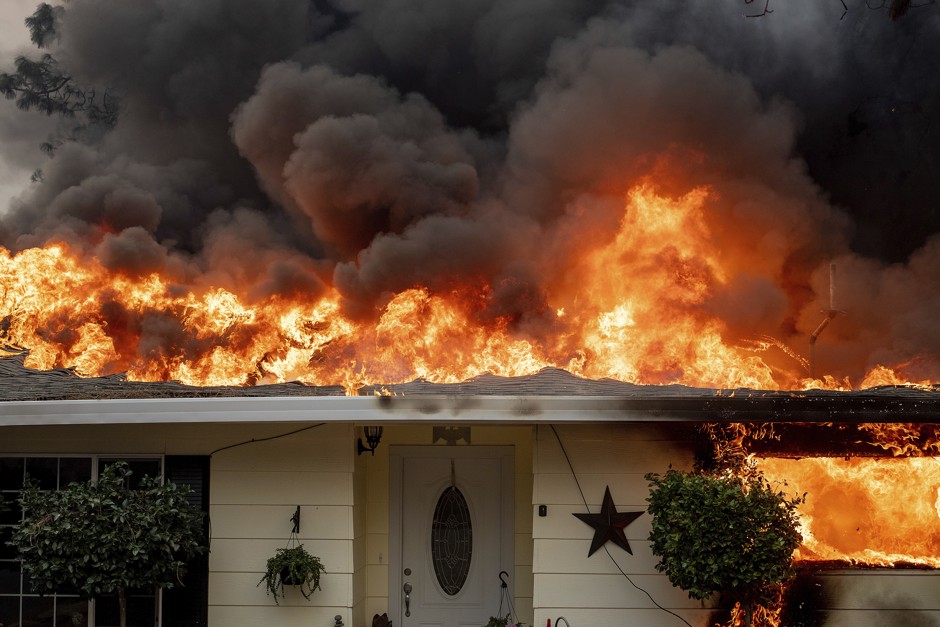 Together, the immense infernos have made 2018 one of California's deadliest fire seasons, even as it's still recovering from 2017, when a devastating series of wildfires in California's Wine Country claimed 44 lives and caused $3 billion in damage, and Los Angeles burned again and again.
Already, the Northern California Camp Fire has claimed 29 lives, and 228 people are reported missing, according to the Sacramento Bee. The 115,000-acre fire has also destroyed 6,400 homes and 300 other structures. It has matched the death toll for California's deadliest wildfire, and it's believed to be the most destructive in the state's history, NBC News reports.
Still, it's just 25 percent contained as firefighters from across the state and country—including prisoners making $1 per hour—battle the blaze.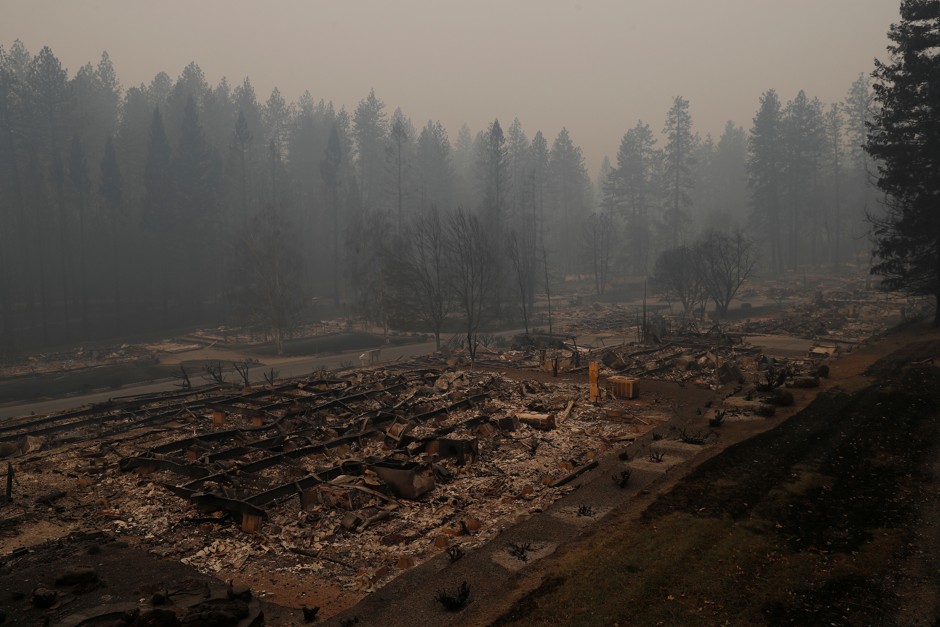 Harrowing stories have emerged from survivors, like Greg Woodcox, who watched the Camp Fire overtake his neighbors' cars before fleeing on foot and taking shelter in a 3-foot deep stream as the fire raged overhead.
Investigators have found multiple incidents of people killed in their cars as they attempted to flee.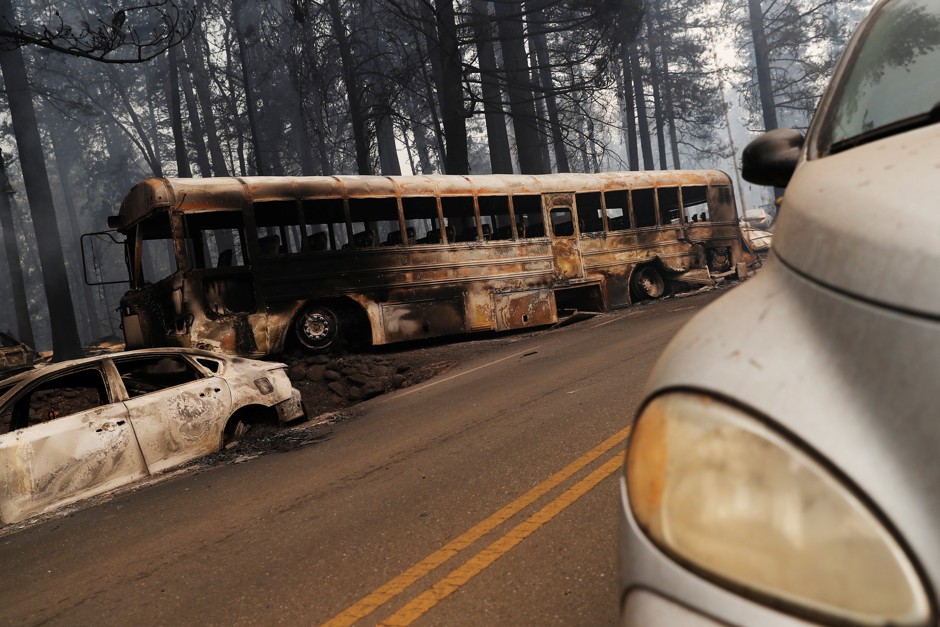 Across the state, thick smoke from the fires has blocked out the sun and blanketed cities as residents struggle to breathe. Because of the air quality, schools across the Bay Area closed Friday, and residents were urged to stay inside as small but dedicated groups of advocates attempted to secure masks for the homeless.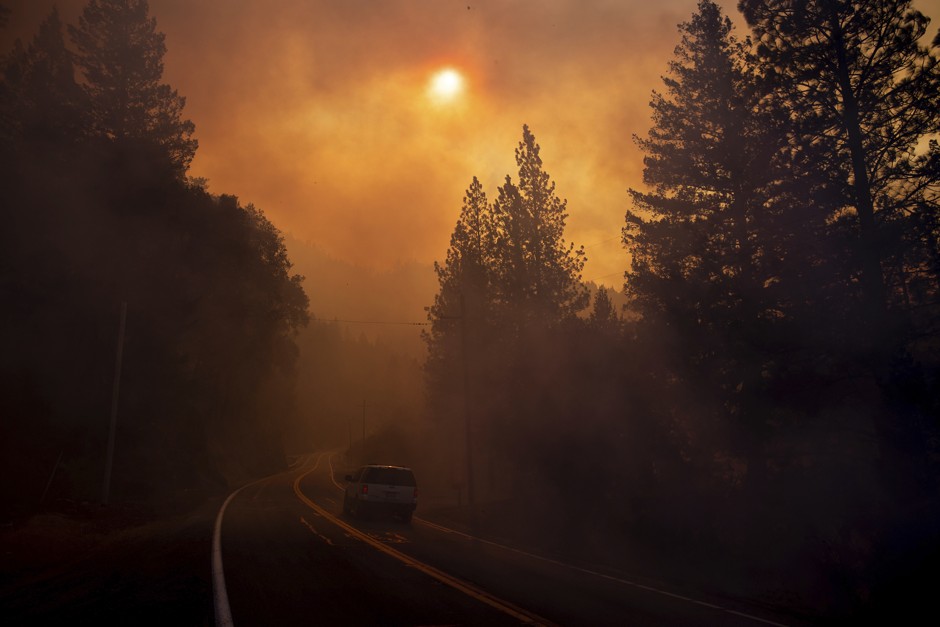 Many fleeing residents Mablibu, caught in traffic and trapped between the fast-moving flames and the ocean, took shelter at the beach, its deep blue ocean and picturesque sand transformed into an apocalyptic hellscape.
The growing strength and destruction of California's incredible infernos can be attributed to a few things. For one, years of drought have left the state's massive forests incredibly dry, like tinder boxes ready to explode.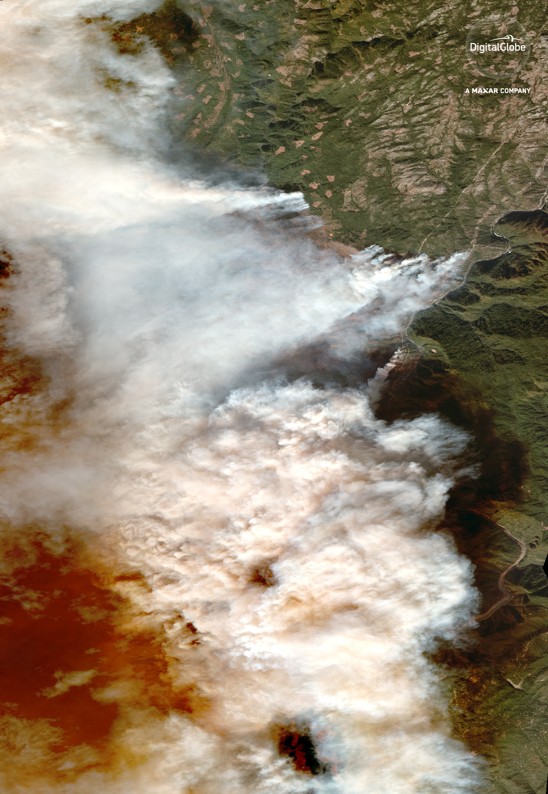 In the South, the Santa Ana winds howl across the mountains, ready to carry even the smallest flames and sparks far and wide, and vast suburban sprawl has pushed people, and the electric wires that must follow them, further into what's known as the Wildland Urban Interface, where population centers meet combustible forests.
You can chalk a lot of it up to climate change, too. It's not just the drought, but record heats have helped to dry out California's forests, creating conditions ripe for fast-moving, deadly wildfires.
I also created an animated version which helps to emphasize how weather conditions during California's fire season have evolved over time. #CaliforniaFires #ClimateChange pic.twitter.com/gkuRrdn2ZG

— Robert Rohde (@RARohde) November 12, 2018
In their wake, the fires are leaving an increasingly familiar landscape: Residents returning to find their homes destroyed and their lives upended.